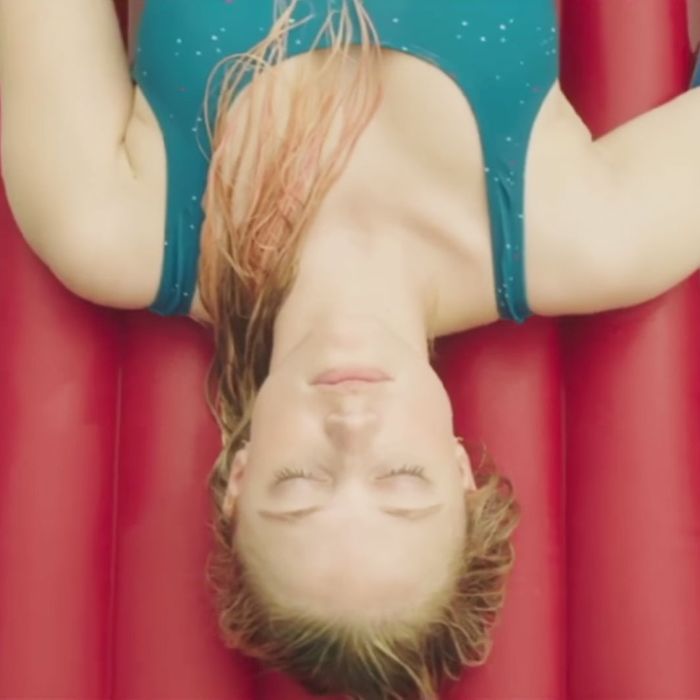 The weirdest thing about The Tribes of Palos Verdes, which is a very weird movie without really trying to be, is that it's not a period piece. The carpeted interiors and shearling collars and the sun-faded, nostalgic camerawork of Giles Dunning had me placing the domestic drama around 1993 at the latest. As a spiritual retro-prequel to The O.C., I could certainly dig it. But then the first reference to Facebook popped up at around the halfway point, and I was physically jolted. Apparently, the L.A. County enclave that serves as the setting is so chic they've already mandated that all residents be fully on-trend with the '90s revival.
The story is told from the perspective of Medina Mason (It Follows's Maika Monroe), whose family has abruptly moved to the titular affluent community from Michigan for her father's cardiology career. In wooden voice-over that blankets the film, Medina tells us that they are fish out of water in this idyllic land of tennis and surfing. But it's hard to imagine a more Californian brood than the beachy-blonde Medina, her floppy-haired, Disney-Channel-looking twin Jim (Cody Fern), and their mom Jennifer Garner. Their father Phil (Justin Kirk), who appears to have rolled a zero for Charisma and Perception, waits about one week after unpacking at the new place before he starts cheating on Garner's Sandy. And Sandy waits about two minutes to go into full-blown Spanx-shredding crazy-housewife territory, leaving the twins unmoored somewhere between them.
Speaking of the '90s, the premise of Tribes, based on a novel by Joy Nicholson, bears striking resemblance to Gillian Robespierre's 1995-set Landline, a tale of divorce and sibling bonds and parental disappointment. The main difference is that Landline takes place in Manhattan, not California, and Tribes has absolutely no trace of wit or verve. There's very little variation in its Ty Segall and John Maus–soundtracked slow-motion waves of prescription-dulled sadness. It's a gorgeous-looking, sensitively edited film to be sure, but never finds a dramatic foothold, no matter how many manic arguments and drug overdoses it throws our way.
Worse, it never really decides what Medina is about — sometimes surfing feels like her rock, sometimes it's her brother (the film rides a very suggestive twincest line that, about an hour in, I would have been relieved for it to explore, if only to throw something challenging into the works.) Monroe's open, fragile face suggests the outline of a compelling young heroine, but with Garner loaded up with the film's entire stock of acting pyrotechnics, it seems the main direction she was given was to stare moodily into the sunset, no matter what happens. Medina never succumbs to the chemical aids that her mother and brother do, and ultimately that's her salvation. But it hardly matters, the film itself arrives fully medicated.