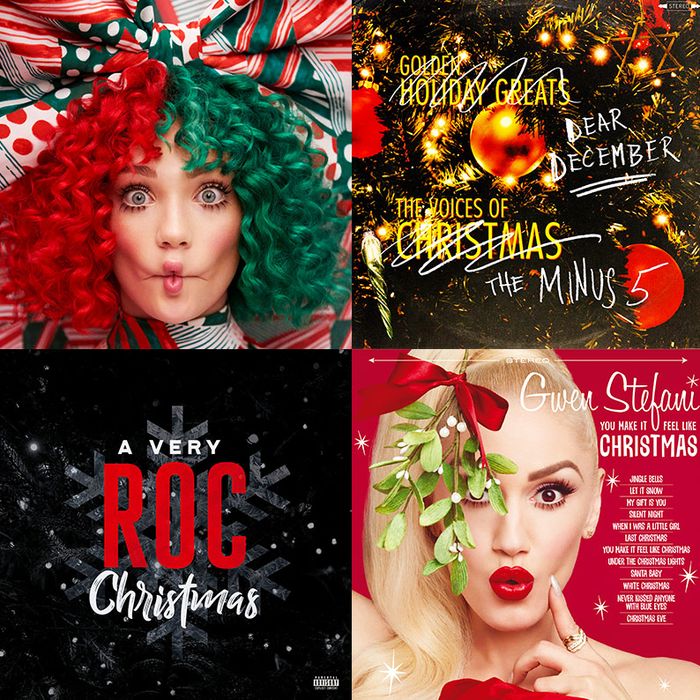 Pop-star holiday albums are a time-honored tradition, a winning blend of brazen capitalism and lazy gift-giving. Don't know what to get that finicky cousin or niece for the coming December present exchange? How about their favorite famous person's whole album of songs about said December present exchange? Not feeling touched by the spirit of generosity and togetherness? Here's Josh Groban with 13 precious, funereal renditions of your 70-year-old yuletide faves.
I have a peculiar relationship with holiday music because my mother's annual Motown Christmas kick has resulted in an absolutely Pavlovian response to the Temptations' Give Love at Christmas and the Jackson 5's Christmas Album. (She'd kill me if she read me saying Glenn Leonard rinsed Michael Jackson on his own track with "Give Love on Christmas Day," so if you see her keep your cool.) But I worked in retail long enough for "Christmas (Baby Please Come Home)" to conjure up terrifying flashbacks to wrecked department-store shelves and cranky babies being coddled in labyrinthine cash-register lines. I've worked around music long enough to know that these projects are as much about padding fourth-quarter dividends and warming a buzz through the dead of winter as any of the love and family celebrated in the music. Warm drinks and fuzzy feelings aside, Christmas is a business, as is the music made about it. Since there's never a shortage of the stuff when December hits, I've decided to look at a few of this year's noteworthy holiday music releases to see if they rate as good art or shameless cash grabs.
Various Artists, A Very ROC Christmas
Let's start with a cash grab! This nine-track Roc Nation collection is anchored by soulful original tunes from songwriter-to-the-stars James Fauntleroy (leftover from his 2014 and 2016 Warmest Winter and Warmest Winter II mixtapes), Manhattan R&B-folk singer Victory Boyd, and Kenyan singer-songwriter J.S. Ondara, all of which got me wondering what the multimedia company's music roster might look like if the non-rap properties got a quarter of the push guys like Big Sean and Vic Mensa enjoyed. The rest is a grab bag: If Yo Gotti and Fabolous trading dry snowman and North Pole puns in between DJ Khaled ad-libs is your thing, skip straight to "3 Kings." DJ Mustard smartly dices SWV's "I'm So Into You" up into sultry trap soul for British X Factor alum Ella Mai on "This Christmas," which, it must be noted, is totally not the "This Christmas" I thought it would be. The win here is a '50s sock-hop rendition of the 1984 Dolly Parton and Kenny Rogers gem "Christmas Without You" by Joe Jonas's DNCE. With almost none of the label's heavy hitters present, though, A Very ROC Christmas feels pretty perfunctory, like a placeholder in the streaming services' holiday new-release section. Where's Jay Elec-Hanukkah when you need him?
Sia, Everyday Is Christmas
Sia Furler's career trajectory never ceases to throw me. The Australian singer-songwriter broke big almost 20 years into her solo singing career with "Chandelier" and followed her most successful album with a collection of songs that Rihanna and Adele turned down … one that would go on to spawn two multi-platinum-selling singles. A year later, Everyday Is Christmas is another sharp left turn: It's a full album of holiday originals penned by Furler in collaboration with her go-to producer and co-writer Greg Kurstin. The singer's ear for melody is as strong here as elsewhere, but the material runs from slight to inessential. "Ho Ho Ho" is downright cloying in spite of a delightfully sinister instrumental breakdown near the end, and "Puppies Are Forever" imagines a charmless Gnarls Barkley. Sia all too often gets caught up in the cartoon kitsch of the enterprise, and these songs come out sounding like the chintzy, fake pop song-and-dance routines in a Teen Titans GO! episode. If you're really curious, check for "Snowman" and Snowflake," and maybe pretend the rest of this never happened.
Kaskade, Kaskade Christmas
How I wish I could've been a bug in the room where Chicago house producer Kaskade's Kaskade Christmas album was pitched. "What if Christmas … had drops?" Three tracks in, a funky "Deck the Halls" cover proves this idea isn't a tenth as ridiculous as it sounds. The vocalists deliver, and the beats are tight. Say what you want about Kaskade, but he knows what the hell he's doing behind the boards. Not even "God Rest Ye Merry Gentlemen" can throw him! How much you'll ever listen to this album will fully hinge on the value of sexy downtempo versions of hundred- and thousand-year-old songs about the baby Jesus in your daily travels. I'm not prone to hitting steps to "O Come Emmanuel," but who knows? One of you might have some swanky holiday party to confound and impress with Kas's jammin' ass "First Noel."
D.R.A.M., #1HappyHoliday
It's only three songs long, but Virgina singer-rapper D.R.A.M.'s #1HappyHoliday floats in on an adorable mother-and-son "Silver Bells" duet, coasts through a spectral version of "The Christmas Song," and closes out gracefully with upbeat seasonal sex pangs on the title track. Rare is the hand that can craft a song about boning under mistletoe without looking foolish, although I'd dock a point for the absence of the killer version of "It's the Most Wonderful Time of the Year" that D.R.A.M. cooked up for Sprite this year.
Gwen Stefani, You Make It Feel Like Christmas
I waited forever for this Gwen Stefani comeback, and I'm mad as hell that all I have to show for it is a lukewarm studio album, a photo of Gwen hanging out with Blake Shelton and Paul Ryan, and this. You Make It Feel Like Christmas indulges the most cloying Christmas album trope, which is the notion that because the Christmas canon is full of very old songs, they should be performed like very old songs. Almost everything here is arranged and sung the way it might've been if it had been released in the Eisenhower administration, which is a shock since the producers in residence are the country-pop genius busbee and the rock-and-metal whiz Eric Valentine. Gwen even plays Wham!'s "Last Christmas" like '50s rock, a baffling decision considering her sterling back catalogue of New Wave bangers like "New" and "Cool." You wonder what weirdness they could've cooked up instead of the Rated-E-for-Everyone accessibility on display here. That said, the originals are charming, and the Blake duet "You Make It Feel Like Christmas" is cute. Bops were needed, but these Cold War prom dances will do.
Fantasia, Christmas After Midnight
American Idol winner and R&B songstress Fantasia Barrino's Christmas After Midnight is the only album here that was savvy enough to dig up James Brown's hood classic "Santa Claus, Go Straight to the Ghetto," and Barrino's also the only singer here with the chops and grit to do it justice. Her "This Christmas" is the right "This Christmas." Her "Give Love on Christmas Day" is the right mix of mournful passion. Her "Merry Christmas, Baby" is as spirited as a church revival. Her voice never falters. Barrino did, however, call CeeLo in to duet on the grabby "Baby, It's Cold Outside" while the Atlanta performer is still in the doghouse for troubling remarks about sexual consent made after beating a case where he was accused of drugging a woman with ecstasy. Do with that information what thou wilt.
The Minus 5, Dear December
If you're looking for holiday music that's light on liturgy but still heavy on feels, singer-songwriter Scott McCaughey's roots-rock collective the Minus 5 has got you covered. McCaughey penned 11 songs about weathering love and loss in winter for the new Dear December and called on members of the Posies, the Decemberists, R.E.M., and Death Cab for Cutie to help flesh out the recordings. The track list flits between lightweight songs and crushing ones with the abruptness of an eggnog-sponsored crying jag. The Posies' Jon Auer and Ken Stringfellow bless "When Christmas Hurts You This Way," a sprightly power-pop tune about feeling hollow in the midst of everyone else's happy time, and later on, "Your Christmas Whiskey" jump-starts a good mood with a few sips from the bottle. Dear December is a heartbreaking rock album that just so happens to be set around the holidays, and the best and least-fussy album in this batch.