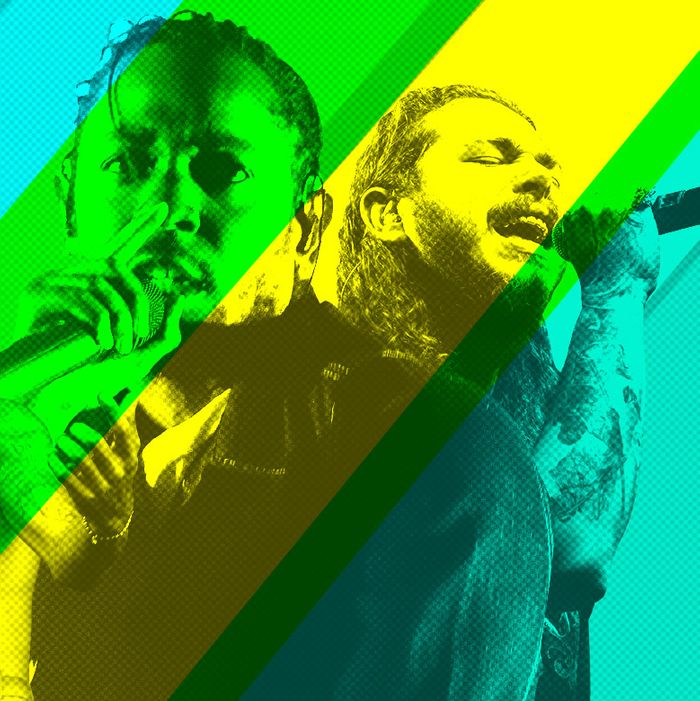 Photo-Illustration: Vulture and Getty Images
When writers used to ask if rock was dead, it wasn't actually a question of life or death. The real issue was power; what was meant by "rock" wasn't rock music, but the genre's imperial stature relative to the rest of popular music. Rock was more than a genre. It was the genre of genres, a sound whose audience sprawled over social divides. Musicians and critics may have more catholic tastes, but it's clear that the audiences for just about every genre of American music are overwhelmingly concentrated in a single demographic. Think of R&B, country, disco: the names operate at once as an aesthetic descriptor and as shorthand for a set of social allegiances, whether of region, race, gender, or class. For decades, rock was the exception to this nominalism. It was a mansion large enough and hospitable enough that everyone could fit within. When you pointed at it, you weren't pointing at a fraction, but the whole.
Then, in roughly the space of a decade — from the mid-'90s to the mid-aughts — the house flew apart. Rock as a mega-genre lived the knowledge its individual stars had already discovered: Once it peaked, there was only one direction left to go. Taken collectively, rock acts plummeted in commercial potency, aesthetic quality, and social resonance. The bands that still did huge sales were of middling quality at best. The bands that were good didn't sell well; they were trendy without being timely. It was time to jump ship. Writers who had risen during rock's reign began to debate the causes of its demise, as well as search for new stars to hitch themselves to. It was in this environment that a discovery was made. Pop, pure pop, was good, and it was acceptable and good to write seriously about it. There was a real fire behind all this smoke. Pop in the later 2000s and early 2010s had huge sales and serious talent, especially among women artists: Beyoncé, M.I.A., Taylor Swift. And even if a given pop star didn't carry much of a message, so much the better for music writers, who had that much more room to imagine one for them.
The heyday of pop enthusiasm didn't correspond with a decline in rap's innovation or popularity, but it did coincide with a serious fall in profits. Rising rappers flooded the web with free music, while more established rappers saw their sales drained by online file sharing; record executives, many of whom had never liked rap or rappers anyway, were ill inclined to seed much of the industry's declining profits in a fallow field. Commercial success for hip-hop, during this period, meant tacking toward pop. As in much else, Kanye led the way: His middle period albums Graduation (2007) and 808s & Heartbreak (2008) are decidedly less confrontational and more song-heavy than the albums preceding them. Drake, hearing 808s, got the message quiet and clear. Starting off where Kanye had arrived, he made himself a superstar by transmuting rap's flagrant animus into hazier anxieties more compatible with radio play, music business validation, and middle-class mentalities. It was a compromise, albeit one deftly negotiated and exceedingly lucrative: From 2009 up to 2016, Drake's way was the swiftest path to mainstream saturation and tremendous wealth. Glum posturing pervaded Drake's lyrics, but his career was solid proof of the benefits that came with testing positive for pop.
Rap in 2017 wasn't marked by drastic change so much as by the patient extension of existing trends. Even the rise of South Florida punk rap, the year's most abrupt development, is clearly the product of a convergence between Atlanta trap and the devilish eclecticism of Miami predecessors like SpaceGhostPurrp. The political turbulence that defined the year seems to have touched hip-hop only slightly. Kendrick Lamar summed it up best: "The feeling of an apocalypse happening but nothing is awkward." Rap, in reference to itself, was a still point in a stormy world. But within the field of music at large a momentous shift occurred, or at the very least was recognized in full for the first time. Previously, file sharing had masked rap's preeminence among young listeners, but the huge growth of music streaming services and Billboard's factoring streams into its chart calculations have underlined a vague sense of dominance with hard numbers. Rap has been king for the better part of the past few decades — the younger the generation, the more total its immersion in rap — but only in 2017 do we see it officially crowned as music's most popular genre. Rap's supremacy is more than just commercial. Its cadences, inflections, and tones are everywhere in new music: infiltrating country, swallowing R&B, and pervading pop. Beyoncé and Rihanna now rap often and well, and even sectors of pop long cold to its influence have thrown up the white flag: Taylor Swift served bars on Reputation — or tried to.
The inverse is occurring as well; rap is absorbing other genres into itself. Rock's youthful spirit is being reformed by rappers in their own image, most visibly on "XO Tour Llif3," a song (and Song of the Year) labeled by its artist Lil Uzi Vert on Soundcloud as "alternative rock." "I can guarantee you Lil Uzi Vert was listening to a lot of Green Day. Had to be," Vince Staples told us in an interview; everything from Uzi's moments of nasally high-pitched distress to his strategy of building and releasing tension to his plain yet overwrought hook suggest perfect fluency in the fundamentals of pop-punk. Staples himself was busy integrating a different sound into his own art on Big Fish Theory, a sophomore LP calmly situated at the intersection of street rap and EDM. Only Staples would have thought to tap electronic producer Sophie for an ultra-synthetic beat over which to scoff at rappers' empty boasts on "Yeah Right" while also securing an effortless gallop of a guest verse from Kendrick Lamar. Kendrick, meanwhile, had already stitched U2 neatly into the fabric of DAMN.
Few events more cleanly illustrated the narrative of rap overthrowing pop than DAMN's triumph over Drake's More Life. Kendrick had at last found a way to make uncut rap surpassing Drake's hybrid theory not only critically, but commercially as well. Yet even the greatest active rapper needed a little outside help to put him over the top: "DNA" and "Humble," the two biggest hits on DAMN, also happen to be the first two K-Dot songs produced by Atlanta hitmaker Mike Will Made It. The rising status of the producer, in particular the broad loose collective of trap producers centered in Atlanta, is at least as notable as any development on the lyricists' side. (Produced by TM88, "XO Tour Llif3" is also an Atlanta product.) It's just as pertinent to register the year's breakout beat-makers as it is to identify its breakout artists. In this context, the increasing prominence and originality of producer tags come as no surprise: It's a quick and efficient way for producers to build a brand. The bigger the producer, the more unforgettable the tag.
No tags are more memorable than those of Metro Boomin, who, despite being 24 and originally from St. Louis, is generally recognized as the dean of the current Atlanta school. Metro was already a marquee name last year, but 2017 proved to be his most brilliant yet, with "Bad and Boujee" crowning the Hot 100 early in the year, crucial production credits on Future's double album FUTURE/HNDRXX ("Mask Off," "Sorry"), and four full collaborative albums with Gucci Mane (Droptopwop), Big Sean (Double or Nothing), 21 Savage and Offset (Without Warning), and Nav (Perfect Timing). Metro is more than a producer at this point. He's a self-directed A&R whose co-sign is worth its weight in platinum. His anointing of Atlanta's stern trap minimalist 21 Savage with Savage Mode was critical to Savage's emergence in 2016 (and his continued ascension in 2017). Metro is the DJ Premier of his era: not just a great producer, but an entire movement in production's leader. It's easiest to gauge where a contemporary beat-maker is at by placing him in relation the shadowy, relaxed precision of Metro's style; to take this year's fastest-rising producers as an example, Pierre Bourne is jauntier and more colorful, Ronny J more abrasive and less layered.
Just as Metro has artists that are "his" artists (Future and 21), the new class of producers have artists whose aesthetics converge with their own. Pierre's style is uniquely suited to the school of fashion rap, and to Playboy Carti in particular. Fashion rappers don't just dress well. They build a style exclusively around having style. (Ad libs have always been an element of rap, but Carti, who floated over a swanky, heavy, dreamy Pierre beat on "Magnolia,"  had a successful year by proving that it's okay for his ad libs have more presence than his lyrics. Pierre, with his melodious dynamism and runway pace, is their designer of choice. Ronny J, meanwhile, has laid much of the foundation for the insurgent scene of his native South Florida. His blunt, grindingly hypnotic beats make an impact and depart in record time, a paramount virtue in a streaming ecosystem where shorter songs count for more streams on loop. Ronny first emerged last year providing complements for the more considered lyricism of Denzel Curry's Infinite, but he only fully arrived this year by dealing out fried, pummeling synth beats clocking in at roughly two minutes for punk rappers like Ski Mask the Slump God, the infamous XXXTentacion, Smokepurpp, and Lil Pump. (Even Danielle Bregoli, the "Cash Me Outside" 14-year-old, performed over Ronny J beats, briefly piercing the Hot 100 as Bhad Bhabie with "These Heaux" and "Hi Bich.")
If Atlanta trap sounds the way relaxing in a club's VIP lounge feels, Miami punk rap is a brawl between a bouncer and unwanted guests. It's not an opposition, just a difference in emphasis: As we recently noted, punk rap's sound and most of its tropes can be traced back to certain scuzz-infused Future tracks produced by Metro Boomin circa 2015. Like his fellow pioneer Chief Keef, Future's moved on in 2017 by developing a distinctive fusion of hardcore realism with R&B tenderness, but the teens baptized by his lean-drenched lyrics have grown into slightly older teens reciting mantras about their own substance ingestion, precious accessories, and designer outfits on Soundcloud.
Concocted by Gucci Mane, elaborated by the Migos, and raised to its highest pitch by Future, modern Atlanta trap has prevailed to an extent hard to imagine even a year ago. Its success lies in its ability to compress itself into a portable, one-size-fits-all format: a rich, sleek, dance-friendly sound mating 808s to high keyboards, Auto-Tuned lyrics revolving around pills, fashion, cough syrup, money, and women. The formula can be evolved further (Future) or blended with others (Lil Uzi Vert) or further reduced (punk rap), but there's no doubt that it's become central to rap in the same way, and at the same time, that rap has become central to music at large. If hip-hop were a body, Kendrick and the rest of the California brain trust would form its head. Narrative-centered street rappers like Birmingham's YBN Nahmir, Sacramento's Mozzy, Boston's Cousin Stizz, Detroit's Tee Grizzley, and Philly's Meek Mill (all of whom had superb showings in 2017) would be the limbs; punk rap would be the viscera, fashion rap the wardrobe, and Lil Uzi Vert the coiffure, perhaps. But the trunk of the body would have to be, without a doubt, the greater South centered on Atlanta artists and their battery of top-tier producers.
New York — since we can never forget New York — contains the nation in microcosm. Many sounds compete but none are dominant: A$AP Mob is the hub of fashion rap; the dramatic successes of Cardi B, emergence of A Boogie Wit da Hoodie, and continued presence of French Montana epitomize the Southern connection; Joey Bada$$ tends the same ideological flame on the East Coast that Kendrick and company do on the West; street artists like Don Q and A$AP Twelvyy (and the Wu-Tang Clan) continue the city's indigenous hardcore tradition; and 6ix9ine, a Bushwick punk rapper (and confessed sex criminal), had the top song on Soundcloud last week before being knocked off by a new batch of XXXTentacion tracks.
By blurring accents with vocoders, prioritizing instrumentals over lyrics, and focusing content on a narrow set of universal tropes, the recipe for trap becomes uncommonly available for copying by non-black artists. The burgeoning career of Rich Chigga shows how the formula is being adopted across color and national lines, but the ultimate exemplar of facsimile trap is Post Malone, who's maintained a strong chart presence all year despite a lack of critical enthusiasm: His December 2016 album Stoney has hovered in the upper reaches of the Billboard 200 for most of 2017, and his single "Rockstar" perched recently atop the Hot 100 for eight weeks before finally being dethroned by an Ed Sheeran–Beyoncé duet.
"Rockstar" cites Jim Morrison and Bon Scott, but the rocker Post seems most reminiscent of is Presley; much like Elvis with rock music, Post seems to have cracked many of the protective codes that have maintained black centrality in hip-hop. Time will tell if others follow in his wake, but for now the forecast for gentrification looks doubtful. "Rockstar" is Post's song, one where he fucks "hoes," pops "pillies," cites "shot-tas" and "homies," and quotes a gun going "grr-ra-ta-ta-ta," but what anchors the song is 21 Savage's presence; without 21's co-sign to lend the proceedings some measure of "realness" and shield Post from charges of culture theft, Post wouldn't have dared to take his mimicry so far.
21's style is curt, contemptuous, and quietly witty, and his reputation for honest violence remains a critical resource in a landscape where clothes, cash, and intoxicants take precedence. Efficient, locked in, and unshowy, he's the beating heart of contemporary rap; it's impossible to pass as a serious artist without paying him (or someone like him) for an expensive and impermanent transfusion. Everyone can listen to rap and anyone can call themselves a rapper, but the arbiters of taste in rap remain younger artists, producers, and listeners from a black, economically disadvantaged background. The keenness of their judgment has been vital in rap's rise to cultural primacy in the greater world, and though the day has yet to come when they themselves are honored as they deserve, the fact that rap's ascendancy can no longer be denied is a rare encouraging sign in a year otherwise defined by deadlock and regression.