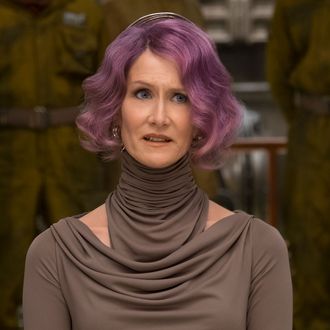 Photo: David James/Copyright: 2017 Lucasfilm Ltd. & ™, All Rights Reserved.
One of the most incredible shots in The Last Jedi has been stunning some viewers into a state of confusion. The following isn't exactly a spoiler, but it does take the edge off a particular surprise in the movie, so consider this your warning. There's a moment in the film when the sound cuts out completely for ten seconds, and it's totally on purpose. It adds a tremendous amount of weight to one of the movie's many emotional scenes, but some fans have apparently been interpreting it as a technical failure on the part of the theaters. The AMC chain, for example, has fielded enough complaints from patrons that they set up disclaimers at some cinemas. The note doesn't tell theatergoers what happens, but it does give a timestamp of when it occurs in the run time, which kind of makes it a lame spoiler anyway since you know this totally unexpected thing is going to happen at some point. Paul Scheer posted a photo of the notice on Facebook.
The visual-effects supervisor for the movie, Ben Morris, talked with Collider about the decision to frame the scene around silence. "We had always hoped that would resonate, both as a story beat and as a striking visual, and when I heard all of the cries and gasps in the silence, it was just fantastic," said Morris. "We realized that it worked. That's never really happened in Star Wars before." So there. Now you'll know that the sound system in the theater isn't broken, but you've also been robbed of one this year's great unexpected cinematic treats.