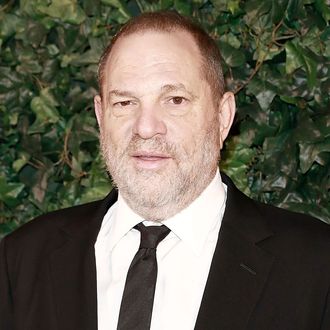 Photo: John Phillips/John Phillips/Getty Images
Last month, The New Yorker exposed Harvey Weinstein's "army of spies," the network of intelligence analysts, lawyers, and strict NDAs that allowed him to allegedly assault women in Hollywood unchecked. Now, a New York Times investigation details how tight Weinstein's grasp was on Hollywood: Agents at CAA delivered young female stars to meet with him; the editor of the National Enquirer dispatched reporters to dig up dirt on his accusers; his brother Bob Weinstein helped with settlement payouts; he shielded himself with other Weinstein Company employees that he threatened to blackmail if they didn't fall in line. According to the report, minutes before the Times published its first exposé of the disgraced mogul this October, he phoned the reporters, "swinging between flattery and threats," trying to kill the story.
At CAA, one of Hollywood's most powerful talent agencies, at least eight agents heard about Weinstein's misbehavior over the years. Still, according to the Times, they instructed their clients to meet with him. Bryan Lourd, a partner at CAA, tried to broker a meeting between Weinstein and his client Ronan Farrow in September, as Farrow worked on his own Weinstein assault exposé. When Gwyneth Paltrow told her CAA agent that Weinstein cornered her in a hotel room, the agent didn't suggest it was a charge that should be reported to his superiors.
Weinstein also kept a network of friendly journalists. Former New York Daily News gossip columnist A. J. Benza allegedly received payments in exchange for celebrity gossip that Weinstein used to deflect attention from his own misdeeds or punish his challengers. Weinstein was also close with David J. Pecker, head of tabloid publisher American Media Inc. Weinstein was known as a "FOP," or "friend of Pecker," and Enquirer reporters were deployed to dig up dirt on Weinstein's accusers, though the editors deny this.
Inside Miramax, and later the Weinstein Company, Weinstein stacked his company's board with friendlies. At times he would express contrition, yet still tasked assistants with delivering actresses to his hotel rooms, tipped them for picking up erectile dysfunction drugs (and often asked them to keep the drugs handy or deliver them to his solo meetings with actresses), and paid for lavish yachts with company money.
Through his spokesperson Sallie Hofmeister, Weinstein, currently in rehab in Arizona, has denied all accusations of sexual assault.