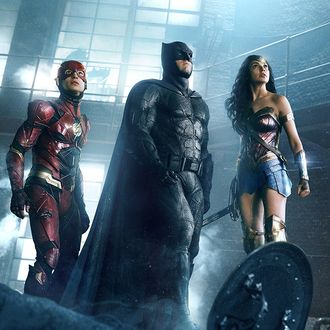 Still from
Justice League.
Photo: Warner Bros.
History is repeating itself for Warner Bros. and its superhero brand managers at DC Entertainment. Once again, they're facing a critical and financial disappointment; once again, a change in leadership is coming in its wake. Last year, the critical drubbing of Batman v Superman: Dawn of Justice led the powers that be to install DC chief creative officer Geoff Johns and Warner Bros. Pictures exec Jon Berg as co-heads of Warner's superhero-movie slate. They guided the operation to success with this summer's Wonder Woman, but hit a rocky shore with Justice League. That film's underperformance has apparently spooked Warner enough that, according to Variety, the company is restructuring its approach to flicks of the spandex variety.
The most visible shift in the coming months will be the departure of Berg from the DC-film endeavor. To be fair, that might not be solely due to Justice League's reception. Warner movie head Toby Emmerich confirmed Berg's transition into a role as production partner with It producer Roy Lee, but said Berg first approached Emmerich about it "about six months ago." More cryptically, Variety reports that Johns's "contributions to the films may evolve, and could be more advisory in nature." It also appears that two moves that observers have long expected are still happening: Justice League and BvS director Zack Snyder is not currently slotted to do any more DC endeavors, and it's "highly unlikely" that Ben Affleck will star in Matt Reeves's stand-alone Batman picture. That said, Warner brass were reportedly happy enough with Ezra Miller's performance as the Flash in Justice League that his solo movie (which will allegedly boast a Batfleck appearance) is still in development.
But perhaps the most notable thing to watch out for in the superhero ecosystem is what, exactly, will happen to DC Entertainment as a whole. As of now, the subsidiary — which also publishes comics and consults on comics-adapted TV, games, and consumer products — has its own offices in a separate building on the Warner lot. That physical location is representative of the relative autonomy DC has enjoyed: It advises on films, but is not beneath Warner Bros. Pictures on the corporate org chart. That might be changing. According to Variety, DC could soon move into the same space as the movie operation, so as to give the latter more control over the DC-branded flicks. The article is vague on that front, and it would be prematurely speculative to say DC Entertainment, as an entity, will be made subordinate to Warner Bros. Pictures. But if DC does gets a demotion, it would be a slightly surprising choice, given that it was Warner Bros. Pictures, not DC, that initially led the charges on BvS and Justice League. So far, the movie with the most DC Entertainment influence has been Wonder Woman, which was a crown jewel for Warner. If the higher-ups punish DC and Johns for Justice League's shortcomings, they might be throwing the Superbaby out with the kryptonite bathwater.