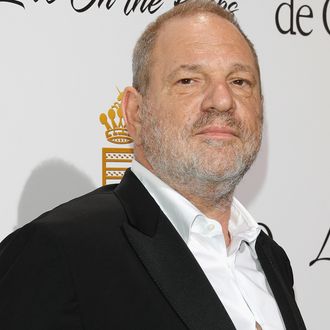 Photo: Andreas Rentz/Getty Images
One of the hottest developing projects in Hollywood was the David O. Russell-produced TV series with no title that had been snatched up with a two-season, 16-episode commitment from Amazon. Julianne Moore, Robert De Niro, and Michael Shannon were set to star, but with the Weinstein Company attached as producer, the highly anticipated property was swallowed up by the scandal of Harvey Weinstein's alleged decades of sexual assault. "We support Amazon's decision and in light of recent news and out of respect for all those affected we have decided together that it is best to not move forward with this show," Russell, Moore, and De Niro said in a joint statement following the decision to abandon the series. Now, TWC is fielding a multimillion dollar lawsuit from EMJAG Productions — which had developed the series with Russell from the start — and is seeking to recoup damages, claiming that the studio negligently committed to the series knowing the pending allegations could endanger their business ventures. The complaint reads in part:
TWC had lured Plaintiffs into a trap. Unknown to Plaintiffs, TWC's former co-chairman, Harvey Weinstein, had engaged in multiple acts of sexual misconduct. This misconduct — which TWC knew very well, but concealed from the Plaintiffs — was effectively a ticking time bomb. In October 2017, the time bomb exploded with the revelation of Weinstein's sordid history of sex abuse. The Project was one of its casualties, as Amazon, seeking to distance itself from Weinstein, withdrew from the Project. TWC then withheld the compensation that it had promised to pay to Plaintiffs.
The company, along with individuals Scott Lambert and Alexandra Milchan (a husband-and-wife producing team), are seeking "damages well in excess of $2,000,000" for lost compensation from things including backend profits, credits, relocation costs (the couple moved to New York for production), per-episode compensation (Deadline reports that they were both slated to make $50,000 for each), and a $250,000 development fee. "During the time of the negotiations and at the time that they entered into the Contract, they had no knowledge of Weinstein's history of sexual misconduct," the complaint says of Lambert and Milchan. "Had they known of his sordid history, they would not have entered into the Contract, as it would have exposed TWC's appearance of reputability to be a sham."