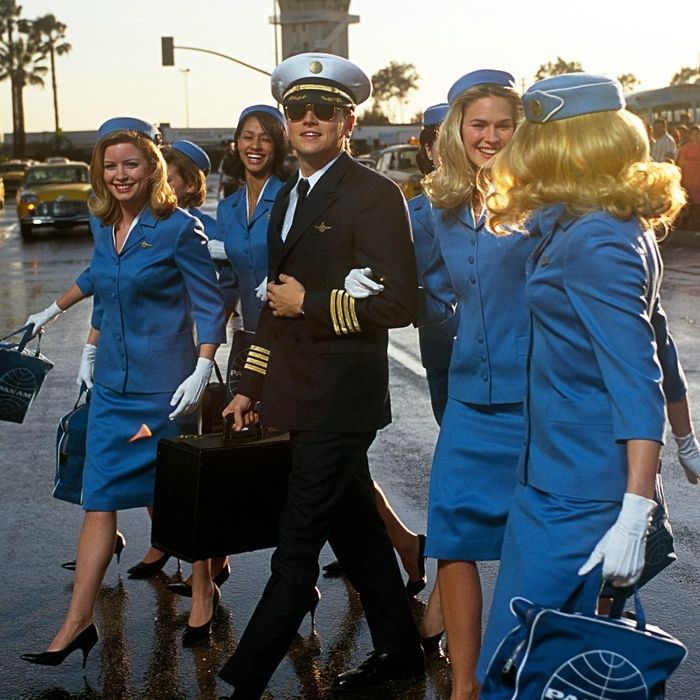 Each month, several films leave HBO's library. We provide a list of departing titles and recommend a few standouts so you can watch them before they're gone forever (or are just available on a different site). For more coverage of the best titles available on HBO and elsewhere, check out Vulture's What to Stream Now hub, which is updated throughout the month.
Leaving January 31
Because it's Spielberg Season: Catch Me If You Can
A close relative to Hanks Season, Spielberg Season is when one of the best and most popular directors of our lifetime decides to make a buzzy, enjoyable prestige movie close to the holidays — a surefire agreeable pick at a time of year when it's impossible to get everyone to agree on a movie. So follow up The Post with one of Spielberg's most straight-up-fun films, which also happens to star Tom Hanks. Leonardo DiCaprio plays Frank Abagnale, one of the most notorious con men in American history, and Hanks plays Carl Hanratty, the FBI agent determined to bring him to justice. Watch it before it leaves HBO, and try not to think about Ready Player One. Leaving January 31.
Leaving January 31
If you're in the mood for a good Western: High Plains Drifter
January sees two Clint Eastwood Westerns leave HBO: the Elmore Leonard–penned John Sturges film Joe Kidd, and Eastwood's own directorial effort High Plains Drifter. Of those, Drifter is the one to watch. Eastwood's second trip to the director's chair (and the first Western he directed) is his attempt at the sort of films he made with directors like Sergio Leone. With a script by Shaft creator and The French Connection writer Ernest Tidyman, and a score by Dee Barton, High Plains Drifter is the start of an era's end, as Eastwood would gradually transition away from Westerns, but never truly abandon them. Leaving January 31.
Leaving January 31
Because everyone needs to experience Jennifer Lopez's finest work: Enough
Enough isn't really a good film. It's a clumsy story about a fraught subject that should not be clumsily handled, and for a movie about a woman devoting herself to revenge and the skill to fight back, it's almost certainly longer and more convoluted than it needs to be. But none of that really matters the moment you see Jennifer Lopez transformed, by the powers of determination and Krav Maga, into a force of nature that's downright totemic. Leaving January 31.
Noteworthy titles in bold.
Movies
Leaving January 31
• Adaptation
• Catch Me If You Can
• Clockstoppers
• The Eiger Sanction
• Enough
• Frank Miller's Sin City
• Frost/Nixon
• Hannah Montana and Miley Cyrus: Best of Both Worlds Concert Tour
• High Plains Drifter
• The Incredible Hulk
• Joe Kidd
• Jonas Brothers: The Concert Experience
• Just Cause
• Martian Child
• Robin Hood: Men in Tights
• RocknRolla
• Scarface
• Scent of a Woman
• Scream 3
• Sea of Love
• Search Party
• Selena
• Solaris
• Sully
• Tender Mercies
• The Strangers
• The Ring
• The Rocker
• The Rose
• Thirteen