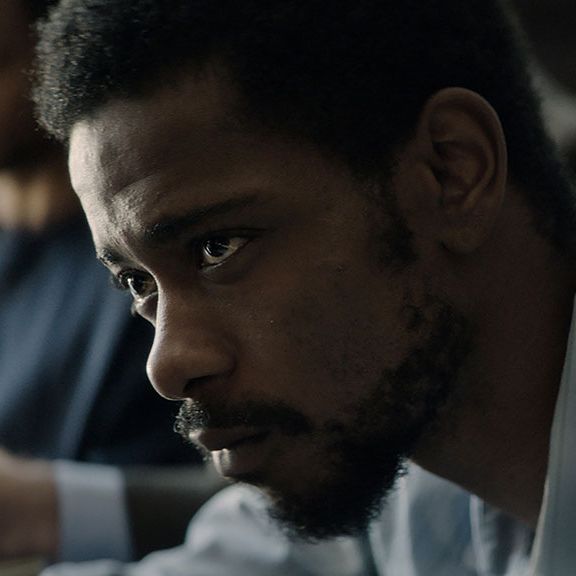 Photo: Amazon Prime Video
At the beginning of (and during) every month, Amazon Prime adds new movies and TV shows to its library. Below, you'll find our recommendations for December 2017. For more comprehensive coverage of the best titles available on Amazon Prime and elsewhere, check out Vulture's What to Stream Now hub, which is updated throughout the month.
Available December 8
If you're a fan of Atlanta: Crown Heights
Based on an episode of This American Life, Crown Heights tells the true story of Colin Warner, a man wrongfully convicted of murder at 18, and his friend, Carl King, who dedicated his life to proving Colin's innocence. Crown Heights flew under the radar when it premiered in theaters last August, but it's worth checking out — both as an adaptation of a powerful true story, and as a showcase for Atlanta's Lakeith Stanfield, an actor worth getting excited about. Available December 8.
Available December 9
If you're looking for a smart, subtle horror film: It Comes at Night
We're including the trailer to this movie, but be warned: It's lying to you. It Comes at Night is not the kind of movie that its trailer sells, a cabin-in-the-woods thriller about a monster stalking a family. Instead, it's a moody thriller about two families coming together after an unknown apocalyptic disaster, a movie that scares you with the weight of its atmosphere and bleak ruminations. If you go in with the right expectations, you might even find it's one of the best horror films of the year. Available December 9.
Available December 10
If you want to revisit the birth of Scary Jake Gyllenhaal: Nightcrawler
Where were you when you found out Jake could be scary as hell? I was in a movie theater, watching Nightcrawler, skeeved out of my freaking mind. Dan Gilroy's 2014 thriller about a petty thief's fascination with photojournalism that quickly, horrifyingly veers into the unethical is unforgettable. Along with Enemy and Prisoners, it also marked Gyllenhaal's pivot to intense, transformative roles. Pair this one with Okja if you want to go on a real trip. Available December 10.
Noteworthy titles in bold.
Available December 1
• Apocalypse Now
• At Close Range
• Basic Instinct 2
• Bloodsport
• Brothers Grimm
• Buffalo 66
• Child's Play
• Dr. Strange
• Gremlins 2: The New Batch
• Hammett
• Hannibal
• Hitch
• Hulk Vs.
• In & Out
• In Enemy Hands
• Light Sleeper
• Meet Wally Sparks
• Moonstruck
• Next Avengers: Heroes of Tomorrow
• Planet Hulk
• Point Break
• Rocky
• Rocky II
• Rocky III
• Rocky IV
• Rocky V
• Searching for Bobby Fischer
• Silence
• Stigmata
• The Final Cut
• The Heartbreak Kid
• The Invincible Iron Man
• The Silence of the Lambs
• The Weight of Water
• Thor Animated Movie: Tales of Asgard
• Titanic
• Ultimate Avengers II
• Ultimate Avengers: The Movie
• Wristcutters: A Love Story
Available December 2
• Class: Season 1
Available December 4
• The Royals: Season 3
Available December 7
• Thursday Night Football: Saints vs. Falcons
• Aftershock
• Gun Shy
Available December 8
• Crank 2: High Voltage
• Crown Heights (Amazon Original)
• The Grand Tour: Season 2 (Amazon Original)
• Triple 9
Available December 9
• It Comes at Night
Available December 10
• Nightcrawler
• Rosewater
Available December 12
• Foreman
Available December 14
• Thursday Night Football: Broncos vs. Colts
Available December 15
• Jean Claude Van Johnson: Season 1 (Amazon Original)
Available December 18
• Doctor Who Christmas Special
Available December 21
• Woodshock
• Humans: Season 2
Available December 22
• Monster Trucks
• The Last Post: Season 1 (Amazon Original)
Available December 23
• Teen Wolf: Season 6
• Anne of Green Gables: Season 2
• Banksy Does New York
• Someone Marry Barry
Available December 25
• Thursday Night Football: Steelers vs. Texans
Available December 28
• Anjelah Johnson: Mahalo & Goodnight
Available December 29
• Rings
Available December 31
• Brawl in Cell Block 99
• Solace