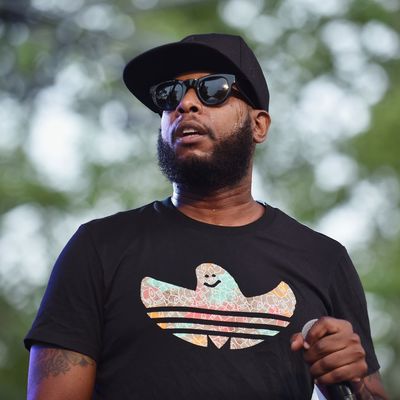 Photo: Bryan Bedder/Getty Images for Ozy Fusion Fest
Last month, Twitter locked rapper Talib Kweli out of his account after a white-supremacist Texas attorney named Jason Kessler hurled hate speech, racist epithets, and violent threats at him and his fans. Kweli took action into his own hands, finding the lawyer's public business address, and sharing it with his followers, "so that people can confront and demand accountability."
He then took the stage at Blue Note jazz club in New York City and condemned both Twitter and the lawyer. "When you hear me onstage or on my Twitter page talking about social-justice issues, know that it's in my DNA, like Kendrick Lamar said," Kweli said onstage. "Know that I've been doing it since the beginning of my career."
In Kweli's two decades on the scene, the 42-year-old artist's unwavering political salience has solidified his legacy. When it comes to sociopolitical commentary in hip-hop and activism, both in and outside of music and the internet, Kweli is tethered to the title of "conscious" rappers. But now, he's straddling the fence between visibility and invisibility, even as conscious rap is enjoying a renewed level of interest.
In a recent interview, Kendrick Lamar was described as "inhabiting the kind of rarefied sphere where the various standards of success — pop chart dominance and cultural relevance, street-level authenticity and worldwide stardom — all seem to align."
While Lamar's conscious-adjacent status and considerable skill helped him become this era's premier political rapper, Kweli's success has been diametrically opposed to that formula. He is the purveyor of traditional political rap, but now he's tasked with navigating the modernized version of "woke" artistry. Kweli was conscious at a time when being conscious wasn't cool, and now it seems like people have overlooked him as a result.
In the mid to late '90s, New York's signature sounds were still rapidly shifting. Rappers like DMX and Big Pun became harbingers of N.Y. rap's definitive street style, while Puff Daddy and Ma$e inducted the gangsta glamour, shiny-suit era. But Kweli didn't fit in with either wave. At that same time, he was rising to fame with Mos Def as the critically acclaimed duo Black Star. He largely existed in a world outside the commercial behemoth that hip-hop was growing into. Kweli wasn't necessarily pushed to the sidelines; he had his own lane to steer in.
Those lanes aren't so distinct now, as rappers from all across the spectrum flirt with revolutionary rhetoric in their songs, and lace lyrics with latent political takes, and without fully claiming the "conscious rap" title, they're accepted as such.
Kweli commits wholeheartedly to the label. He's outspoken on Twitter in an attempt to engage in deep discourse with fans, argue with trolls, and continue to spread awareness of the same issues he raps about. He regularly speaks at rallies, urging the NYPD to end their stop-and-frisk policy, and he holds benefit concerts for victims of police brutality. It is generally understood that in the pantheon of influential and skilled rappers, he matters. But his discography — eight solo albums and seven collaborative albums released steadily throughout the last 20 years — is looked at with distant, doting reverence. Kweli's latest album, Radio Silence, stands as a testament to that.
Though it bears features from the likes of Rick Ross, Kaytranada, Anderson .Paak, and a verse from the elusive Jay Electronica, Radio Silence isn't experimental. It isn't an adapt-or-perish musical mechanism, but rather, Kweli's own formula of refinement and rebellion; committing to and bettering his signature sound while welcoming comparative unorthodoxy with past collaborators like Lil Wayne, Justin Timberlake, and now Waka Flocka Flame, who's featured on the album's song "Chips."
The album is, for the most part, traditional Kweli; dense, sweeping assessments of everything from the prison industrial complex and the perils of inner-city poverty on "Knockturnal," to culture vultures on "Write at Home," "The One I Love" featuring BJ the Chicago Kid filling the rap romance song role on the project, to police brutality and domestic violence in "She's My Hero," which is a dedication to Bresha Meadows, a teenage girl jailed for killing her abusive father, the most poignant track on the album.
What he raps about now is in line with what he's always rapped about. When Kweli modifies his music, he seems to do so by will and not by force; caring more about his message than its reception. And though Kweli has forged a career that in many aspects can function outside of radio and ratings, what still remains is the hustle to be heard.
Radio Silence asserts just how committed Kweli is to the sound he's built his career on. Even with the collaborative efforts from newer voices in the industry, he places more of an emphasis on his message than on making that message palatable to new listeners.
He can't be fashioned into a pop star — and he probably doesn't care. He should, by definition, be one of the shining stars of this political moment in music, but he isn't. He's not really capable of being a "moment" rapper, for better or worse.
Radio Silence came out this year, but it sounds like it could've been released ten years ago, and for his core fans, that may very well be its most redeeming quality. But when the music doesn't sound like what's on the radio, or like what's on SoundCloud, where does that leave Kweli?