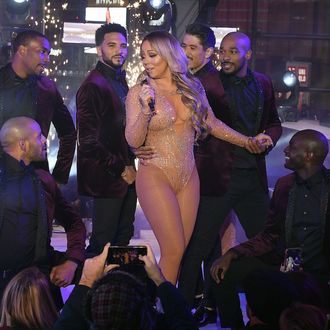 Mariah Carey performing on New Year's Eve in Times Square last year.
Photo: ANGELA WEISS/AFP/Getty Images
With mere hours until 2017 is over (finally), here's where and when to tune in and count down to 2018 with television networks' glittering New Year's Eve celebrations, including all the festivities at Times Square, the ball drop, and much-anticipated performances by Mariah Carey and others. Cheers!
Dick Clark's New Year's Rockin' Eve With Ryan Seacrest 2018 (ABC)
Time: 8:00 p.m. to 11:00 p.m. and 11:30 p.m. to 2:13 a.m. EST.
Hosted by: Ryan Seacrest and Jenny McCarthy in New York; Ciara in Los Angeles; Pretty Little Liars' Lucy Hale in New Orleans.
Guests: Mariah Carey, Camila Cabello, Nick Jonas, and Sugarland in New York; Kelly Clarkson, Halsey, Khalid, Shawn Mendes, Charlie Puth, and more in Los Angeles; Imagine Dragons, and Walk the Moon in New Orleans; Britney Spears in Las Vegas.
New Year's Eve Live With Anderson Cooper and Andy Cohen (CNN)
Time: 8:00 p.m. to 12:30 a.m. EST.
Hosted by: Anderson Cooper is joined by Andy Cohen, who replaces Kathy Griffin after she was dropped by the network.
Guests: Keith Urban in Nashville. Interview with Celine Dion.
Fox's New Year's Eve With Steve Harvey: Live From Times Square (Fox)
Time: 8:00 p.m. to 10:00 p.m. and 11:00 p.m. to 12:30 a.m. EST.
Hosted by: Steve Harvey.
Guests: Maroon 5, Zac Brown Band, Celine Dion, Backstreet Boys, Andra Day, Macklemore, Skylar Grey, Flo Rida, and Neil Diamond.
All-American New Year (Fox News)
Time: 10:00 p.m. to 1:00 a.m. EST.
Hosted by: In addition to Steve Harvey's show, Fox's cable-news division will be broadcasting from Times Square with anchors Lisa "Kennedy" Montgomery and Jesse Watters.
Guests: Singer-songwriter Andy Grammer and singer Lauren Alaina.
New Year's Eve Webcast From Times Square
Time: 5:55 p.m. to 12:15 a.m. EST. (Watch here.)
Hosted by: Jonathan Bennett, Mean Girls star (a.k.a. Aaron Samuels) and Cupcake Wars host; introduced by Allison Hagendorf.
Guests: Andy Grammer and Lauren Alaina; Tarana Burke, founder of the #MeToo movement; and Mayor Bill de Blasio, who will lead the countdown.