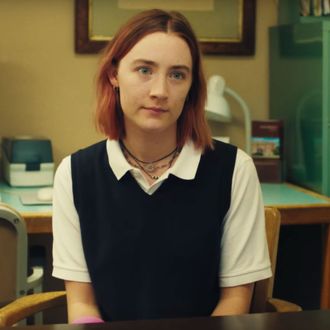 You've heard of the movie Lady Bird, right? The coming-of-age movie starring Saoirse Ronan, directed by goddess divine Greta Gerwig? The movie that is a Best Picture front-runner? The movie that makes you want to cry, call your mom, and maybe go rewatch Bridesmaids? Depending on who you talk to, Lady Bird is either "very baller" or "hella tight." It was also, for a time, Rotten Tomatoes' top-rated movie. That is, until someone decided to ruin Lady Bird's perfect score. Someone named Cole Smithey.
When Lady Bird's score dropped from 100 per cent to 99 per cent, Vulture opened an official investigation into this matter. Smithey, who writes for his own site, wasn't that into the story of a bratty, lovable, precocious teen trying to navigate her senior year of high school. Fair. "Lady Bird doesn't have the courage of her convictions," Smithey observed. (A self-righteous teenager? Not having the courage of her convictions? Cry us a river!) But Smithey rated Lady Bird with a B-minus. Again, fair — you do you. It wasn't until Vulture scrolled through his other B-minus reviews for Ghostbusters, The Neon Demon, and Green Room that we realized: Those other B-minus reviews were counted as full tomatoes, not rotten ones. Why was Lady Bird's B-minus review counted as rotten?
Vulture reached out to a Rotten Tomatoes' representative, noting this B-minus discrepancy. According to the rep, Smithey enters his own scores into RT's system, and confirmed to them that he intended to score it rotten. Perhaps facing the wrath of Lady Bird-ers online, Smithey addressed the fact that he's given the movie its only rotten review. He rated it based on "context," he said, and that "context" wasn't just the film itself, but its perfect score.
Since he first rated the movie, Smithey has now docked his initial review from the B-minus to a C-plus. But because it's based on his own scale, Lady Bird's B-minus should have counted as fresh, hence retained its perfect score. Case closed!