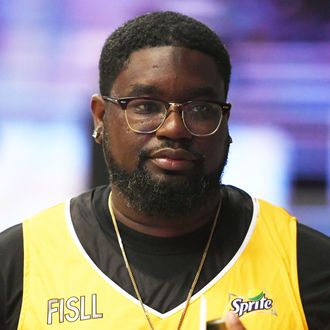 Photo: Paras Griffin/Getty Images for BET
Jordan Peele's Get Out is having an interesting awards season. It's critically acclaimed, but mixed recognition from major bodies like the Hollywood Foreign Press Association and now SAG-AFTRA have left onlookers confused. First it was submitted by its production studio and accepted by Golden Globes voters as a Comedy or Musical contender, and now the movie is nominated for a SAG Award for Outstanding Performance by a Cast in a Motion Picture but that nod exlcudes recognition for cast members Lil Rel Howery, Erika Alexander, Marcus Henderson, and Betty Gabriel. Howery gave a breakout turn as the movie's comic relief and unlikely hero, while Gabriel became one of the faces of the film when she defended the honor of the Armitage family to Chris with her haunting, strained, "No no no no no no." But if Get Out wins Outstanding Cast, none of those four will receive a trophy if they storm the stage. And here's why.
According to the SAG-AFTRA nominating rules, an actor's name must appear on an individual title card in the main title sequence in order to be eligible for the award. Here is the complete text of the guideline from the 2017 Rules and Regulations manual.
"CAST ELIGIBILITY: "A Cast in a Motion Picture" includes all actors whose names appear in the cast credits of the final release print. Motion Picture Casts shall be represented by those actors billed on separate cards in the main titles, wherever those titles appear. In cases of special, unusual or non-billing or credit, eligibility shall be at the sole discretion of the Awards Committee. Members of the cast who are not single card billed but are credited in the cast crawl of the motion picture announced as the recipient of the Outstanding Performance by a Cast in a Theatrical Motion Picture shall each receive a certificate."
Henderson and Gabriel share one card together, while Howery and Alexander share another, which makes them ineligible for the core Outstanding Cast designation. So for whatever reason those cast members were given shared cards — perceived level of star power, deals that were brokered by representation for name placement, other back-channel decisions — it affects their SAG trophy eligibility.
SAG Awards producer Kathy Connell says the rule is meant to put discretion in the hands of the filmmakers, rather than having the voting union determine who deserves a nomination and who doesn't. "At the beginning, we had to put in a rule that would be very clear to everyone," Connell told the Wrap. "And that rule had to allow filmmakers to make the call. How would it look if we decided that this actor should be in and this actor shouldn't?" The intention here too is to avoid assigning an arbitrary number of eligible nominees, so if, say, only eight actors could be included, an essential ninth performer wouldn't be left out for space limitations. And bigger names are likely going to get bigger exposure, even with smaller parts. (As Film Experience points out, Gwen Stefani managed her own title card in The Aviator for her absolutely tiny role as Jean Harlow, likely because she is a known celebrity quantity.) Connell adds, "We feel horrible about it sometimes, but we're not in control."
And so that's the rule. No solo title card but a spot on the cast crawl means a certificate for these four actors if Get Out wins the SAG Award.