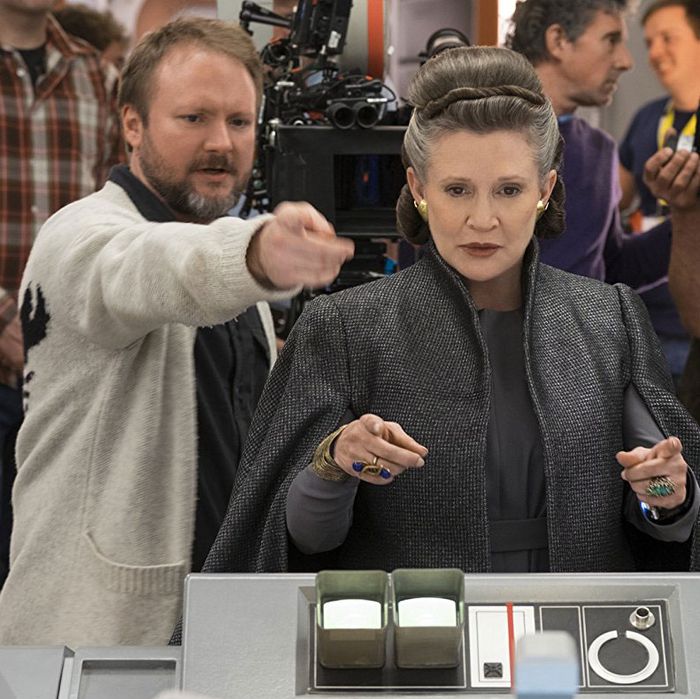 Photo: David James/Lucasfilm
Five years ago, after Rian Johnson directed the sci-fi drama Looper with Joseph Gordon-Levitt, I sat down with him and asked why he hadn't been seduced into making a big franchise movie. A director like Johnson, who had previously shown off real chops in his films Brick and The Brothers Bloom and directed some of the most acclaimed Breaking Bad episodes of all time, would certainly be number one on any studio's must-poach list. How had he resisted the siren song of making action tentpoles and Marvel movies?
"There's always conversations," he admitted to me then. "It's flattering to be in that circle of people who are thought about for those things, and I'm a big fan of those movies, so it's fun to talk about them. Right now, I'm focusing on writing my next film, and it's an original thing I'm working on. Not that I'd shut down the possibility in the future, but I'm in this spot right now where I can get these original movies made, and that's not going to last forever. As long as that's happening, I want to get as many of my own things made as possible."
Two weeks ago, as we met in Los Angeles to discuss Johnson's new film Star Wars: The Last Jedi, I read that quote back to him. He laughed.
"Wise man," he said.
How did Johnson get from there to here, and what was it about Star Wars that convinced him to leap onto a studio franchise for the first time? "The first thing was how much Star Wars had meant to me," said Johnson. "It's been a big part of my life." But the decision to direct The Last Jedi was not easily arrived at, he told me: "Oh, I took some time."
After Looper came out to critical acclaim, Johnson had indeed tried to get another original project off the ground. "It was a script that I kind of ended up going down the rabbit hole with, spending a lot of time on that I wasn't able to crack," said Johnson. "So I started another script. Meanwhile, I had been approached to do bigger stuff, and I had just gotten in the habit of saying no and giving an answer similar to the one I gave you. And that's when Star Wars came around."
Not that Johnson knew that, at first. He had met many times with producer Kathleen Kennedy over the years, even before she took the reins at Lucasfilm in 2012. "We call them water-bottle meetings, because you collect water bottles as you go around town just getting to know folks," Johnson said. "They were very general meetings, never specifically discussing anything." Then, in 2014, as director J.J. Abrams was still toiling on Star Wars: The Force Awakens, Kennedy called Johnson in to chat. He had no idea that Kennedy was searching for someone to helm the sequel to the new trilogy that Abrams had kicked off, a set of films that would introduce new characters like Rey (Daisy Ridley), Finn (John Boyega) and Kylo Ren (Adam Driver) while also bringing back original Star Wars icons Luke (Mark Hamill) and Leia (Carrie Fisher). "At that point, nobody knew that J.J. wasn't coming back for the next one," Johnson said. "I had just assumed that J.J. would do all of them."
Expecting another general meeting with Kennedy, then, Johnson said he was blindsided when he walked in and found himself surrounded by Lucasfilm executives: "It was like, 'Come in, shut the door, and let's get right down to it.'" With little preamble, Kennedy then offered Johnson the film that would become The Last Jedi. "It's not like they were going out to a group of people, it's not like they were talking to a lot of folks," recalled Johnson. "It was her saying, 'Is this something you'd be interested in doing?'"
So how did he react? "I went numb from the eyes down," Johnson said. "Somehow, I managed to ask if I could think about it."
As Johnson left the meeting, wobbly, he called his longtime producing partner Ram Bergman, who advised him to take several days to mull the offer. "I thought it was going to be an intellectual process of pros and cons," said Johnson, "and it just ended up being me realizing, 'This is gonna make me really happy.'" But there were still some sticking points for Johnson before he would commit.
First, he wanted to read the script that Abrams and Lawrence Kasdan had written for The Force Awakens. "The thing that popped off the page were the new characters, who all felt so vibrant," he said. "And then once I started watching the dailies of what they were shooting in London, and started seeing Daisy and Adam and John — John just jumping off the screen as Finn — that's when I started rubbing my hands together."
Johnson also needed room to craft the sequel in the way he wanted, hoping to tweak certain hold-overs from The Force Awakens (say good-bye to Kylo Ren's mask) and take bold steps into the future of the franchise. "The fact that I would basically be able to write it from scratch in a way — obviously by continuing on from The Force Awakens but getting to find my own story and write and direct it — was important," he said. "I know it's Star Wars, it fits into a bigger picture. But it also feels as personal to me as any of the other films I've made." He was convinced Lucasfilm would say no to his ideas: It was one thing for them to pitch the movie to him, but now that he had to sell his invented story back to them, surely they'd change their minds, right? "That was scary," he admitted. "I felt a little bit like I was lucid-dreaming: Am I really here? This can't really be happening. I'm gonna blow this and not get this job anyway, so I'm just going to come into this and have fun."
To his surprise, Kennedy signed off on his pitch, and from then on, Johnson proved to be a comfortable fit on a franchise that has sometimes had a rocky road with its directors. Johnson said that while on set, he drew inspiration from Kelly Marie Tran, a franchise newbie that he cast in the pivotal role of resistance fighter Rose.
"She jumped into it like it was a sandbox for her to play in," he said. "She was poking her head into all the different departments, just wandering around the studio. Even I didn't feel the gumption to do that! She'd go around the creature department and help them feather the Porgs with goose feathers, or go to the costume department and ask, 'What are you guys doing?' She treated it like a big episode of Mr. Rogers' Neighborhood, basically. And I saw that and thought, This is how we should all be treating this. This is a once-in-a-lifetime playdate, and we should be soaking this up."
For Johnson, though, there will be more playdates to come. Now that he's opening The Last Jedi to great reviews, he's decided to stay in the family, planning a whole new Star Wars trilogy that will follow completely different characters.
"Really, it came from the fact that we'd had such a good experience with Kathy and the folks at Disney, a really good collaboration," Johnson said. "So it came from a conversation about, 'How do we keep working together?'" It means he likely won't have much time for the original projects he was once set on making, but to hear Johnson tell it, the sky is still the limit when you're dealing with outer space. "We can go new places, meet new people within the Star Wars universe," he said. "The notion of being able to create something epic and really special with that … I think the possibilities of that seem so exciting."