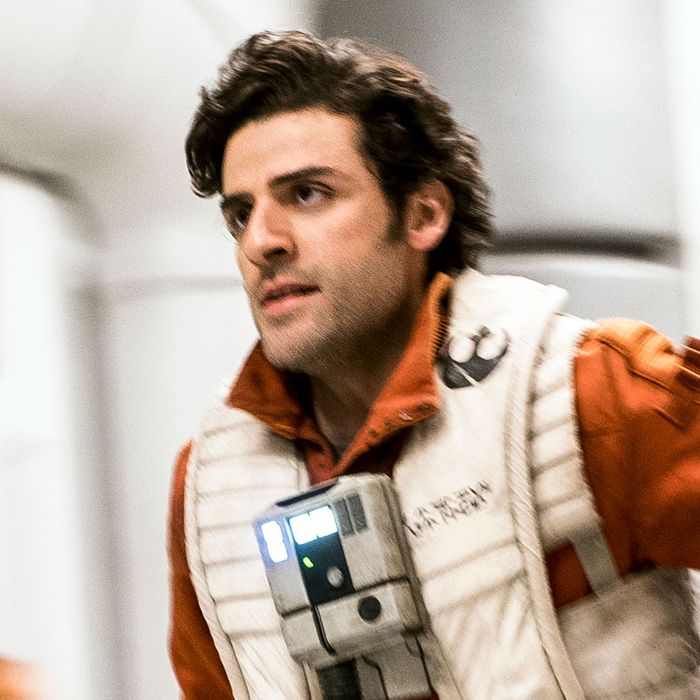 Photo: Jonathan Olley/Lucasfilm
There's an odd debate happening right now around the box-office performance of Star Wars: The Last Jedi. Said debate stems from the film's second-weekend performance, which followed the second-largest opening weekend of all time, ranking only behind its predecessor, Star Wars: The Force Awakens. But on that second weekend, The Last Jedi declined 67.5 percent from its opening-weekend gross, which is … a lot.
How bad is it? That's the subject of debate, with opinions ranging from "an epic Hollywood choke" to "a scheduling snafu." (The Last Jedi's second weekend included Christmas Eve, a notoriously poor day for the box office.) On the one hand, that tumble is almost as bad as Batman v Superman's notorious 69.1 percent drop — and worse than Suicide Squad's 67.4 percent! On the other, The Last Jedi has already become the second-highest-grossing domestic release of the year after just 14 days in theaters, with Beauty and the Beast about to cede the top spot sooner rather than later — so what's the big deal?
The big deal is that this performance links up with another narrative currently making the rounds: that the public doesn't like this movie. While The Last Jedi, which met with widespread critical praise, sports an A Cinemascore — same as Force Awakens, and same as last year's inaugural spinoff, Rogue One: A Star Wars Story — other audience-based metrics online have pointed to a less stellar reception, along with your typical social-media-based wailing and gnashing of teeth. Even if the scale of this response is pretty dodgy — loud voices online do not a public make — the sense of such a response is certainly in the air, and it seems to correlate with the second-weekend dip. But — say it with me now — correlation does not equal causation, and what The Last Jedi's box-office performance might really be in need of is a little context.
The first problem is that we don't really have a great comparison point for The Last Jedi. Sure, there was The Force Awakens two years ago, which came out on the same date in December, but The Force Awakens was the first Star Wars movie in a decade, not to mention a film that promised a return to the original trilogy after three, uh, controversial prequels. The Last Jedi, on the other hand, is the third Star Wars movie in three years, and it comes with the promise of another Star Wars movie every year going forward until VR technology lets you live life as a porg. Comparing the performance of The Last Jedi to the pre–Force Awakens franchise is meaningless thanks to the changes in moviegoing over the years, but comparing it to The Force Awakens also sets an impossibly high bar: Sequels in general don't do as well as their predecessors, a phenomenon that's become even more pronounced in the era of cinematic universes, and expecting The Last Jedi to match either the gross or the hold of The Force Awakens seems unrealistic. Let's remember that The Force Awakens made $2 billion worldwide; only two other films have managed that, Avatar and Titanic, and they did so in a completely different manner, against less competition and at a far slower pace. The Force Awakens didn't just top Jurassic World, the next biggest earner worldwide, it made 25 percent more than the dinosaurs did; it's a statistical anomaly, and comparing any other movie to it, even another Star Wars movie, isn't terribly productive.
But what about the MCU? you might say, hanging from a web on the ceiling. Yes, the MCU's sequels have generally improved on their predecessors, but there's one movie in the MCU that does seem to offer a better point of comparison for The Last Jedi than, say, Jurassic World or Avengers, the films it's currently being stacked up against due to its astronomically high first-weekend gross — two films, it bears mentioning, that were (a) another long-awaited comeback of a beloved franchise, and (b) a then-innovative synthesis of various beloved franchises that had never been seen before. That would be Avengers: Age of Ultron, the sequel to the fifth-highest-grossing movie of all time.
Like The Last Jedi, Age of Ultron opened big but not quite as big as its predecessor, managing a $191 million first weekend versus the $207 million of Avengers. More instructively, though, Age of Ultron also experienced a fairly severe second-weekend dip, falling 59.4 percent versus Avengers' mere 50.4 percent dip — and in Ultron's case, against nearly nonexistent competition, with the next-best performer being the debut of Hot Pursuit at a measly $14 million. No other movie managed more than $6 million that weekend; compare that to The Last Jedi's second weekend, on which Jumanji: Welcome to the Jungle and The Greatest Showman both debuted — not to mention weaker performers like Downsizing and Father Figures, also in wide release. That is a sizable amount of competition, especially considering the success of Jumanji, and the comparison looks even more favorable to Last Jedi if you factor in the whole Christmas Eve Sunday hit.
And then there's the second problem. While Age of Ultron, as well as another useful comp, Captain America: Civil War — which also saw a 60 percent second-weekend drop — both came out in May, doing the majority of their business on Fridays, Saturdays, and Sundays, The Last Jedi's December–slash–Christmas holiday release allows the weekdays to become de facto weekends for a movie of this wattage. Once you factor in that element, a completely different picture emerges: At day 13, The Last Jedi boasts a remarkable $445 million, which looks awfully good when you compare it to Age of Ultron's $329 million at the same point in its release, not to mention Civil War's $311 million. In fact, it renders all second-weekend evaluations completely premature: While the ten-day charts saw The Last Jedi fall behind Avengers and Jurassic World, the nature of this holiday dynamic allowed it to immediately surge past both films by the following Wednesday. (This doesn't even get into international grosses, which are just fine, with a China release still to come.)
So yes, if your only comparison points for The Last Jedi are the three highest-grossing movies of all time, all of which rode massive, years-long waves of nostalgia and anticipation, you could conceivably call it a disappointment — and even then, you'd probably still be wrong. (Wonder Woman, the year's most buzzed-about film? The Last Jedi outgrossed it in less than two weeks.) But if you take into account even one of the many factors that might suggest why its second weekend fell so drastically from its first, it becomes clear that The Last Jedi is an achievement without a proper benchmark, a film that should have no difficulty becoming the highest-grossing proper sequel ever made. If that achievement isn't enough to be considered a success, then the fault might lie with the expectations, not the performance being measured.