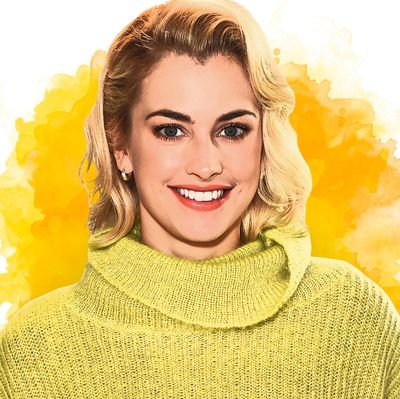 Photo-Illustration: Vulture and Photo by Getty Images
In the aftermath of Julian Fellowes's Downton Abbey, Anglophiles were itching to fill that upstairs-downstairs void with another soapy, addictive British period drama set in an unreasonably large estate. There was The Crown, of course, and Victoria, both of which temporarily sated the unremitting appetite for British Monarch Dramas. But true Fellowes fanatics wouldn't be satisfied until the man himself returned to the genre, tackling Anthony Trollope's novel Doctor Thorne as a three-part mini-series for ITV and Amazon. (Which, to be fair, is more about Britain's upper classes than full-fledged royalty.) Familiar British faces like Tom Hollander and Ian McShane were recruited to deliver wild lines of Fellowesian dialogue ("Rest and quiet are the comforts of those who have been content to remain in obscurity!"), but when it came to casting the virtuous-yet-poor leading lady Mary Thorne, Fellowes decided not to recruit a familiar face. In fact, he instead turned to someone who, essentially, had zero professional acting experience: Stefanie Martini.
Martini was undeniably one of the highlights of the 1850s-set Doctor Thorne, with critics praising her natural spark and Ruth Wilson–esque trajectory. It appears Fellowes agreed: Martini will be returning as one of the supporting players in his upcoming film adaptation of Agatha Christie's Crooked House as the daughter of Glenn Close's leading character. In anticipation of her cinematic debut, let's all learn about — and crush on — Martini together.
So, how'd she catch the eye of Fellowes?
During a standard audition in a drab little room, following her graduation from Britain's famed Royal Academy of Dramatic Arts. And thank goodness she auditioned, because she might've had to pack up and head home to live with her parents again if it didn't work out in her favor. "I had two auditions and I didn't expect to get much of a role," she later explained. "I was so broke at the time, my card was declined when buying coffee and I had to pay my rent in a week and I was in tears."
What else has she been in?
Not a lot, which makes her quick ascent across the pond all the more remarkable. Martini had the unenviable task of playing a younger version of Helen Mirren's Jane Tennison in the Prime Suspect 1973 prequel mini-series, which is set in the crime-ridden borough of Hackney. (For all of the non-Anglophiles out there, Mirren was the HBIC on Prime Suspect, a wildly popular police procedural-drama series, for seven seasons.) She also played Princess Langwidere in NBC's dark and sexy Oz retelling Emerald City, in which she got to wear some fun costumes and generally cause mischief in the magical land.
Okay, now we need to hear her accent.
With pleasure. She's from Bristol, if you're into that whole "dialects of the United Kingdom" kind of thing.
What does she do for fun when not subjected to millions of eyeballs watching her on the small and big screens?
As she told Hello!, she loves to hula-hoop, bake, and draw: "That's about it." Her hula-hoop prowess is so legit that she can work the hoop for over half an hour at a time. Obviously we have video evidence.
Be frank with us: Single or nah?
She's mentioned a male companion in one interview and in a funny tweet from year or so back. There's also a few cute Instagrams of a repeated guy in her life — so we're inclined to say yes at time of publishing. Sorry!
Any other Martini trends we should know about?
She loves to dress up in costumes. And we mean really loves to dress up in costumes. Her Instagram is a treasure trove of sparkly and glittery ensembles, Halloween be damned.
These are all, remarkably, from 2017 alone.
Give us one last Martini fact before we go?
She has a cat.