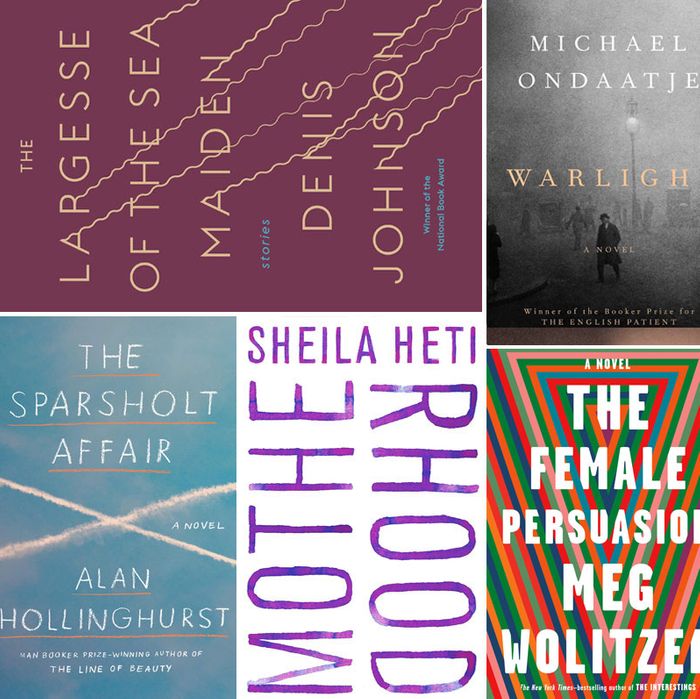 It's hard to get excited in January, that darkest, coldest month when the hard work of resolutions begins and the best movies, shows, and midterm elections seem so far away. But you don't have to wait long at all for the best books (the first one arrives in a week). Here are the ten we're most excited about — a partial list, because who knows what autumn will bring? — but a very good one.
The Largesse of the Sea Maiden, by Denis Johnson (Random House, Jan. 16)
The late Denis Johnson didn't write enough short stories, even after getting more attention for his casually stunning 1992 collection Jesus' Son than for his many novels. He died last May, at 67, before the publication of this second batch. The two collections complement each other — the first concerned with wasted youth and the (richer, wearier) second with the realization that the end is closer than the beginning. But Johnson himself didn't burn out or fade away; he died in his prime.
Feel Free, by Zadie Smith (Penguin Press, Feb. 6)
Lots of novelists can write a pretty good essay, but there are Smith fans who believe her nonfiction surpasses the fictional works she has created. In this broad collection of pieces, Smith's intelligence roams up and down the culture scale — Key & Peele, Karl Ove Knausgaard, Jay-Z, J.G. Ballard — freely and associatively but always ready to crack the whip of judgment that binds everything together. You don't have to agree with every argument to admire the wit and soul of nearly every sentence.
The Line Becomes a River: Dispatches From the Border, by Francisco Cantú (Riverhead, Feb. 6)
We're surely bound for a year of immigration stories, but this one will stand out for its dramatic emotional arc and its many perspectives. Cantú, a writer whose Mexican mother had been a Texas Ranger, decided to work with the border patrol in order to really understand the issue. Five years later he left, disillusioned by the violence and callousness he witnessed. But when an undocumented friend gets into trouble after a cross-border visit to his dying mother, the narrative becomes both sharply political and deeply personal.
The Sparsholt Affair, by Alan Hollinghurst (Knopf, March 13)
The British reviews have it that Hollinghurst's new novel has surpassed even his Booker Prize-winning 2004 novel, The Line of Beauty. We've been promised an intricately plotted, tone-shifting look at several interconnected generations of gay men: first the codes and liaisons of World War II, then the loucheness of the 1970s, followed by the gradual tug of war between mainstream, married maturity and the zipless app-enabled culture of now. There's even a political scandal thrown in for good measure.
The Female Persuasion, by Meg Wolitzer (Riverhead, April 3)
Wolitzer has always found a way to write engrossing, smart, and breezy books that also cut to the heart of the conundrum of living as a woman in the world. Her first novel since the best seller The Interestings will focus on the generational tensions among modern feminists. A college woman named Greer finds empowerment from a much older feminist on campus, only to grow dismayed and confused as the latter's outlook clashes with today's hashtag intersectionality.
Motherhood, by Sheila Heti (Henry Holt, May 1)
Autofiction written by women can touch on different concerns than the male variety (Knausgaard, Ben Lerner) — though there's plenty of sex and politics in both. Like Heti's first novel, How Should a Person Be?, this one straddles essay and memoir and philosophy. But where Person was about coming of age, Motherhood signals a turn to the next phase of life. The twist is that the central question is not "How should a person mother" but "should one mother at all?"
The Mars Room, by Rachel Kushner (Scribner, May 1)
Kushner's last novel, The Flamethrowers, crisply brought to life the radical art and politics of the 1970s through the eyes of a passive, albeit very observant female witness. The author's roving political awareness will now alight on the American prison system — specifically the life of a California woman whose life has gone wildly astray, resulting in two consecutive life sentences. From another writer it might sound lurid or, worse, like homework. But Kushner's writing and thinking are always invigorating, urgent, and painterly precise.
Warlight, by Michael Ondaatje (Knopf, May 8)
In the 25 years since Ondaatje published The English Patient, which won a Booker and spawned an Oscar-winning film, he's written three equally good novels but lost some fair-weather readers. This one returns to World War II, the terrain of his greatest hit, albeit on the London home front. A brother and sister are taken in by a strange group of grown-ups after their parents leave for an unexplained trip to Singapore — one of many mysteries that will take a dozen years to unravel.
Kudos, by Rachel Cusk (Farrar, Straus and Giroux, June 5)
Literary writers have caught on to the genre trick of building loyalty and buzz (and worlds) by doing a series. Cusk's trilogy began with Outline's unnamed writer teaching a summer seminar in Greece. Transit gave her a name (Faye) along with two kids and a half-built London house. Kudos will send her across Europe to survey a continent whose center isn't holding. Cusk's Faye is a deeply compelling voice but also a medium for people around her, ever telling their stories. It's an ingenious way to build a world — toward what end, we'll soon find out.
Lake Success, by Gary Shteyngart (Random House, Sept. 4)
It's been seven years since we've had a novel from the helplessly funny author — during which he did grace us with Little Failure, a comic memoir with a few deftly placed sucker punches. His last novel, the long-ago Super Sad True Love Story, will be hard to top — funny and tragic and a shockingly prescient piece of dystopia to boot. But Shteyngart thrives when treading new ground, and this story — of a narcissistic hedge-funder who flees his family to travel cross-country in search of his lost youth — is certainly that.