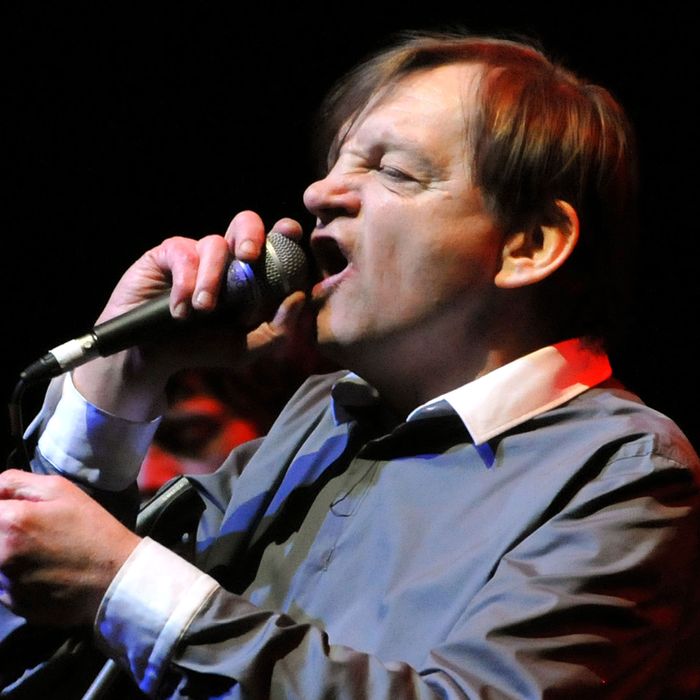 Smith.
Photo: Jim Dyson/Redferns
Mark E. Smith, the famously fractious front man of the legendary Manchester post-punk band the Fall — a group that existed for more than four decades — died last Wednesday at the age of 60. Under Smith's lead, the Fall crafted a singular sound, featuring manic bass lines, borderline insane levels of repetition, and weirdo lyrics shouted in a heavy Mancunian accent. Smith was notorious for his confrontational personality and cutting wit, and hated on practically everyone and everything — from Kate Bush ("It's like all these radio DJs have been raiding their mum's and dad's record collections and decided that Kate Bush is suddenly cool again. But I'm not having it," he told the Manchester Evening News) to Thurston Moore of Sonic Youth (he once said that Moore should have his rock license revoked). Here are a few of the best stories from one of rock's most legendary curmudgeons.
Chases a plastic bag on stage during a gig
Mark E. Smith, possibly wasted, spent at least one gig chasing a plastic bag around the stage to the immense bafflement of the audience. Were there song lyrics inside the plastic bag? Who knows?
Meets Fall megafan James Murphy of LCD Soundsystem, says Murphy should lose the American accent
James Murphy of LCD Soundsystem is a diehard fan of the Fall — and it shows in his music. "The Fall are my Beatles," Murphy once said effusively. When Smith first heard "Losing My Edge," he thought it was a Fall ripoff. "I went into my local shop a few weeks ago for groceries," Smith told the Wire. "There's an Irish bloke in there, very nice, and he was playing this ["Losing My Edge."] I said, 'This sounds exactly like me, are you trying to take the piss?' At which point the bloke's getting a bit paranoid … I mean this bloke [James Murphy], I've met him, he doesn't even talk like that, he's New York, New Jersey, or whatever. Just some New York arsehole." Smith took a dig at Murphy on the Fall's 2013 album Re-Mit —reeling off the line "James Murphy is their chief / They show their bollocks when they eat" on the song "Irish." When asked by Vulture that year if the lyric was taking aim at James Murphy from LCD Soundsystem — or a random Irish James Murphy — Smith chuckled. "Ha ha. What do you think?" Sometime later, Smith relented, saying of Murphy: "I liked him but he should stop putting on that American accent."
Meets the Aphex Twin, promptly loses his phone number
Smith was walking down the street in London when a man ran up to him — clearly a massive fan — and asked if they could work together. The fan was Richard D. James – also known as the Aphex Twin. As recounted on Twitter by the London record shop Electric Knife Records, Smith had a nice chat with James, pulled out a tiny matchbox, and had James write his phone number down on the matchbox. Mere minutes later, Smith had lost the matchbox, and they never worked together.
Turns down — or turns off — his guitarists' amplifiers during a gig
Smith was notorious for seeding chaos on the stage – turning up or down his own bandmates' amps during the show, or sometimes becoming violent and throwing mic stands at them. None of this is excusable, of course, but some ex-bandmates said that the sudden volume shifts kept them on their toes, maintaining a nervy edge to the music. "[Smith would] do things like come on stage after we'd sound-checked for an hour, got all of our sounds perfect, and then twist up the knobs on everybody's amplifiers, and pull out the microphone from the bass drum stand and mess everything up," said Brix Smith Start, his ex-wife and bandmate, to The Guardian. "It drove us bonkers. But he was creating chaos and creating energy and you'd have to work that much harder to get everything back."
Claims to have fired bandmate Marc Riley for dancing to "Smoke on the Water"
Marc Riley was a key member of the Fall during one of their most legendary periods, from 1978 to 1983. According to the BBC, Smith "got rid of Riley because he didn't like the fact Riley was questioning the writing credits, or the fact he danced to Deep Purple in a nightclub while on an Australia tour in 1982." A fistfight apparently ensued.
Hires — and fires — nearly 70 band members
There were a whopping 66 members of the Fall, outside of Mark E. Smith, over the band's existence. Some only lasted through Smith's vitriol for a few months and themselves quit out of anguish, and several were unceremoniously fired by Smith in a shocking, bizarre or abrupt way. The lengthy Wikipedia entry "List of the Fall's band members" is a true sight to behold. It even includes an intricate color-coded timeline where you can see where each member came in and dropped out.
Reads the football results on the BBC
In 2005, the BBC brought Smith — a diehard fan of the Manchester City football team — on the air to read the daily football scores in his thick Mancunian accent. "Burnley 1, Leicester City nil," he begins intoning hypnotically. "Coventry City 1, Ipswich Town 1." And on and on, in a surreal, trancelike fashion, for the next seven minutes. It's one of the stranger moments of sports commentary you'll ever witness.
Disses Pavement — another band that were legendary fans of the Fall
Smith had no patience for Pavement, a band that repeatedly paid tribute to the Fall in their whimsically unglued song lyrics, melodies, and cover art in the 1990s. Smith famously slagged them off in an interview in 1993, saying, "It's just the Fall in 1985, isn't it? They haven't got an original idea in their heads."
Despised lovable animals, including squirrels
Smith told his friend Dave Haslam once that he hated dogs with a passion — presumably because they make people happy. He also hated squirrels: In 2008, he said he would be pleased to "set about an endangered red squirrel with a set of professional hedge-clippers." His claims of killing two squirrels led to an investigation by the Royal Society for the Prevention of Cruelty to Animals.
Reads off lyrics from a lyric sheet during a gig, but the lyrics are completely indecipherable
At a gig at the Knitting Factory — back when the Knitting Factory was in Manhattan — I saw Smith intently read lyrics from a piece of paper during the show, which he then tossed onto the stage at the end of the gig. I ran up and grabbed the piece of paper — which turned out to be the back of a partly shredded envelope, covered in completely indecipherable scrawls. The leader of the Fall fan club, who was standing near me, begged me to have it. I gave it to him, and he was thrilled: "I don't have this one yet!"