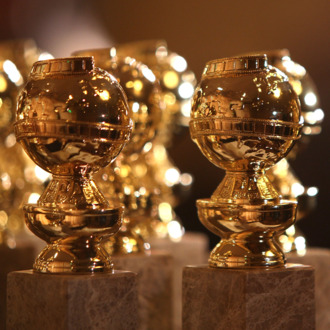 This year's Golden Globe Awards are sure to be filled with many topical jokes and poignant speeches — in fact, we already know that the ceremony will be just that in many ways — as the big faces in the television and film industries battle it out for those heavy statuettes. Will the subtle Italian charm of Call Me by Your Name prevail over the fish-tastic tales of The Shape of Water? Will The Marvelous Mrs. Maisel or Will & Grace prove to be more hilarious for those pesky Hollywood Foreign Press voters? Will the presenters pronounce "Saoirse Ronan" correctly? All are valid questions, but if you'd rather just find out where the ceremony can be watched, you've come to the right place.
The Seth Meyers–hosted Globes will be held on Sunday, January 7, and per tradition, E! News will be leading the red-carpet coverage beginning at 6 p.m. ET — their fashion analysis can be viewed on live television on the E! network, the official E! website with your respective cable log-in, or on the E! smartphone app. Red carpet and general preshow coverage will also continue with NBC beginning at 7 p.m. ET.
If you couldn't care less about the carpet and just want to watch the actual ceremony, you have a few options. Of course, if you have cable, you have a simple task ahead of you. The Globes will air live on NBC beginning at 8 p.m. ET, which can also be accessed on the network's official website and/or smartphone app with your cable log-in. If you don't, here's how you can bend the system in your favor. Hulu's Live TV plan, YouTube TV, and Sling TV are all streaming the ceremony live, and they conveniently offer free trials for your viewing pleasure. (Unfortunately, the ceremony won't be livestreamed anywhere for free.) Just remember to unsubscribe when the trial period ends and voilà — a zero-dollar Golden Globes experience to commence January.