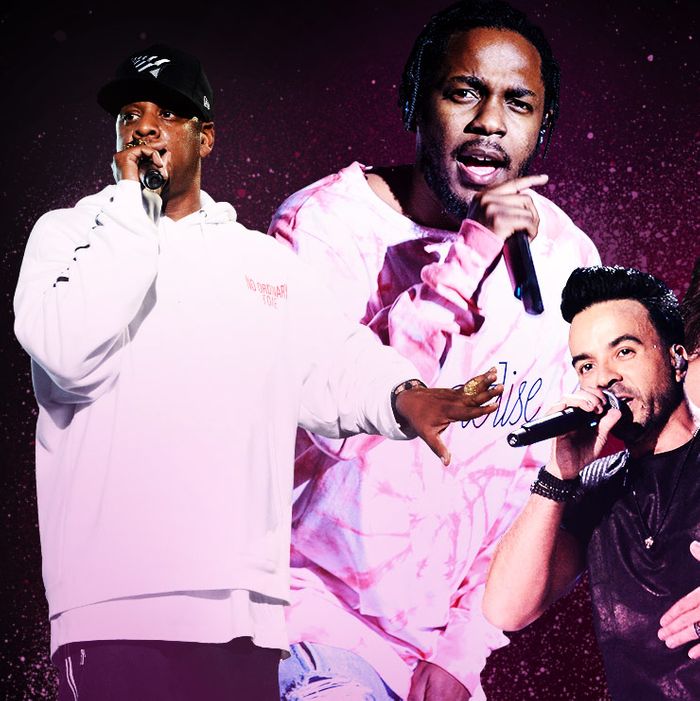 Photo-Illustration: Vulture and Photo by Getty Images
We've made it to the finish line. In just a few days, it'll become clear who the Recording Academy has deemed the best of the best in the previous year in music. Could Lorde upset in Album of the Year to edge out all the boys? Might "Despacito" make history? Will we ever understand what the hell is happening in the rock category? At least two of those mysteries should be solved by the weekend's end. It all remains open for debate, but we've made some educated guesses (plus a few shots in the dark) about how the night will play out. Below we present Vulture's annual way-too-comprehensive Grammy predictions. Hundreds of golden gramophones will be handed out on January 28, when the show gets underway on CBS. Check back to compare scorecards and stay tuned for our continued coverage.
Album of the Year
Bruno Mars, 24K Magic
Childish Gambino, Awaken, My Love!
Jay-Z, 4:44
Kendrick Lamar, DAMN.
Lorde, Melodrama
Who Will Win: This could get real thorny. It's not every year the AOTY field is almost entirely comprised of people of color. It's unfortunate that those nominees are all men (justice for SZA!), but that fact can't be ignored. Lorde herself has talked about what an opportunity this is for the Grammys to get with the times, telling Billboard, "It's exciting when these institutions move in the right way. To me, that is a huge victory." It's been a decade since an artist of color won this award (Herbie Hancock last won it in 2008), and in that time, white women have had a lot of success (Taylor Swift and Adele won it twice). Though it would cause an uproar — which the Grammys must know — I see this award going Lorde's way. Curiously, this is the only award she's nominated for, but that it's the biggest pretty much says it all. Lorde is also a previous Grammy winner. In the history of the Grammys, only two rap albums have ever won AOTY (and let's not forget that they didn't actually consider Lauryn Hill rap; Miseducation was nominated as an R&B album). It's incredible that there are even two nominated in the same year now (which has only happened three times prior), but that may be as far as their acknowledgement goes. The stats aren't any better for R&B because while more R&B albums have certainly won in this category it's been awhile. Lauryn Hill was the last in 1999, and if you count that as rap, then you're looking even further back to Whitney Houston in 1994. My hunch is that having two rap and two R&B albums on the ballot will work against each other and push Lorde forward. Melodrama is a phenomenal album, but it's a shame that it might win under these circumstances.
Who Should Win: There isn't a bad album of the bunch, which is rare. You could make a case for why every one of these should win (though Childish Gambino's would be the weakest). A win for Jay-Z would be his first in this category because it's also the first time he's ever been nominated for AOTY. A win for Kendrick would be his first after two previous tries. Same for Bruno, after one prior nom. The fact is Jay-Z should've won for his earlier, superior work. That he could win AOTY for an album that doesn't stand up to the likes of Reasonable Doubt would be weird, but also very much in line with the typical thinking of the Grammys. I like Kendrick Lamar best for this award in this particular year.
Song of the Year
Jay-Z, "4:44"
Julia Michaels, "Issues"
Logic ft. Alessia Cara and Khalid, "1-800-273-8255"
Bruno Mars, "That's What I Like"
Luis Fonsi & Daddy Yankee ft. Justin Bieber, "Despacito"
Who Will Win: This could go a few ways. On the one hand, it would make history if the Grammys gave a songwriting award to "Despacito," which is written almost entirely in Spanish (not counting Bieber's parts). But I'm going to guess there's a small percentage of Grammy voters who understand Spanish (this is why we have the Latin Grammys), so its chances are slim here. (More on that below). Then there's "4:44," which is Jay-Z at his most confessional. And, as of last summer, he's a Hall of Fame songwriter. I think "1-800-273-8255" will edge out the competition for being the perfect storm: First, it features two Best New Artist contenders so you know it's already on a lot of Grammy voters' radar. Second, it sparked social change, with the National Suicide Prevention Lifeline reporting multiple spikes in calls because of this song. That won't be overlooked by the Academy. Third, it's beautiful — somber but never losing hope.
Who Should Win: There are people alive right now who might not be if it weren't for "1-800-273-8255." I can't think of a better reason for a song to win.
Record of the Year
Childish Gambino, "Redbone"
Luis Fonsi & Daddy Yankee ft. Justin Bieber, "Despacito"
Jay-Z, "The Story of O.J."
Kendrick Lamar, "HUMBLE."
Bruno Mars, "24K Magic"
Who Will Win: It's not just that "Despacito" was the biggest song of 2017. It'll likely go down as the biggest song of the decade and one of the biggest songs in the history of recorded music. It is also just plain fun and, were it to win, would mean the highest acknowledgement of reggaeton's mainstream influence and the Latinx diaspora that the Grammys have ever given. Sure, Santana won this once for "Smooth," but there isn't a lick of Spanish in that song; "Despacito" would be the first Spanish-language song to ever win ROTY. You could argue that it isn't the Grammys' responsibility to send political and cultural messages with its choice of winners, but operating apolitically in these times is a bad look.
Who Should Win: In case I wasn't clear: "Despacito."
Best New Artist
Alessia Cara
Khalid
Lil Uzi Vert
Julia Michaels
SZA
Who Will Win: SZA is the most-nominated woman of the night with one of the most celebrated albums of last year (truly, Ctrl should replace Childish Gambino's album up at AOTY). SZA, come collect what's yours.
Who Should Win: Without a shadow of a doubt, this award belongs to SZA. And how rare that an artist wins this one on their actual first album.
Best Pop Solo Performance
Kelly Clarkson, "Love So Soft"
Kesha, "Praying"
Lady Gaga, "Million Reasons"
Pink, "What About Us"
Ed Sheeran, "Shape of You"
Who Will Win: Though my better judgement tells me this is Sheeran's to lose, I have faith the Grammys will do the right thing and recognize Kesha for what was the vocal performance of the year and her life.
Who Should Win: Kesha! Kesha! Kesha!
Best Pop Duo/Group Performance
The Chainsmokers & Coldplay, "Something Just Like This"
Luis Fonsi & Daddy Yankee ft. Justin Bieber, "Despacito"
Imagine Dragons, "Thunder"
Portugal. The Man, "Feel lt Still"
Zedd & Alessia Cara, "Stay"
Who Will Win: Honestly, the Academy giving "Despacito" other songs to compete with here was just a courtesy.
Who Should Win: "Despacito," duh.
Best Traditional Pop Vocal Album
Michael Bublé, Nobody But Me (Deluxe Version)
Bob Dylan, Triplicate
Seth MacFarlane, In Full Swing
Sarah McLachlan, Wonderland
Who Will Win: Considering Michael Bublé has four prior wins in this category, he's the clear favorite. Meanwhile, this would be Dylan's third loss in a row. Ouch.
Who Should Win: Just think of the many ways Bob Dylan would shade the Recording Academy if he were to win.
Best Pop Vocal Album
Coldplay, Kaleidoscope EP
Lana Del Rey, Lust for Life
Imagine Dragons, Evolve
Kesha, Rainbow
Lady Gaga, Joanne
Ed Sheeran, ÷ (Divide)
Who Will Win: Though it's telling that the Grammys snubbed Ed Sheeran in all the major categories this year, Divide was the biggest album of 2017. It's a no-brainer.
Who Should Win: I want nothing more than to see Kesha get vindication, and win for her best album yet, the one she fought her whole career to make.
Best Dance Recording
Bonobo ft. Innov Gnawa, "Bambro Koyo Ganda"
Camelphat & Elderbrook, "Cola"
Gorillaz Featuring DRAM, "Andromeda"
LCD Soundsystem, "Tonite"
Odesza Featuring WYNNE & Mansionair, "Line of Sight"
Who Will Win: Though it's clear the Grammys don't quite know how to categorize LCD Soundsystem (they're nominated over in "alternative music," too), the band has always done well in this category, so a win seems likely.
Who Should Win: "Andromeda" is my jam and wouldn't it be fun to see Gorillaz accept via their animated counterparts?
Best Dance/Electronic Album
Bonobo, Migration
Kraftwerk, 3-D The Catalogue
Mura Masa, Mura Masa
Odesza, A Moment Apart
Sylvan Esso, What Now
Who Will Win: You would think it'd be an automatic yes for Kraftwerk, but their only Grammy wins are legacy awards, Hall of Fame and Lifetime Achievement. Instead, I think Sylvan Esso might be the favorites here, particularly for their song that slams everything that's wrong with what's on the radio.
Who Should Win: Mura Masa made the more interesting album.
Best Rap Performance
Big Sean, "Bounce Back"
Cardi B, "Bodak Yellow"
Jay-Z, "4:44"
Kendrick Lamar, "HUMBLE."
Migos ft. Lil Uzi Vert, "Bad and Boujee"
Who Will Win: There's no way the Grammys will ignore the most intimate, honest song Jay-Z has ever written.
Who Should Win: Much as it would thrill me to see Cardi B validated as a performer, she's not there yet. Jay-Z, however, gives the performance — full of semi-performative guilt and groveling — of his life.
Best Rap/Sung Collaboration
6LACK, "PRBLMS"
Goldlink ft. Brent Faiyaz & Shy Glizzy, "Crew"
Jay-Z ft. Beyoncé, "Family Feud"
Kendrick Lamar ft. Rihanna, "LOYALTY."
SZA ft. Travis Scott, "Love Galore"
Who Will Win: This is some stiff competition, but I'm predicting a big night for Jay-Z.
Who Should Win: Except there's not even that much singing on "Family Feud" (Bey's only there on looped background vocals, plus some heavenly "Amens"), so either "LOYALTY." or "Love Galore" is more deserving. I'm also predicting a big night for SZA.
Best Rap Song
Cardi B, "Bodak Yellow"
Danger Mouse ft. Run the Jewels & Big Boi, "Chase Me"
Kendrick Lamar, "HUMBLE."
Rapsody, "Sassy"
Jay-Z, "The Story of O.J."
Who Will Win: This is a songwriter's award and considering Jay-Z just became the first rapper inducted into the Songwriters Hall of Fame last year — and because "The Story of O.J." is the best-written song (though its lyrics are controversial) in this category — he will win.
Who Should Win: Cardi B if only because she submitted this song credited as "Washpoppin" and there's a chance that'll be engraved on her Grammy. Not to mention there wasn't a bigger rap song last year. Also, a woman has never won this award and there are two nominated in the same year, so it wouldn't be a great look if both she and Rapsody get shut out.
Best Rap Album
Jay-Z, 4:44
Kendrick Lamar, DAMN.
Migos, Culture
Rapsody, Laila's Wisdom
Tyler, the Creator, Flower Boy
Who Will Win: Best Rap Album produced two contenders for Album of the Year, so this won't be easy. Both Jay-Z and Kendrick Lamar are previous winners in this category. In 2014, the Grammys knew not to award Magna Carta Holy Grail (though, the Grammys regrettably let Macklemore beat both Hov and Kendrick that year), but given 4:44's acclaim, it looks good for the win. Also note that this is the first Jay-Z album the Grammys have ever thought was good enough to be considered for Album of the Year; that's a high endorsement that could mean good things for Jay here.
Who Should Win: All that said, I preferred DAMN. so Kendrick gets my vote.
Best Country Solo Performance
Sam Hunt, "Body Like a Back Road"
Alison Krauss, "Losing You"
Miranda Lambert, "Tin Man"
Maren Morris, "I Could Use a Love Song"
Chris Stapleton, "Either Way"
Who Will Win: This is the toughest category in country because there isn't a bad song. My gut tells me the Grammys will reward a hit, which means Sam Hunt is in luck.
Who Should Win: But if we're talking solely performance, find me a better vocal showing than Chris Stapleton's Lee Ann Womack cover.
Best Country Duo/Group Performance
Brothers Osborne, "It Ain't My Fault"
Zac Brown Band, "My Old Man"
Lady Antebellum, "You Look Good"
Little Big Town, "Better Man"
Midland, "Drinkin' Problem"
Who Will Win: Little Big Town, partly for reasons I'll get into right below.
Who Should Win: Little Big Town deserve it.
Best Country Song
Little Big Town, "Better Man"
Sam Hunt, "Body Like a Back Road"
Chris Stapleton, "Broken Halos"
Midland, "Drinkin' Problem"
Miranda Lambert, "Tin Man"
Who Will Win: Taylor Swift for her writing on Little Big Town's "Better Man," if for no other reason than the Grammys get to send a message that they preferred her country work to her pop experiments, at least last year.
Who Should Win: Miranda Lambert's "Tin Man" is the better-written song.
Best Country Album
Kenney Chesney, Cosmic Hallelujah
Lady Antebellum, Heart Break
Little Big Town, The Breaker
Thomas Rhett, Life Changes
Chris Stapleton, From a Room: Volume 1
Who Will Win: The Grammys love Chris Stapleton. The people love Chris Stapleton. It's a win for us all, and would be his second win in this category. (Volume 1 is also better than its sequel, so this is a good call.)
Who Should Win: Really it should be Miranda Lambert's The Weight of These Wings, but since the Grammys decided it wasn't even good enough to nominate, Chris Stapleton is the only worthy alternative.
Best Rock Performance
Leonard Cohen, "You Want It Darker"
Chris Cornell, "The Promise"
Foo Fighters, "Run"
Kaleo, "No Good"
Nothing More, "Go to War"
Who Will Win: Oof, two late artists up against each other. That's rough. But it'd be insane for the Grammys not to give a posthumous award to Leonard Cohen.
Who Should Win: First of all, what is even happening in this category? Secondly, it'll only make sense if Leonard Cohen wins.
Best Metal Performance
August Burns Red, "Invisible Enemy"
Body Count, "Black Hoodie"
Code Orange, "Forever"
Mastodon, "Sultan's Curse"
Meshuggah, "Clockworks"
Who Will Win: Mastodon, even if one of their members did apparently get kicked out of the Grammys a couple years ago.
Who Should Win: Mastodon.
Best Rock Song
Metallica, "Atlas, Rise!"
K. Flay, "Blood in the Cut"
Nothing More, "Go to War"
Foo Fighters, "Run"
Avenged Sevenfold, "The Stage"
Who Will Win: So much of this category, and the rock field in general, is a mess. I'm guessing it's all a weird fake-out and Metallica will win.
Who Should Win: But K. Flay has the best song and she's the only woman-fronted act in the whole list of rock nominees. It'd be nice for the Grammys to clean up some of their own mess by doing right by her.
Best Rock Album
Mastodon, Emperor of Sand
Metallica, Hardwired… to Self-Destruct
Nothing More, The Stories We Tell Ourselves
Queens of the Stone Age, Villains
The War on Drugs, A Deeper Understanding
Who Will Win: Metallica, and it would be their first win in this category.
Who Should Win: Metallica deserve it.
Best Alternative Music Album
Arcade Fire, Everything Now
Gorillaz, Humanz
LCD Soundsystem, American Dream
Father John Misty, Pure Comedy
The National, Sleep Well Beast
Who Will Win: Only Arcade Fire and the National have ever been nominated in this category, though neither won. For reasons that still make no sense, Arcade Fire's The Suburbs lost to the Black Keys, even though it went on to win AOTY. Though AF's new album was panned, it would be just like the Grammys to let it win anyway.
Who Should Win: They know damn well the National, LCD Soundsystem, or Gorillaz should probably get it.
Best R&B Performance
Daniel Caesar ft. Kali Uchis, "Get You"
Kehlani, "Distraction"
Ledisi, "High"
Bruno Mars, "That's What I Like"
SZA, "The Weekend"
Who Will Win: There's no way Bruno Mars doesn't win this.
Who Should Win: Unless of course the Grammy voters can admit that, though he's the smallest name on this list, Daniel Caesar performed the hell out of "Get You."
Best Traditional R&B Performance
The Baylor Project, "Laugh and Move On"
Childish Gambino, "Redbone"
Anthony Hamilton Featuring the Hamiltones, "What I'm Feelin'"
Ledisi, "All the Way"
Mali Music, "Still"
Who Will Win: I'll never quite know what the Grammys mean by "traditional" here (old?), but I do know they mean to give Childish Gambino the win here.
Who Should Win: I have no problem with Childish Gambino taking the win.
Best R&B Song
PJ Morton, "First Began"
Khalid, "Location"
Childish Gambino, "Redbone"
SZA, "Supermodel"
Bruno Mars, "That's What I Like"
Who Will WIn: Since "Redbone" and "That's What I Like" are up for Record and Song of the Year respectively, it'll come down to either of those two. My money's on Childish Gambino to edge out Bruno.
Who Should Win: Though I'd easily put "stay woke" on my tombstone, the rest of the lyrics to "Redbone" are lacking, and this is supposed to be a songwriter's award. The most impressive writing (and super-cutting words at that), then, is SZA on "Supermodel." "I been secretly banging your homeboy" is just brutal and quite an introduction to a debut album.
Best Urban Contemporary Album
6LACK, Free 6LACK
Childish Gambino, Awaken, My Love!
Khalid, American Teen
SZA, Ctrl
The Weeknd, Starboy
Who Will Win: Childish Gambino (Donald Glover) is up for Album of the Year, so it's safe to assume he'll win here.
Who Should Win: Awaken, My Love! is fine, but so much of it is skippable and weighed down by too much on-the-nose P-funk imitation. SZA's Ctrl, on the other hand, feels so rooted in individuality that the whole album can't be missed.
Best R&B Album
Daniel Caesar, Freudian
Ledisi, Let Love Rule
Bruno Mars, 24K Magic
PJ Morton, Gumbo
Musiq Soulchild, Feel the Real
Who Will Win: Bruno Mars is up for Album of the Year, so it's another safe bet he'll run away with this one too.
Who Should Win: If the Grammys are looking to reward work that trades in R&B nostalgia, Daniel Caesar already made a damn fine case for why he's doing it the best.
Best Music Video
Beck, "Up All Night"
Jain, "Makeba"
Jay-Z, "The Story Of O.J."
Kendrick Lamar, "HUMBLE."
Who Will Win: Because it was the best music video of 2017 with zero competition, "HUMBLE."
Who Should Win: "HUMBLE."
Best Music Film
One More Time With Feeling
Long Strange Trip
The Defiant Ones
Soundbreaking
Who Will Win: My guess is it'll be hard for the Grammys not to fall for a PBS docuseries about the process of recording music and its evolution, so Soundbreaking has good odds.
Who Should Win: Process stuff is cool but the people revolutionizing that process are cooler. HBO's Defiant Ones was a fascinating look at how Jimmy Iovine and Dr. Dre became industry titans and formed a partnership that's had a lasting effect on music consumption.
Best Compilation Soundtrack for Visual Media
Baby Driver
Guardians of the Galaxy Vol. 2: Awesome Mix Vol. 2
Hidden Figures: The Album
La La Land
Moana: The Songs
Who Will Win: As if the Grammys could ever resist a musical about Ryan Gosling's crusade to single-handedly save jazz. La La Land is Grammy bait.
Who Should Win: Listen, Edgar Wright didn't risk getting sued or spend all that time waxing nostalgic for iPods so that the Grammys could ignore Baby Driver.
Best Score/Soundtrack for Visual Media
Jóhann Jóhannsson, Arrival
Hans Zimmer, Dunkirk
Ramin Djawadi, Game of Thrones: Season 7
Benjamin Wallfisch, Pharrell Williams & Hans Zimmer, Hidden Figures
Justin Hurwitz, La La Land
Who Will Win: You already know the jig. Since Justin Hurwitz won the Oscar, he's gonna win the Grammy, too.
Who Should Win: But how fun would it be for Game of Thrones to win a Grammy before its end? Djawadi won't have another shot at winning this until 2020 (if he's nominated again). Dude could use a vote of confidence before that final slog.
Best Song Written for Visual Media
Justin Hurwitz, Benj Pasek & Justin Paul, "City of Stars"
Lin-Manuel Miranda, "How Far I'll Go"
Taylor Swift ft. Zayn, "I Don't Wanna Live Forever"
Sia, "Never Give Up"
Andra Day ft. Common, "Stand Up for Something"
Who Will Win: Same story. "City of Stars" has this on lock after last year's Oscars win. Unless of course "Stand Up for Something," which was just nominated for this year's Oscars (the Grammys and Oscars run on slightly different eligibility timelines), pulls off the upset. This is also one of only two chances the Grammys have to show Taylor Swift some love, but that's slim.
Who Should Win: Not that he needs it for his EGOT odds since he already has a Grammy, but Lin-Manuel Miranda's song for Moana still gets me every single time.
Best Spoken Word Album
Neil deGrasse Tyson, Astrophysics for People in a Hurry
Bruce Springsteen, Born to Run
Shelly Peiken, Confessions of a Serial Songwriter
Bernie Sanders and Mark Ruffalo, Our Revolution: A Future to Believe In (Bernie Sanders)
Carrie Fisher, The Princess Diarist
Who Will Win: Given he's a longtime Grammy favorite with a pretty decent batting average, the odds are likely in Bruce Springsteen's favor. It's a category he's never been up for since this is his first memoir. Why not wait until you're 68 to find another field to dominate?
Who Should Win: Much as Springsteen deserves this (it's a loooong audio book), just think of how nice it would be to say "Grammy winner Carrie Fisher." A posthumous win would also mean vindication for her 2009 loss in this category for Wishful Drinking.
Best Comedy Album
Dave Chappelle, The Age of Spin & Deep in the Heart of Texas
Jim Gaffigan, Cinco
Jerry Seinfeld, Jerry Before Seinfeld
Sarah Silverman, A Speck of Dust
Kevin Hart, What Now?
Who Will Win, according to Vulture's resident comedy expert Jesse David Fox: Thanks in part to that Netflix boost, this award will likely go to Dave Chappelle. It would be Chappelle's first-ever Grammy, and he'd also become the first person of color to win this award since Chris Rock in 2006.
Who Should Win: Sarah Silverman. Fox writes that "after years in character, Silverman has found a true version of herself onstage that is unique and well-articulated."
Best Musical Theater Album
Come From Away
Dear Evan Hansen
Hello, Dolly!
Who Will Win: Dear Evan Hansen won the Tony (well, many Tonys) and Ben Platt has already been booked to perform a West Side Story tribute at the show. This one's theirs to lose.
Who Should Win: Purely because we can't ignore the talent of Ben Platt and Rachel Bay Jones and also because, great as Bette Midler is, Hello, Dolly! has been equally great in previous iterations, we'll give it to Dear Evan Hansen.