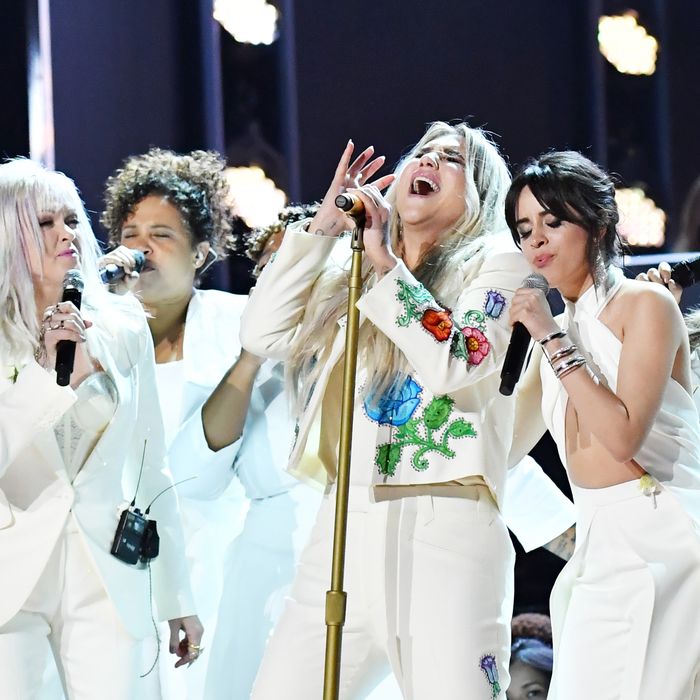 Cyndi Lauper, Kesha, and Camila Cabello performing at the Grammys.
Photo: Jeff Kravitz/FilmMagic
Another year, another controversial Grammys. SZA was one of the biggest story lines going into the night, with more nominations than any other female artist at the ceremony, but by the end of the evening she didn't have one trophy to her name. Bruno Mars, on the other hand, came up huge with a six-award sweep and a stellar performance of "Finesse" with Cardi B (who, sadly, also came out empty-handed). U2 fans had a big Grammys, with Bono and the Edge making three appearances throughout the night. Lady Gaga played a celestial piano, and Tony Bennett gave Kendrick Lamar a hearty endorsement. Meanwhile, everyone wondered aloud, "How are you not going to give Jay-Z any awards for 4:44?" Here are your highs and lows of the 2018 Grammys.
HIGH: Carrie Fisher's posthumous win.
She won Best Spoken Word Album for her memoir The Princess Diarist over Bruce Springsteen, Neil deGrasse Tyson, Bernie Sanders and Mark Ruffalo, and Shelly Peiken. Now that's what we call vindication.
LOW: Kendrick Lamar coming so close.
Yet again, Kendrick Lamar swept the rap category only to be denied all the major awards. It's become the Grammys routine: Put Kendrick to work as one of the night's best performers, tell him he's good enough to dominate all of the rap industry, but not good enough for anything else. This is Kendrick's third straight loss for Album of the Year. Somehow we don't think it'll be his last.
HIGH: Tony Bennett not knowing where to stand when Kendrick and Rihanna accepted their award.
LOW: "Despacito" was totally ignored.
In a year when the Grammys could have made history by making "Despacito" the first Spanish-language song to ever win Record or Song of the Year, they chose instead to pile on the praise for Bruno Mars's throwback jams. Luis Fonsi and Daddy Yankee's unprecedented crossover hit was shut out, losing all three awards it was nominated for, including Best Pop Duo/Group Performance. May the record show that, once again, the Grammys chose the past over the future.
HIGH: Lady Gaga's piano.
Elton John has announced his retirement from touring (three years from now), and Liberace passed away long ago. That means we need someone who will bring some verve to live piano shows, and Gaga, who performed tonight at a piano adorned with massive angel wings and concluded her number by leaning back into the spine of them, is just the woman to fill that fabulosity vacuum.
LOW: SZA and Cardi B shut out.
The Grammys have a woman problem. Straight off the heels of a new study that shows nine in ten of its nominees have been men over the last six years, on Music's Biggest Night this year, women were largely shut out. SZA, the most nominated woman, came up empty. Cardi B and Rapsody, with a chance to make history in the rap categories, were also robbed. Kesha: Nada. Only one woman was nominated for Album of the Year, Lorde, and she didn't win. Alessia Cara is the only woman to win in a major category. Even worse: Only four were nominated to begin with.
HIGH: Dave Chappelle calling out the Grammys for ATCQ snub.
If no one else was gonna say it, count on Dave Chappelle to shame the Grammys for ignoring A Tribe Called Quest's final album one year after they gave the show a standout performance.
LOW: Jay-Z shut out.
He was the most nominated artist of the night and has nothing to show for it. One night after giving a speech about ending his Grammys boycott because of Beyoncé, he might be reconsidering that decision.
HIGH: The Las Vegas shooting tribute.
Eric Clapton's "Tears in Heaven" was already a punch to the tear ducts, but to hear Maren Morris, Eric Church, and Brothers Osborne — who were all performers at the Route 91 Harvest Festival — perform it as a tribute to the victims of the Las Vegas shooting, with each name displayed behind them, just opened a whole new set of floodgates.
LOW: Logic censored for saying "Beautiful countries, you are not a shithole."
With all disrespect, the president said it first.
HIGH: Kesha performing "Praying."
Kesha may have unjustly walked away from the night empty-handed, but she delivered the Grammys' emotional high point with a savage performance of her anthem, "Praying." Flanked by Camila Cabello, Julia Michaels, Cyndi Lauper, Bebe Rexha, and Andra Day, and backed up by the Resistance Revival Chorus, Kesha lit into a chest-squeezing rendition of her soaring pop ballad that ended with her weeping as she collapsed into the arms of her peers. If the Grammys were hoping for a "Me Too" moment, nothing else came close, and every white rose in the room should have been thrown at her feet.
LOW: Sony congratulating Kesha on her performance.
Ha. Ha. Ha.
HIGH: Donald Glover singing "Terrified" with his Lion King co-star.
"Terrified" is very sexy Childish Gambino track, but the steamy lyrics were over by the time young JD McCrary came up to join him on the stage. McCrary will be co-starring with Glover in the upcoming adaptation of Disney's The Lion King, which means we got to see big Simba and little Simba sing a song from Awaken, My Love! together. What a world.
LOW: Portugal. The Man's boring win.
If "Despacito" wasn't going to win in any of the other categories, you'd think the Grammys would have seen fit to throw Luis Fonsi, Daddy Yankee, and Justin Bieber the award for Best Pop Duo/Group Performance. They did, after all, make the catchiest and hugest pop song of the year. Instead, we got "Feel It Still," which is mostly notable for its interactive music video.
HIGH: Janelle Monáe.
As if the floral sequin embellishments on her black suit were not enough, Monáe delivered a log line for the Time's Up movement ("We come in peace, but we mean business"), a war cry ("To those who would dare try and silence us, we offer you two words: Time's up"), and a mission statement ("Just as we have the power to shape culture we also have the power to undo the culture that does not serve us"). Bookmark this and refer back to it throughout the year when you need to feel inspired.
LOW: Kesha losing Best Pop Solo Performance … to Ed Sheeran.
Ed Sheeran can sing, but he barely does on "Shape of You," and the fact that he — the only male nominee in the Best Pop Solo Performance category — beat out Kesha's soul-quaking reclamation anthem "Praying" is a Grammys gaffe that is as confusing as it is upsetting. Really? In 2018? Damn, Grammys.
HIGH: Cardi B reading from Fire and Fury.
Cardi breaking from her audiobook narration audition to ask "Is this how he lives his life?" about the president is now the auto-response to every single Trump tweet for the rest of 2018.
LOW: Ben Platt performing "Somewhere" from West Side Story.
Sorry, was Babs unavailable?
HIGH: Blue Ivy shushing her parents.
The head of the Knowles-Carter household, Blue Ivy, made sure her parents stayed respectful and kept it down while folks were speaking onstage by visibly shushing them in the crowd. Beyoncé may have looked like a grand high creole witch, but Blue is clearly The Supreme.
LOW: Miley Cyrus's hypocrisy.
Miley Cyrus, an artist and activist known for her recent work with Woody Allen, Dr. Luke, and Terry Richardson, accessorized her Grammys outfit with a long-stemmed white rose in solidarity with Time's Up.
HIGH: Patti Lupone singing "Don't Cry for Me, Argentina."
Get you a Broadway legend who can make a reprisal of a 1981 performance (nearly four decades later!) sound like not a single vocal cord has aged in between.
LOW: Entirely too much U2.
Even if you're a U2 fan, three appearances by Bono and the Edge is a lot. No performance from Lorde but two from U2? No love for SZA but thrice we heard from Bono? Read the room, guys.