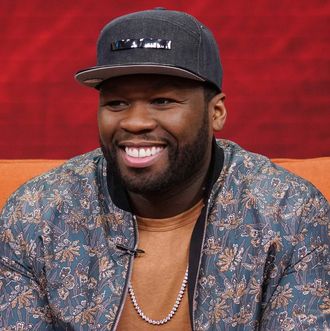 50 Cent.
Photo: Alexander Tamargo/Getty Images
Curtis "50 Cent" Jackson became famous for rapping and surviving an insane number of gunshots. He has stayed famous for his reputation as a pretty damn savvy investor. According to sources who spoke with TMZ, 50 is now reaping the rewards of being an early believer in bitcoin. In 2014, the multi-hyphenate entertainer and businessman announced he would accept bitcoin as payment for his album Animal Ambition. You may have forgotten about Animal Ambition, but the rapper probably hasn't: After taking in about 700 units of the cryptocurrency for his work, 50 just sat on the bitcoins. Now they've reportedly matured to somewhere between $7 and $8 million. You may remember also that 50 landed a massive payday back in 2010 when Coca-Cola Company purchased Glaceau, the owner of Vitamin Water. Thanks to an early investment in the flavored water, and a signature grape-flavored drink called Formula 50, the rapper is speculated to have received upward of $100 million for his stake in the deal.
It's a good thing this bitcoin thing seems to be panning out, too, since 50 Cent declared bankruptcy in 2015.