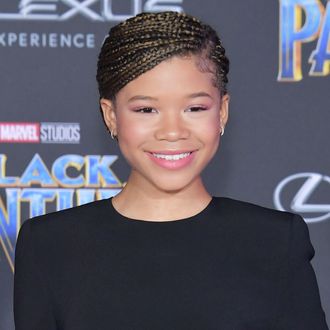 Storm Reid.
Photo: Neilson Barnard/Getty Images
You get a cocktail! You get a cocktail! You all get cocktails!
The legendary Oprah may not be running for POTUS, but she continues to surprise us — and confirm our greatest hopes — with the many talents up her sleeve. The latest reveal, courtesy of her Wrinkle in Time co-star Storm Reid: Oprah is an unapologetic party animal. When Vulture asked Reid to identify the real-life troublemaking ringleader of Wrinkle's Mrs. W trio — played by Oprah, Reese Witherspoon, and Mindy Kaling — the 14-year-old didn't even hesitate.
"Miss Oprah. Yes! She's so exciting, she is just like party, party," Reid told Vulture at the Black Panther world premiere. "Did you see she was making margaritas for the adults at our wrap party? She loves to party. She loves to have a good time, she'd be the ringleader. She's so fun and so amazing." You heard it here first, folks: Oprah makes a mean margarita.
While the young star of the upcoming Disney movie swears her famous co-stars are now her "mentors," she claims they're probably even closer in her mind. "We're tight. Like we're a family. I feel like we're a little bit closer in my head, in my imagination — like we're best friends, we talk every day, texting," she joked. "No, but they're just so great and I love them, and they love me. And every time we're together, we feel the bond and the friendship and family. They're all my mentors and they're just so inspiring. To have them in my corner, to have them pour into me is absolutely incredible."