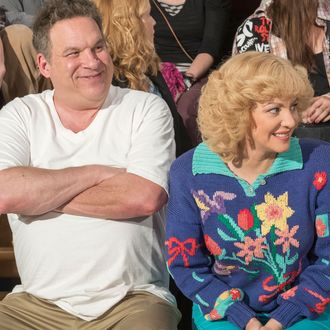 Photo: Rich Polk/Getty Images for Sony Pictures T
It's not common for a major network to air a pilot of a show it didn't order to series, but its 1990s-set Goldbergs spin-off is a lucky exception. According to The Hollywood Reporter, ABC will air the pilot episode of the series, titled Schooled, later this month during The Goldbergs' regular Wednesday night time slot. (The title of the episode: "The Goldbergs: 1990-Something.") The pilot was ordered by ABC back in February 2017 but was ultimately passed on by the network in May. Here's the logline from THR's report:
The special episode picks up where the Goldbergs leave off at William Penn Academy in the 1990s as former teacher and now head of the school John Glascott (Tim Meadows) leads a faculty with different views on how to mentor students and recruits his tough-as-nails-sister Lucy (Nia Long) to join his staff and enroll her teenage daughters Felicia (Rachel Crow) and Gigi (Summer Parker) as new students. Lucy is desperate to ensure they avoid the social pitfalls of high school and finds herself torn between Glascott's nurturing and communicative approach to parenting and Coach Mellor's (Bryan Callen) tough-guy belief that physical competition brings out the best in students. Even Beverly Goldberg (Wendi McLendon-Covey) comes to visit the school's staff, despite all her kids having already graduated. and can't help but meddle one last time.
"Last spring, the '90s spinoff tested higher than the Goldbergs pilot, so I certainly had high hopes for the project," showrunner and Goldbergs creator Adam F. Goldberg said on the news. "Young Sheldon has proven that fans are very loyal and will watch a spinoff, so we are hopeful that we make a real splash when it airs so we can begin the conversation again about getting this on the air." The pilot, which was directed by Jay Chandrasekhar, is set to air on ABC Wednesday, January 24th at 8:00pm.