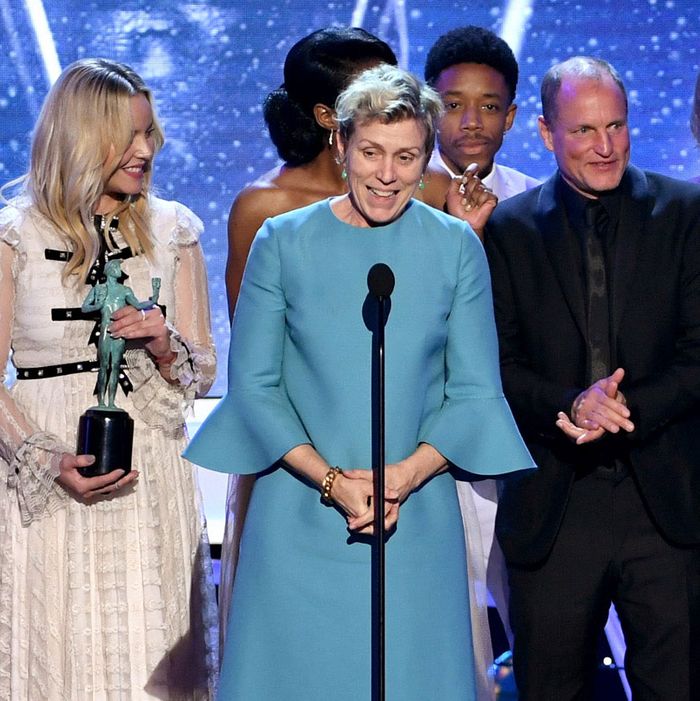 Photo: Kevin Winter/Getty Images
The Oscar nominations will be announced tomorrow, but do we already know who the biggest winners will be? After a month of major awards shows including the Golden Globes and both the SAG and PGA awards this past weekend, the consensus is looking increasingly clear.
The Screen Actors Guild broke for exactly the same winners as the Golden Globes, and you can bet that barring any major PR mishap for those laureled performers, they're certain to repeat at the Oscars. That means Three Billboards Outside Ebbing, Missouri stars Frances McDormand and Sam Rockwell will take Best Actress and Best Supporting Actor, Darkest Hour's Gary Oldman will triumph as Best Actor, and the only suspense in the Best Supporting Actress category is what kind of metallic sheath I, Tonya's Allison Janney will wear when accepting her Oscar.
Is there room for anyone else in those categories to sneak in and surprise? Not much. The chief rivals in the supporting categories, Lady Bird's Laurie Metcalf and The Florida Project's Willem Dafoe, are critics' favorites who simply aren't as flashy as Janney and Rockwell. The only actor who could sneak past Oldman is Call Me by Your Name's Timothée Chalamet, but he would have had to win a surprise Golden Globe to really get people talking, and that didn't happen. Best Actress is the only race that feels like something unexpected could happen, primarily because Lady Bird's Saoirse Ronan is a significant competitor fronting a widely liked movie, and that category would be a great place to reward it.
But if the past few weeks have proven anything, Three Billboards is even better liked by the industry, so not only is McDormand's position strong, but so are the film's chances to triumph in Best Picture. It's true that Guillermo del Toro's The Shape of Water pulled out a notable win at the Producers Guild of America this past weekend; historically, that award often matches up with Best Picture, though it hasn't lately. Still, I think the fact that The Shape of Water couldn't even snag a top SAG nomination for its ensemble cast is what will keep that film from going all the way: Only one film has ever won Best Picture without that SAG nomination, and The Shape of Water has a strong cast full of character actors — there's no reason it should have missed. It will earn the biggest number of Oscar nominations tomorrow, but the most significant wins will likely go to Three Billboards.