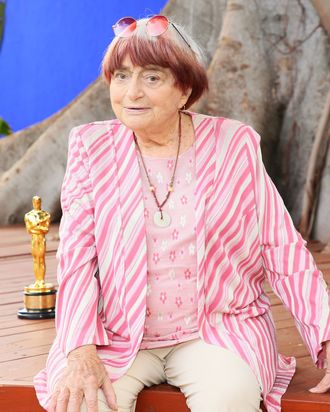 Agnès Varda.
Photo: JB Lacroix/WireImage
Introducing Agnès Varda at the Governors Awards in November, where she received an honorary Oscar for her enormous body of work, Angelina Jolie referred to the 89-year-old director by the nickname that has singularly affixed itself to Varda for the overwhelming majority of her six-decade career: the grandmother of French New Wave. On Tuesday, the feminist trailblazer received an Oscar nomination for best documentary for Faces Places (Visages Villages as it is known in her native language), the doc feature she co-directed with pseudonymous French Street artist JR — "a kind of improvised-feeling public art tour crossed with a buddy road movie" according to Vulture's Emily Yoshida, chronicling but also exalting everyday people in France's rural regions.
Reached in Paris hours after receiving the Academy nod, Varda, for her part, seemed cheery but basically unconcerned. She brushed off the notion the Oscar nomination is any kind of crowning achievement — even if Faces Places will stand as her final film. And, informed that she holds the distinction of being the oldest-ever nominee, the Belgium-born filmmaker shrugged off its historical import. "I'm just saying I'm not dead yet," Varda said with typical sangfroid.
Where were you when you heard the news you'd been nominated?
In my editing room. I'm working on — I'm doing lectures right now. I'm trying to film the lectures so that we'll be able to send the film and no longer go. [Laughs.] What I'm doing now is a way to escape lectures. It's like archiving myself.
JR is in San Francisco. And I'm here. So we did a FaceTime to say we are happy. Not pretentious but happy.
It's been quite a year for you. First an honorary Oscar, now a nomination in the documentary category.
Yes, it's interesting because it's a documentary about French people, normal people in the country. So it's an honor for France, I think.
Last year, you said Faces, Places might be your final film. What does it feel like to get the nomination for this film in particular?
We made this film, JR and I, to share it with people. We wanted the film to be loved, end of story. The film is loved. So if it is loved by voters also, why not? We're not hiding. It's about empathy and sharing. So now we share with voters!
You've had such a long career, you've done so many films, what does it mean to have this film get the distinction? Would it have meant something different to have been nominated at another stage in your career?
No, because as I have said at the Governors Award, none of my films have made money. But I have a lot of awards. I don't know if it's compensation — the money was not there. But awards? I have a full closet.
You're the oldest nominee in Academy Awards history. What are your thoughts on being nominated at this age?
I'm just saying, I'm not dead yet.
Do you ever think, "What took them so long?"
Wiseman is not young either — [88-year-old Frederick] Wiseman who does documentaries. He did the one about the public library in New York. He's old also. Other people are old. I filmed Manoel de Oliveira, the Portuguese director. He was 102 when I filmed him. So let's forget about age. We are old but still alive.
And still doing great work.
Well, I love to work. I love making films. I love making documentaries. It's wonderful and modest work. We are at the service of the people we film. It's not our case. We are go-betweens — going between the audience and our subjects.
You feel a sense of obligation to the people you film.
Yes. So we feel modest and work hard to make them be loved.
Are you going to continue to make documentaries?
No, no. I'm going to do a film about my lectures. I do installations. I work as a visual artist. So I'm doing one or two exhibitions. I keep busy!
So in that case, Faces Places is your last documentary feature film. Pretty nice to go out with an Oscar nomination, no?
Not bad, not bad. It fulfills the aim we had. We wanted to make a film to make the audience love the people we filmed. We wanted to share the empathy we had for them. And we wanted to share the desire of sharing. There is no politics at stake. It's just meeting people, sharing who we are.
One last question.
Ooh la la!
Is there anything in particular you are looking forward to at the Oscars ceremony on March 4?
No. I have my grandchildren — the two children of my son Mathieu — who live in Los Angeles. I will be with them until I go to the place of the Oscar. No problem. No anxiety!