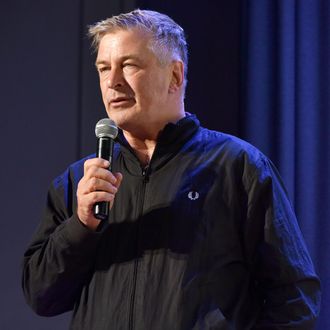 Baldwin.
Photo: Eugene Gologursky/Getty Images for Hamptons International Film Festival 2017
Unlike other actors who have recently come to regret working with Woody Allen, Alec Baldwin is standing by the director. Tweeting in response to his peers who have pledged to donate their salaries from Allen films to charity in solidarity with Dylan Farrow's allegations of sexual abuse (The Tick's Griffin Newman was the first to do so last October, Timothée Chalamet and Rebecca Hall have since followed suit), Baldwin says their public disavowal is "unfair and sad to me." "I worked w WA 3 times and it was one of the privileges of my career," he tweeted. He cites the forensic investigations into the 1993 case, which alleged that Allen sexually assaulted his adopted daughter when she was 7, and the fact that charges were never filed. (Though Connecticut prosecutors said they had enough "probable cause" to charge Allen, they declined so that Farrow would not have to appear in court.)
"Is it possible to support survivors of pedophilia and sexual assault/abuse and also believe that WA is innocent? I think so," Baldwin tweeted. He continued: "The intention is not to dismiss or ignore such complaints. But accusing ppl of such crimes should be treated carefully. On behalf of the victims, as well." In the past, Baldwin has angrily dodged questions about Farrow, who called him out by name for his silence in a 2014 op-ed recounting her accusations for the first time. Last year, Baldwin quit using his personal Twitter after he came under fire for his opinions about #MeToo and its media coverage, but not before he belittled Asia Argento. He now tweets from his foundation's account.