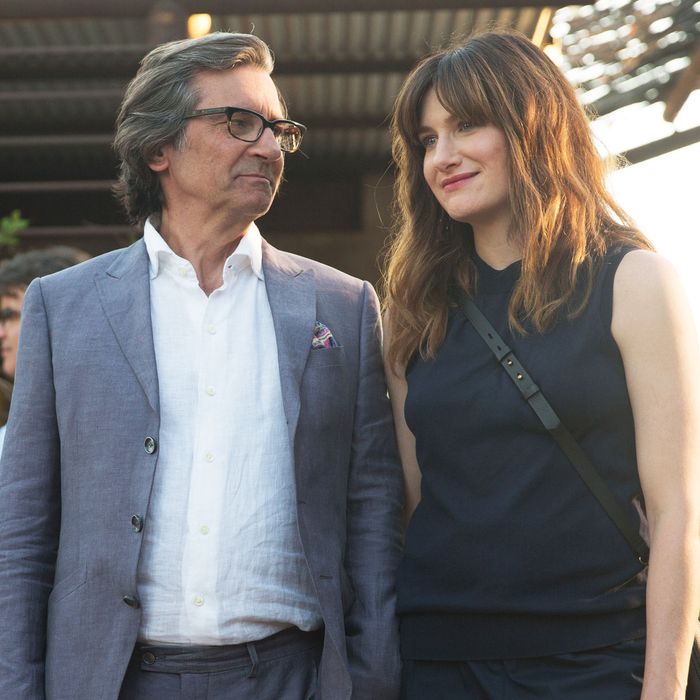 Griffin Dunne and Kathryn Hahn in
I Love Dick
, which was canceled by Amazon this week.
Photo: Patrick Wymore
It's been a brutal couple of months for fans of quirky, lo-fi streaming comedies. In November, Hulu unexpectedly canceled one of its first breakthrough series, the Julie Klausner–created Difficult People. Netflix last week pulled the plug on Lady Dynamite, killing the almost universally acclaimed Maria Bamford half hour just weeks after its second season premiered. And Wednesday night, Amazon blew up most of what's left of its comedy roster, handing out pink slips to One Mississippi, I Love Dick, and Jean-Claude Van Johnson. Shocking as some of these cancellations may be to fans of the shows — including many TV critics — they're not entirely unexpected.
The streaming revolution, while still young, is no longer in its infancy. OG online networks Amazon, Hulu, and Netflix now have several years of programming experience under their belts, and, more importantly, reams of data about what works and doesn't with their subscribers. It's only natural they'd begin using the reams of data they collect from audiences to begin fine-tuning their offerings. What we've seen in recent months — shifting strategies, abrupt cancellations, and even the death of an entire platform (see-ya, SeeSo) — is part of the medium's maturation process. "They're starting to act more like traditional, mature programming services," one veteran television exec told Vulture Thursday. "They're canceling shows which clearly weren't working for them." Still, even if the big picture regarding what's going on seems pretty clear — streamers are growing up — the culling we've seen in recent months offers a few other lessons about the immediate future of nonlinear television.
Streaming networks are not here to be your programming utopia.
During the early, heady pioneer days of streaming, outlets (particularly Netflix and Amazon) seemed to hand out automatic renewals to every show they produced. Seriously: Lilyhammer lasted for three seasons on Netflix. As our veteran TV exec notes, "At first, there seemed to be no rules; everything was a hit," he said. "That's bullshit. The law of averages says not everything will work." As streamers were ramping up, there was good reason to be patient. First, they needed to make themselves attractive to potential series creators and TV studios who might have been hesitant about taking a chance on the new platform. House of Cards was hotly pursued by multiple networks, but it landed at Netflix because the streamer agreed to produce two full seasons without even seeing a pilot. Money was also obviously a factor, but for many creators, the lure of going to a Netflix or Hulu was not having to stress over ratings or worry about people finding their show within a few weeks.
And at first, streamers really didn't care at all about audience numbers, since they knew people were still getting used to the idea of streaming shows. What's more, as various online networks built their programming libraries, they had to be patient since they still only had a handful of originals to offer. But as those catalogues started growing, individual shows became much less important. Sure, die-hard fans of Lady Dynamite or The Get Down will deeply miss the shows, but it's unlikely many will cancel their subscriptions as a result. While all Big Three streamers continue to up their overall content spends, they really don't have unlimited budgets — particularly as they move into other genres, like talk shows (Netflix, Hulu) or live sports (Amazon). If a series isn't clicking on some level — viewership, awards, pop-culture buzz — the fundamental rules of TV are going to kick in. "When something's not working, you cut it off," our TV veteran said. "At some point, they have to operate a business."
To be sure, the recent wave of cancellations doesn't mean the days of risk-taking and niche shows are over at (most) streaming networks. In this ever-more-crowded world of Peak TV, there's still plenty of incentive to make programs that stand out and generate buzz. And without advertisers and overnight ratings, it remains an easier proposition to micro-target certain kinds of audiences and super serve certain constituencies. It's a model used for decades by linear subscription TV services such as HBO: A show doesn't need to be hugely popular as long as it's seen as essential to enough paying customers. (Think Girls or Veep, neither of which have been big ratings draws but were beloved by their base.) But as streamers replace linear networks, they'll continue to refine their programming mixes, likely favoring shows with broader appeal as a more cost-effective way to keep subscribers happy.
Amazon does not want to be Netflix.
Even as all the major streamers have begun canceling shows in greater numbers of late, what's been happening at Amazon represents a much more fundamental shift. Company CEO Jeff Bezos has made it very clear that, both in television and, apparently, feature films, he wants to evolve Amazon's entertainment offerings. The art-house, critic-friendly fare championed by disgraced former Amazon Studios chief Roy Price (and TV head Joe Lewis) will be replaced by content designed to appeal to the masses, both in the United States and abroad. It's a form of the tentpole strategy Disney has pursued in features under CEO Robert Iger, where smaller one-off movies made way for franchises like Star Wars and Pirates of the Caribbean. Toward that end, Amazon recently agreed to pay up to a quarter-billion (with a "b") to develop a new The Lord of the Rings television universe. It's not hard to see why a small indie-movie-like comedy such as I Love Dick didn't have a chance under this new way of thinking.
The strategic shift further distinguishes Amazon Prime Video from Netflix. Even before Bezos changed course, it was always clear Amazon had no intent to try to race Netflix to become the dominant streaming network. And with good reason: While Netflix is fully focused on entertainment, TV and movies are a (relatively) small part of Amazon's overall business plan. Shows like One Mississippi or movies like The Big Sick are just one of a dozen or so benefits of the annual Amazon Prime subscription; the prime benefit of Prime for most customers probably remains free two-day shipping of Amazon purchases. Exactly why Bezos thinks going big makes more sense than catering to smaller, yet passionate, bases of TV fans is unclear; he hasn't really spoken much about his programming philosophy. It could be a sign he hopes to make Prime Video a stand-alone service, and big titles will be needed to get customers to sign up. Or maybe, as some in Hollywood think, Amazon might try to get into the linear TV business, buying an existing broadcast or cable network. If so, it would be smart to have programs with cross-platform appeal and the ability to attract advertisers. Whatever his thinking, Amazon Prime is likely never going to spend as much money on TV as Netflix, nor program as many genres. This week's cancellations were probably inevitable given where Amazon is headed. (It's also why fans of Catastrophe shouldn't hold their breath for a season five of the show after season four premieres later this year.)
Cancellations in the streaming age will be more shocking.
In the world before streaming, fans and journalists often could tell when a show was not long for this world. Low ratings, time slot changes, episode count reductions: All were metrics which hinted a favorite show was on the bubble. That's still the case today with linear TV. Even though it's become harder to make predictions about a show's fate as ratings become less important overall, there are usually signs something's about to bite the dust. That's not the case in the streaming world. Sure, the execs who run streamers have metrics — even more detailed data about who's watching their shows, and how. The difference is, they're not transparent about that information. Save for a handful of execs at individual outlets, most folks — even agents and producers — don't know much about how programs are performing. Even when showrunners or agents do know some data, it's hard to understand what it means since they only know how their own series are doing and not how they're doing relative to other shows. As a result, decisions to kill a series often come out of the blue.
At least for now, streamers probably aren't risking all that much with their sometimes seemingly arbitrary axings. As noted earlier, Netflix in particular has so many shows targeting so many consumers, no one series is likely to result in a wave of canceled subscriptions. It also still renews far more shows than it cancels, and it's proven responsive to fan outrage: It ordered a Sense8 wrap-up movie when stans of the show spoke up following its cancellation.
Long-term, however, some streamers could risk doing damage to their brands, both among average viewers and Hollywood creatives. Amazon's relatively sudden strategy shift, for example, could make some top-tier showrunners think twice about setting up shop at the streamer, even if their ideas fit within the company's new blockbuster mentality. If Amazon can shift gears so quickly and abandon so many well-regarded series at once, what's to stop the company from one day just deciding, "Eh, we don't need to make TV shows anymore"? Mad Men creator Matt Weiner, for one, has to be wondering just how much marketing and promotion Amazon will give to his anthology series The Romanoffs, which as of now seems more likely than not to end after one season.
All hope is not lost for quirky, low-key programs.
Despite the recent bloodbath, Peak TV probably isn't about to abandon smaller, critic-friendly programming any time soon. Even if Amazon is out of that business, Netflix continues to cast a wide net with its offerings, leaving room for crowd-pleasers (Stranger Things) and cult faves (The End of the F***ing World) alike. Both it and Hulu might not be as open to smaller, offbeat ideas as they were five years ago, but they'll still do some, much the same way HBO and Showtime balance their slates. And as the original Big Three online platforms evolve, keep in mind many new players are getting ready to join the streaming battleground. YouTube, Apple, Facebook, Disney — all will need to make noise in order to stand out. There's a good chance part of their programming mix will include smaller shows designed to be catnip for critics.
We'll also see linear giants continue to take more chances. As advertising revenue declines, some cable networks are leaning more heavily on their own streaming platforms in order to generate additional revenue. FX and AMC, for example, are testing out premium streaming subscription services of their own designed to supplement and enhance their traditional TV offerings. While the content on the linear and streaming platforms is largely the same, it wouldn't be shocking to see those networks begin to test out online exclusives (as SundanceTV already does with its smaller direct-to-consumer streaming service).
You can also bet old-school networks like FX or HBO will use this recent wave of streaming cancellations to make the case that traditional TV still has plenty to offer showrunners, both in terms of marketing support and awards-season campaigning. Indeed, HBO is already arguing exactly this point in its communications with the media. In a high-profile Wall Street Journal story this week, the network's execs took a big swipe at Netflix's dramatic scaling up, dismissing the streamer's ever-increasing content budget. "More is not better. Only better is better," network chief Richard Plepler told the paper's Joe Flint.