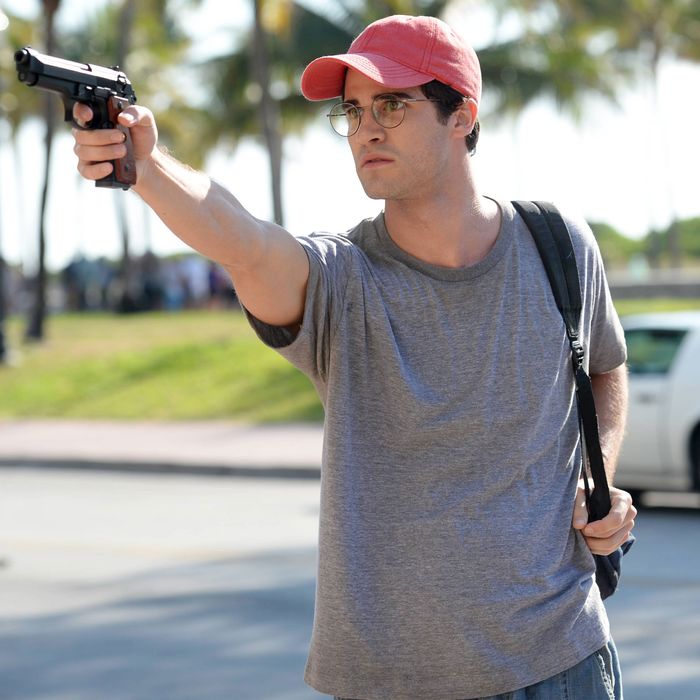 In an episode that is so steeped with terrazzo floors, bulbous gold watches, and even servants' uniforms that are chicer than anything I could pull out of my closet, there is one image that I just can't get out of my head: old men in tiny red bathing suits. Seriously, what the hell is up with that? There's at least three of them in the premiere of The Assassination of Gianni Versace: American Crime Story. I think it might be a hint the next season of Ryan Murphy's other shows. Stay tuned this fall for American Horror Story: Thongs.
Seriously, though, this first episode of Versace is absolutely gorgeous. Just think about all of the lush images that pop out of the screen like an IMAX version of a Vogue issue. There's the elegant pool of the opera singer's sequin dress as she belts on stage. There's Gianni Versace (Édgar Ramírez), delicately sipping his espresso from a black gilded cup, shot from above so his breakfast table is just off center of the Medusa logo that he made famous. There's the hollow chime of crystal champagne flutes clinking together on the set at the opera. There's Gianni's sister Donatella (Penélope Cruz), with that famous platinum hair and door knocker of a nose standing at the top of a little portico. And let us not forget that perfect peach emoji of an ass as Andrew Cunanan (Darren Criss) strides into his roommate's husband's closet to steal a suit.
Oh, there's just so much beauty! So many surfaces! It's fitting for a story about a man who made his fortune creating beauty and cultivating the world around him in his own image. And the cinematography has that round golden glow one can only find from the light in Miami. But when we're looking under all of those surfaces, it's unclear if there is anything there yet.
It is an interesting choice to start the series with Versace's murder, as we watch that day unravel much as it did in 1997 with the mourning of a fashion icon happening at the same time as a statewide manhunt for his killer. We only get one real flashback, to Cunanan and Versace's first meeting in San Francisco when the designer was in town to design the costumes for the opera. Cunanan tracks Versace down to the VIP section of a gay club and slowly weasels his way into the designer's orbit. Versace is totally disinterested at first, batting this cute twink away with the same forceful courtesy that he uses to deny an autograph seeker.
Cunanan is charming, however. He uses his skills as a liar and his knowledge of Versace to charm him with stories about his parents moving from Italy, weaseling his way not only into both a seat next to him (savagely dispatching his friend with the VIP pass to get him a drink), but also into a date with the designer. In these flashbacks, we also learn that Cunanan will lie about things large and small, like when he erroneously retells his story to his girlfriend and her husband, or his school friend.
The scene with his gay friend at school is the most revealing when the friend tells Andrew, "You tell gay people you're gay and straight people you're straight." Rightfully, he's confused about Cunanan and his ever-changing stories of himself, ones that crop up to serve whatever need arises at that minute. (That didn't confuse me, though. I was just confused by how those glasses without temple bars managed to stay on his face without falling off.) Cunanan's answer to his friend? "I tell people what they need to hear." Yup, that seems to fit the profile.
That is just one of the moments in this episode that seem a little bit on the nose. The whole opening is a tad bit obvious, where Versace swans around his house in his pink robe while his killer walks into the surf wearing all of his clothing (a mark of a true mad man) screaming the whole time. Versace is sunning himself by his tiled pool while Cunanan is puking in a dirty public restroom with "Filthy Faggots" scrawled on the wall.
Then, of course, there is Gianni's corpse with the bullet through his cheek, lying next to the dead dove that is similarly afflicted. Yes, people, we get it. What about when Andrew hears the news of Versace's murder in the lobby of a fancy hotel and then watches a woman's shocked reaction and mimics it perfectly? He doesn't know emotion. He doesn't know anything real.
But the most glaringly obvious symbolism is when Gianni's partner Antonio D'Amico (Ricky Martin) tries to follow Donatella into a family meeting and she literally shuts the door in his face. Oh, I wonder what's going to happen to him during the rest of the season?
Antonio definitely gets the worst scenes of the whole night, especially his grilling by Detective Scrimshaw (Will Chase), who you know is a jerk because he has a mustache. Scrimshaw's casual homophobia and disregard for Antonio's feelings after the loss of his partner and his callous disregard for a non-monogamous, non-heterosexual relationship is pretty disgusting. Just as The People v. O.J. Simpson asked us to reexamine the issues of race, gender, and celebrity surrounding that case, it seems like this season is going to ask us to reexamine how Versace, Cunanan, and D'Amico's sexual orientation factored into this case. In no place was it more obvious than these unsettling scenes.
It's also obvious in the way that Donatella treats Antonio, and how she's fixated not just on preserving her brother's saintly image but also the family business. She says she doesn't want to talk to the board so soon after her brother has been gunned down in front of his house, but there she is, doing just that. She also shoots down taking the company public just days after her brother signed the papers to do just that. Donatella says she wants what her brother wanted, but it's clear that she has a separate agenda all of her own as well.
From this first episode, ultimately, I'm curious about how the series will unfold. Will we see things in 1997, as the cops and FBI continue to hunt for Cunanan, alongside flashbacks to how we got here? Or are we going to take a giant leap backward and start with both Cunanan and Versace's beginnings to show us what led the murder in the first place? The structure is still unclear, but it doesn't seem like there is enough meat left for ten episodes set just in 1997. Or is there? Will the reexamination of this case reveal details that those of us who lived through it aren't even aware of? Or is it just taking the facts and putting them in a dramatic light? We won't find out until we delve beneath the surface, something that hasn't quite happened yet. But, man, what a very gorgeous surface it is.