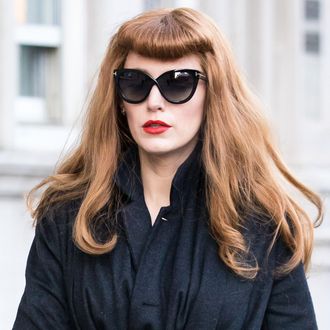 Blake Lively.
Photo: Alessio Botticelli/GC Images
Next year's most anticipated spy thriller to star Blake Lively, The Rhythm Section, might have to push its release date. According to The Hollywood Reporter, Lively sustained a hand injury while filming a stunt, and an unsuccessful first surgery means that the star will have to go under the knife for a second one to hopefully correct the problem. THR's sources say the hiatus is expected to go long enough that the crew has been told to find other work, and that it could be five months before shooting is able to recommence. Director Reed Morano actually addressed Lively's injury with THR earlier this month, saying, "She's okay. She's just recovering. The problem is that normally, that kind of an injury, you would have 4 to 6 weeks of rehab and then you would wear a splint. We have to go into stunts, so it's very complicated." (Tom Cruise, who sustained a hideous ankle injury that shut down filming on Mission: Impossible — Fallout for months, should swap notes on recovery and anti-aging with Lively.)
Rhythm Section is based on the Stephanie Patrick novel series by Mark Burnell, and it follows a woman who sets out to discover what happened on the plane crash that killed her entire family. But she doesn't just want the truth, she wants vengeance, and one of the true delights of filming so far has been Lively updating her Instagram with first looks at her various Stephanie Patrick wigs. So until Rhythm Section does return, while away the hours by marveling at the wigs that have been, and dreaming about the wigs that are yet to be.
Update: According to Deadline, filming is expected to pick back up in June. Be on the look out for more wig grams.