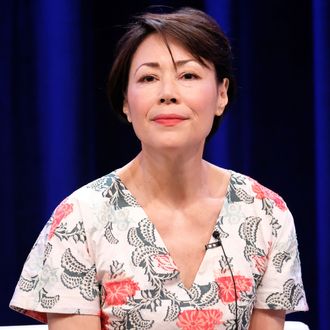 Ann Curry.
Photo: Frederick M. Brown/Getty Images
The Jane Fonda–Megyn Kelly feud — which all began, mind you, because of a little Netflix movie called Our Souls at Night — rages on. This time, a new player has entered the fray: Ann Curry. Months ago, Fonda ethered Kelly when the host awkwardly asked about Fonda's history of plastic surgery, and the actress continued to chide Kelly in the press for her interviewing skills. Then, Kelly spoke to her audience, calling out Fonda for defending herself. "Look at her treatment of our military during the Vietnam War," Kelly said. "The moral indignation is a little much. Honestly, she has no business lecturing anyone on what qualifies as offensive."
But consummate newswoman Curry added her two cents when she was a guest host on The View. Curry wasn't moved by Kelly's speechifying: "We're supposed to be humble. We're supposed to use whatever time we're given to shine a light on other stories," she said. "There are so many stories that we're not covering, and to take time with this … is not journalism."
Advantage, Fonda.