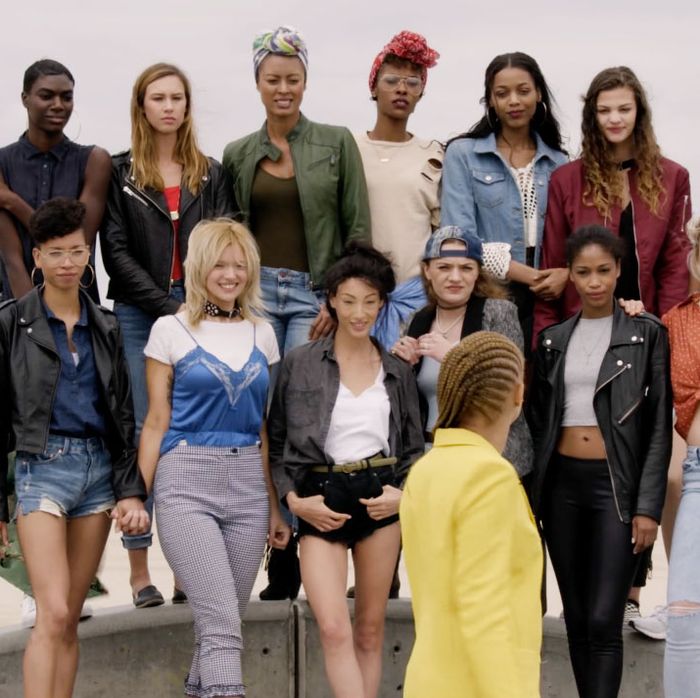 Filial cannibalism. Observed in many animal species, it is the act of a mother eating her own offspring. Many theories abound as to why this phenomenon exists in nature, but the most prominent among zoologists seems to be that the weakest of the offspring must often be sacrificed to secure more resources for the strongest. Some of the brood, it would seem, were never ready for this world, never stood a chance. And so, by mercy or mercilessness, they are devoured by Mother … before the world devours them.
Also, like, some girls just can't do high fashion and belong on Instagram. So … bye girl, bye!
With that appropriating expression and an aerial view of the city of Los Angeles, we dive headlong into this episode, wherein we join Maggie and Coura in deep conversation about the prior week's elimination down to just 15 aspiring America's Next Top Models. Maggie has decided to stick with her "white homegirl" brand and gets read offscreen by Sandra and Coura, who don't know who she thinks she's relating to when she addresses them as "girl!" Although it remains to be seen if Sandra and Coura have any personality to relate to at all, it's an interesting take doubled with a confessional that reveals Maggie has developed from "pretty girl-next-door from Maine" to "pretty white homegirl who totally has a lot of black friends, I mean, look at all my pictures of my black friends from Maine." She seems harmless, if a little unsure of who she really is. We get the sense the "white homegirl" thing may have been something she wrote on a résumé for this show without thinking twice and producers' eyes began to glow red with edit-room possibilities, but we digress.
Elsewhere in the house, Brendi K. is spared an appropriation narrative (though it's a lot thicker in her case) because she has, yep, mama drama and a trailer-park past. She's the Tonya Harding to Maggie's Nancy Kerrigan if borrowing colloquialisms were an Olympic sport. We barely get to check in with Brendi before (the first!) Tyra Mail arrives.
"Well, hello, hello, hello," says Tyra Banks by way of RuPaul. In keeping with cycle 23's handheld RitAlert style, Tyra Mail has assumed the same aesthetic, suggesting a selfie video from Tyra's down-angle vantage point. Have you guys heard of selfies? Yeah. Tyra has, too. Same. "Welcome to your new home in the hills of Los Angeles." The girls squeal as if this is new information.
Once the Tyra Mail concludes, the girls are left deciphering each crypticism like the master codebreakers they are. Whatever this next challenge is, they will "chill and glide." Ice skating is thrown out as a possibility. No, hang gliding! Parasailing! You know, L.A. stuff! Everyone is wrong as the girls pull up to a skate park in Venice Beach. Liz is excited and reacts like the sketch-comedy character that she is. She correctly assesses that there are skateboarders and that you can see the beach. She's fun and we (read: Matt) hope she wins. In a confessional, Maggie snaps her fingers and pops that it's "about. to go. down," prompting the producers offscreen to lower their tasers.
Supermodel Stacey McKenzie and her mustard jacket loudly welcome the models, who pack together on a perch so as to not be decked by the skateboarders. This will be a runway challenge, so first Stacey must show them how it's done. She walks about six yards, asks, "Got it?" and … yeah, we guess? Yeah. We got it. For sure.
The girls take turns showing Stacey their runway walks, and we see a fascinating topography of different skill levels. Erin, at 42, knows how to walk. She has done it for 42 years. The rest of them are "probably all into their selfies," Erin jokes, miming a phone in front of her. We now understand the binary that you're either into your selfies, or can walk. Erin's strutting doesn't necessarily impress, however. "We need to step you up," says Stacey, waving her off. Liz walks and Stacey deems her performance a "hot wreck," which is a really wonderful smithing of "hot mess" and "train wreck" that takes the fun words in both and mashes them together to create a vibrant, all-purpose insult. A super-insult, if you will. We love it and we love her.
After the practice walks, Stacey reveals that the girls will be participating in a runway show right then and there, and the prize is a desirable one indeed: walking the runway for Baja East at New York Fashion Week.
Image architect Law Roach shows up to amp the girls up for their runway, which will take place in the skate park itself while Venice Beach's best skateboarders swoop around them, reminding them "motha is back" in reference to Tyra. He draws out the word "motha" like a true Person Who Is Familiar With RuPaul's Drag Race, and it hits home. Offscreen, Maggie jots the word "MOTHA" down for when she is asked about Tyra in a confessional. She must stay un-tased.
And then, the girls walk. Standouts for us have to include Jeana, who really looks the part of a supermodel on that runway, and Brendi K., who is giving us a "Cara Delevingne's little sister" vibe that we have no choice but to love because strong brows and masculine jaws are in, someone told us. But alas, we may have spoken too soon calling her a favorite, because she misses her mark at the end of the runway. This creates disappointment and drama back in the tent where Stacey, Law, and the other girls look on. In her confessional, Brendi is sad and reminds us of Taryn Manning in that we would like to see more of her and she is more racially problematic than Maggie.
Khrystyana slays it as hard as her parents did not slay the spelling of her first name with a final pose that is strong and confident. An insecure and anxious Ivana simply forgets to pose entirely, much to the chagrin of Stacey, who had just given her a pep talk about how unique and special she was and how she should definitely not forget to pose. Maggie also looks great and further discusses this as an opportunity to show her "homegirl strut," responding almost definitely to a producer's question about how this opportunity allows her to show her "homegirl strut."
The winner of the challenge is … as mad as it makes us to type her name again … Khrystyana! It's well-deserved and brings her an endearing Siberian happiness. Not as happy is Brendi K., who takes that home with her. Now, the half-eaten apple in the fridge is definitely gross, but we are not sure it merits the tongue-lashing Brendi delivers to the girls, who roll their eyes and attribute her anger to her loss earlier that day. This is diagnosed by the first episode's Angry Girl, Christina, so it's coming from an authority on Being the Angry Girl.
Cut to communal hysteria as the next Tyra Mail beams in. "Is it me or are you glowing?" coos handheld-selfie Tyra, and soon the girls are off to meet with judge Drew Elliott at a studio, where he tells them that while they just got a taste of L.A. beach life, they will now be getting a taste of L.A.'s celebrity life with this next photo shoot. We can expect, probably, that at some point we will get a taste of all of L.A.'s lives, and that is exciting!
This challenge is inspired by the recent wave of celebrities posing for photos while pregnant, chiefly Blac Chyna, who is the direct inspiration for this shoot. On hand is Charlotte Rutherford, the photographer used by Blac Chyna and Paper magazine for her cover. The girls are eager to impress such an iconic photographer. Rhiyan states that her "A-game has gotta be on point" which is, again, a beautiful molding of two different expressions to create a redundant super-expression.
While many of the contestants are able to focus immediately, the challenge proves to be — surprise! — emotional for many of the girls. Rhiyan was once told by a doctor she may not be able to have children. Erin, a mom herself, is overcome with homesickness before she shoots, and Brendi K. reveals that a physically abusive ex caused her to miscarry at the age of 18. Still, Drew demands the girls emotionally transcend all that crushing gender baggage in service of "the glow."
The girls succeed to varying degrees when it comes to holding their stomachs and pretending to be pregnant, and Drew makes some assessments as the shoot goes on. To Rio, he says, "Your eyeballs are the things I love," which sounds gorgeously borrowed from an Emily Dickinson poem. Maggie "doesn't know who she is" with her "fake personality," which is "rude." This dressing-down seems unnecessarily harsh, and you have to give the girl a break. It has to be so hard to get "white homegirl" across in your third trimester.
When we finally make it to judging, Tyra is back and it's good to see her. She is "Motha," after all. Before the judging begins, Tyra makes sure to say that she and America's Next Top Model "do not condone any type of teen pregnancy." Most of the girls chuckle. In a blink and you miss it moment, Trump voter Liberty nods stoically. We should reiterate that "Liberty" is, of course, her name.
Rhiyan discloses to the panel that she found the photo-shoot challenge difficult, as it reminded her that she may not be able to get pregnant. Tyra warmly suggests that perhaps all is not lost because she too had issues and was able to get pregnant after a litany of IVF injections. She doesn't know Rhiyan's situation at all, but … we guess it's nice. Perhaps Tyra really is Motha in that way that mothers will say something to make you feel good and then the world, history, doctors, and modern medicine will be like "lol, no bitch." But it's nice!
Jeana is someone we need to start calling a front-runner because of incessant glowing feedback from the judges. Erin gets surprisingly good notices and Tyra remarks that she looks and feels like a celebrity model. Erin runs the risk of having a repetitive arc (we have seen parents missing their children a lot on these shows), but there is something about her. At one point, Law is inspired to "go on eBay and buy a uterus," a statement that makes no sense on several levels. Maggie seems as confused by her critique as the judges are by her whole brand and vibe, and the girls are sent away while the judges deliberate.
Soon, the models return to, yes, stand before Tyra. It is emotional to see her there, back in her element, photos in her hand. She's leaning just a little too hard on the whispering-of-the-names, hyperaware of its novelty, but we're definitely not mad whenever Tyra does too much.
Surprisingly, the winner of the challenge is Coura, who is correctly told she needs to bring some personality to her photographs and her modeling in general. Beyond her gorgeous face and the touch of androgyny she brings, we don't see much going on with her photo and think Jeana was snubbed. But, alas, we are not Motha! Tyra is, and as she circles her two weakest children, Brendi and Maggie, she fatefully chooses to spare Brendi, whom you have to admit looks stronger both in the competition and when it comes to survival. The hapless Maggie is eaten up by Motha. It's a little sad to see, as she genuinely seems frustrated when she is referred to as the "white homegirl." But whether she wanted it or not, it is now her brand. And you need that for Instagram!
Bye girl … bye.