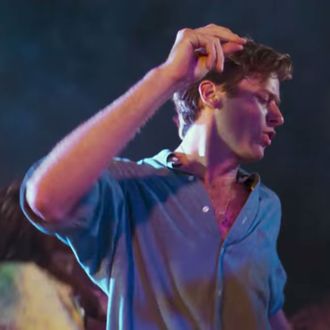 Photo: SonyPicturesClassics/YouTube
Call Me by Your Name stars Timothée Chalamet and Armie Hammer had a real experience bringing their movie back to where it all began. Along with director Luca Guadagnino, the pair hosted a screening in Crema, Italy (located not far from Milan, in the northern part of the country), the city where the movie was filmed. After an extended hiatus from Twitter, Hammer's social-media presence rose like a phoenix from the ashes to let local fans know about a post-show gathering they would be holding in the town square at midnight. Things started out slow, but the fun picked up before night's end. Here's how it went down.
With no audience to host, Armie wife Elizabeth Chambers took a dabbing break at the front of the auditorium, while Guadagnino sat discreetly in a chair behind her.
At around 2 p.m., Hammer let the people know when the party was on.
Fortunately, the Hammer Heads and Timmy Hive showed up in the centro to greet the actors and dance with them in the streets.
Hammer sadly was not wearing le tracksuit, but he did overcome his fear of dorky dancing to give the people what they need.
And they all lived happily ever after.