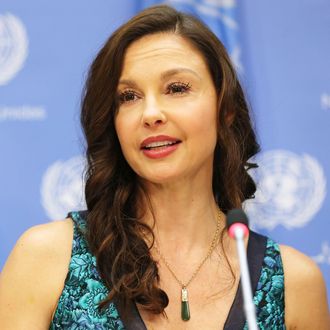 Photo: Jemal Countess/Getty Images
Five women have accused James Franco of inappropriate behavior and sexual misconduct in a Los Angeles Times report this week, and while Franco has denied the allegations, one prominent figure in the #MeToo movement thinks his response has been "terrific." In a recent interview with the BBC's Stephen Sackur, Ashley Judd praised Franco's recent statement on The Late Show With Stephen Colbert, in which he said the charges against him are "not accurate," but that he supports people speaking out. Via the BBC:
Sackur: Yesterday I switched my TV on and there was news of another actor, James Franco, who has been the subject of a number of different accusations by women, mostly online. And James Franco's response is "Look, I didn't do the things I'm accused of but if I did in the past behave badly then I am going to work my very hardest to put things right". I wonder, now, about the atmosphere that you see — in your industry, in entertainment, in other industries too — where it seems some men feel that they are, in a sense, being presumed guilty without due process.
Judd: I think that what James said is terrific. And I think that we've all behaved — at a certain level — unconsciously, and done things that were insensitive, inappropriate, without necessarily understanding that they were. I mean we've all operated with a certain amount of tone-deafness, and I like the culpability, and we have to have restorative justice. This is about men and women being all together and having a more equitable and just workplace, home life, social spaces.
Judd was one of the first women to publicly accuse disgraced Hollywood mogul Harvey Weinstein of sexual harassment back in October. Since then, she has been a vocal supporter of #MeToo and Time's Up. When asked how she felt about the current movement of women speaking out about their experiences with sexual misconduct, she told Shakur: "Joy; just unmitigated, electrifying joy."