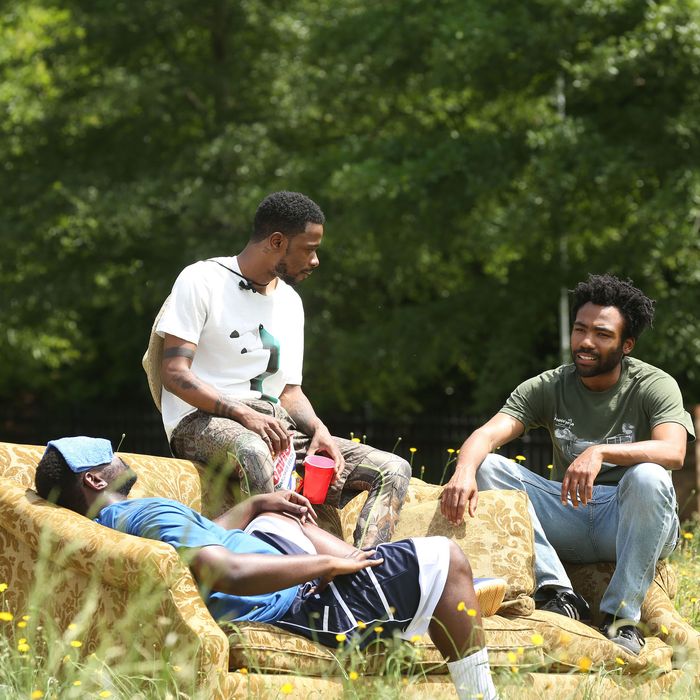 L-R: Brian Tyree Henry as Alfred Miles, Lakeith Stanfield as Darius, Donald Glover as Earnest Marks.
Photo: Quantrell D. Colbert/FX
The second season of FX's Emmy-winning Atlanta begins March 1 with a longer title and an unexpected origin story.
First, the title: Atlanta Robbin' Season refers to an actual time period in Atlanta during the holidays, before Christmas, in which robberies exponentially increase.
"People have gifts, have more stuff, and money," said executive producer and writer Stephen Glover at a Television Critics Association panel in Pasadena Friday. "You might get your package stolen off your front porch. While we were there, my neighbor got her car stolen from her driveway. It's a very tense and desperate time. Our characters are in a desperate transition from their old lives to where they're headed now. And robbin' season is a metaphor to where we are now."
Season two won't feel as experimental as the first season because the writers settled on one cohesive story, executive producer and director Hiro Murai said. Their inspiration? Tiny Toons: How I Spent My Summer Vacation, which the writers and producers apparently enjoy very much.
"Tiny Toons Summer Vacation was broken up into a bunch of episodes, but if you watched them all together they were a movie," Stephen Glover said. "We took that idea. It's a whole story, but told in a bunch of little parts."
"You can enjoy them more when they're together, but you can also enjoy them in little bits," show creator and star Donald Glover added, clearly getting a kick out of the revelation. "We didn't really look back at season one for inspiration. If you do that as a producer of television, or any art, you tend to be risk-adverse, which I think is really bad for art. So we didn't look back and think, What are the things that will make people happy? We really just tried to beat ourselves. Hiro was a big pusher of that."
Many of the producers and actors worked on the show last fall while living in east Atlanta, where the characters live, and found themselves facing the kinds of questions Paper Boi (Brian Tyree Henry) does in season two, as he makes enough money to afford moving out of the hood.
"Are you gonna eat or are you gonna be eaten?" Donald Glover said. "I think that's something people don't realize. Black people have to make a choice. That choice defines who you are. It's hard." Glover said it was "surreal" that his brother, Stephen, rented an Airbnb two houses away from where they grew up.
"I didn't want to stay there, but when you make last-minute arrangements on Airbnb, you take what you can get," Stephen Glover said. Which instantly raised his brother's ire: "If you want to see some racist shit, get on Airbnb!"
Henry, who couldn't go anywhere without being recognized, had to isolate himself. Working on season two was much harder, he said, but it was worth it to work and live in that environment. One night, production suspended filming because of a shoot-out.
"At the end of the day, it's where their lives were," Henry said.
It's where the environment was and that's the universe we were creating. That's literally why it's called Robbin' Season. That fear, that uncertainty, that not knowing. Not that you forget your old life, but now it's different, so what do you do?"
It's like living inside of a contradiction, Donald Glover said: "Am I gonna sell drugs or am I gonna be a celebrity? You can do both. You can't be a famous drug dealer. I mean, you can, but it's not gonna work out well."