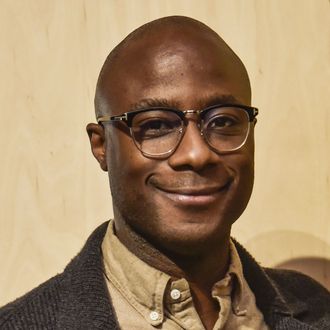 Barry Jenkins.
Photo: Kris Connor/Getty Images for The Academy of
On Wednesday night, Barry Jenkins and a few sips of Woodford Reserve were on a plane headed to LAX. The result of that flight, to the rest of the internet's glee: 35 blissful tweets chronicling Jenkins's peering over another passenger's shoulder to dip into the ever-delightful Notting Hill. (Secondhand watching movies on planes is a favorite Vulture pastime, of course.) For the uncultured swine among us: The British rom-com has Julia Roberts turning in the second-best performance of her career as the jaded movie star that falls for a humble travel-bookshop owner, Hugh Grant. There's also a Mischa Barton cameo, and important lines about being just a girl, standing in front of a boy, asking him to love her. Jenkins goes through the gamut of human emotions on this watch: from praising Grant's "English cat game" to stanning Rhys Ifans to being blinded by Roberts's smile. Enjoy:
(For the record, he's talking about Rhys Ifans.)
(Another aside: For the record, your crush Barry Jenkins's first film, Medicine for Melancholy, movingly addresses gentrification in San Francisco, so maybe check it out.)
Fin! Same time next week? A polite request: You've Got Mail.