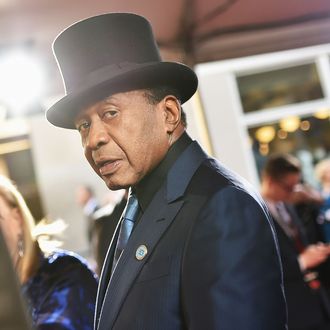 Ben Vereen.
Photo: Mike Coppola/Getty Images for Tony Awards
Ben Vereen, a Broadway veteran known for his performances in musicals like Hair, Jesus Christ Superstar, and Pippin, has been accused of sexual assault, intimidation, and other abusive behavior by several women he directed in a volunteer production of Hair at the Venice Theatre in Florida. The women claim that during the 2015 production, Vereen made aggressive, unwanted physical contact including kisses and hugs and made degrading comments toward them. Two, both in their early 20s, claim that Vereen, then 69, took them to his rental home for "private rehearsals," pressured them into a hot tub with him, and pressed his erect penis into their legs.
In a statement to the New York Daily News, Vereen did not deny the accusations. "I would like to apologize directly to the female cast members of the musical 'Hair' for my inappropriate conduct when I directed the production in 2015," he wrote, claiming "while it was my intention to create an environment that replicated the themes of that musical during the rehearsal process, I have since come to understand that it is my conduct, not my intentions, which are relevant here." According to those in involved in the production, Vereen allegedly used the premise of Hair, which focuses on the sexual revolution of the 1960s and includes a famous nude scene, to pressure the women involved in the production. At one point while rehearsing that scene, Vereen allegedly stripped himself and made sexually suggestive comments to the women in the cast.
One woman, Kaitlyn Terpstra, who was 22 at the time, claims that she was asked to sign non-disclosure agreements without a lawyer present, while Vereen positioned himself as her mentor, suggested the production could go on the road (and thus help the actors earn Equity cards), and used the excuse that "nudity doesn't have to be sexual" in order to get her to disrobe while at his residence. "Now I understand it was a power play," she said. "It was so calculated. It was like we were putty in his hands." The theater claims to have been unaware of the extent of Vereen's actions until they were brought to its attention by a Facebook post Terpstra made in November about her experiences in the wake of the Harvey Weinstein revelations.