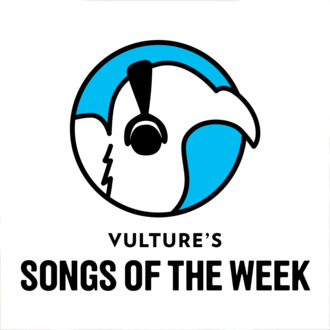 Every week Vulture highlights the best new music. If the song is worthy of your ears and attention, you will find it here. Read our picks below, share yours in the comments, and subscribe to the Vulture Playlist for a comprehensive guide to the year's best music.
Cardi B ft. 21 Savage, "Bartier Cardi"
There might not be another artist as completely locked in as Cardi B is right now. She currently has three songs charting in the Top 10 on the Billboard Hot 100 — historic, of course — but to keep up the momentum, she closed out 2017 with yet another single. Her follow-up to "Bodak Yellow" is somehow even more brazen. On "Bartier Cardi," she gets a good grip on the sinister production and chokes out every last breath. Her flow is filthy — "Moonwalk on a bitch, moonwalkin' through your clique / I'm moonwalkin' in the 6 / Sticky with the kick, moonrocks in this bitch" — and she sounds like a woman possessed, going in for the kill, and not to be challenged. "Bodak Yellow" gave us one-liners to last all 2017; 2018 begins with "your bitch wanna party with Cardi." Happy New Year!
BØRNS ft. Lana Del Rey, "God Save Our Young Blood"
Not all songs feel like hits on first impact. The first few singles from BØRNS' next album, Blue Madonna, never hit me at all. But "God Save Our Young Blood" carries the sweeping, cinematic vibe of a made-for-Coachella anthem that just happens to be released in the wrong season. It blends in barely detectable background vocals from Lana Del Rey, patron saint of flower crowns, and sounds like how the comfort of the summer sun hugging your shoulders on a joyride through the Indio desert feels. Which would be pleasant if it weren't also a cruel reminder that we're presently in the dead of winter. But, then, maybe a distraction from the crippling "bomb cyclone" about to bury us all this week is exactly what we need, even if it's just a fantasy.
Migos, "Stir Fry"
I have never once listened to a Migos song and thought, This could use some Pharrell, because I clearly lacked the vision. Migos sound in their element over slick trap beats because that's what's come to be expected of them, given the trio's Atlanta roots. There's nothing wrong with carving out a lane and riding it for as long as it'll take you — but good on them to have realized this early on that it'll only take them so far. They've sought new inspiration from Pharrell, and hot damn, he hit them with some Neptunes-level funk. It's bouncy, injected with all sorts of trademark Pharrell flourishes (whistles, elasticy 808s, and low-key synth), and each member sounds like they're having more fun than ever recording it. What's more, no one sounds offbeat (that's not easy on such a spontaneous, oddball production) or uncomfortable. Their new album, Culture 2, might just show a whole new side to the Migos.
Francis and the Lights, "Cruise"
I wouldn't recommend just anyone surprise release an entire album on the final day of the year, but it's not a bad way to close the book. Francis and the Lights quietly dropped Just for Us with not a whole lot of promotion or fuss, which mirrors exactly the kind of artist he is. The best song on the album, by my ears, is "Cruise," an airy, simple extended groove of a song about future methods of transportation and giving up control to just float and lose ourselves in space. Justin Vernon produced it, like he does sometimes with Francis and the Lights. It's pretty much what the teens mean when they describe something as vibes.
Japanese Breakfast, "California Dreamin'" (The Mamas & the Papas cover)
This is not a faithful "California Dreamin'" cover because Michelle Zauner does things her way. Instead, she's traded in the original's sunshine for a little bit of gloom and a helluva lot of synth. It's melancholic, jarring, and, as a result, utterly hypnotizing.