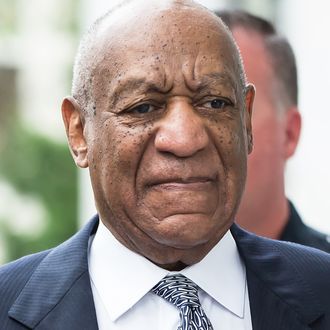 Photo: Gilbert Carrasquillo/Getty Images
If the pretrial hearings in the case against Bill Cosby are any sign of what's to come, things are about to get heated in the Montgomery County Courthouse outside Philadelphia. Within the past few days, there have been several surprising developments in the coming retrial of the felony indecent assault case against the 80-year-old comedian. (The first criminal trial against Cosby ended in a hung jury last year.)
The latest twist was Philadelphia-based attorney Samuel Silver filing a petition on Monday to withdraw from the new defense team, which also includes Tom Mesereau (famous for defending Michael Jackson), Kathleen Bliss and Jason Hicks (both of Las Vegas), and Becky James (from California, along with Mesereau). While Silver gave no reason for his abrupt departure, the remaining team will need to find a Pennsylvania-based attorney to take his place — and quickly: the Pennsylvania Bar Association requires out-of-town attorneys working in the state to have a sponsoring attorney accredited in Pennsylvania. Jury selection is less than 60 days away.
Silver's withdrawal comes just days after the defense team asked Judge Steven O'Neill to outright dismiss the case. Their request was based on findings that the Montgomery County DA's office may have purposely withheld or destroyed evidence that could aid Cosby's defense against Andrea Constand, the former Temple University employee who has accused the comedian of drugging and sexually assaulting her in his suburban Philadelphia home in 2004.
According to court papers, Marguerite Jackson, a co-worker of Constand's at Temple University, reportedly told investigators that Constand denied that Cosby ever assaulted her, saying, "I could say it happened, file charges, and get money to go to school." The defense contends that detectives who conducted the interview with Jackson destroyed their notes, and, as such, they want the case dismissed on the basis that Cosby is being denied "any meaningful right to a fair trial."
All of this comes not long after prosecutors asked O'Neill to consider allowing the testimonies of 19 women who have accused Cosby of drugging and sexually assaulting them. Attorney Gloria Allred, who represents 33 Cosby accusers, said in a phone interview today that testimony from some or all of the 19 women would be "very significant" if permitted. O'Neill, who presided over the first trial, did not allow a similar petition for 13 witnesses to testify against the comedian — allowing, instead, only one. "The jury would benefit from hearing these other witnesses," said Allred. "The rationale would be … to show the same or similar MO by Mr. Cosby."
While Cosby's new trial will take place in the same courthouse as last year, not far from his palatial home and less than an hour from North Philly, where he grew up — a courthouse unused to hosting international media scrums — it will occur in a much different cultural climate. The last trial concluded before Harvey Weinstein changed the national conversation.
"Most people are aware of women who have spoken out about other rich, powerful, famous men," said Allred, citing the impact of the #MeToo and Time's Up movements. But she's not sure it will have an impact on the retrial necessarily, especially since several dozen women had already come forward against Cosby well before the first trial ever got started.
"I think it's always very hard for a jury to find guilt beyond a reasonable doubt based solely on the testimony of one alleged victim," said Allred, "and against the denials of one rich, powerful, famous defendant (or the lack of statement by him). So even with the #MeToo movement, it seems to take more than one to be believed."
Allred's preparing for a civil case against Cosby in Los Angeles, expected to proceed later this year. Her client, Judy Huth, alleges that the comedian raped her at the Playboy Mansion in 1974 when she was just 15 years old, according to a court filing from 2014. Cosby has already provided a deposition in the civil case, and he has since been compelled by the judge to appear in LA court again at the close of the criminal trial in Philadelphia for a second deposition.
"We are awaiting the conclusion of the second criminal trial before we can proceed," said Allred.
To date, almost 60 women have publicly accused Cosby of sexual misconduct over the past five decades. Cosby, who made his first public appearance since the trial at a supper club in Philly last week, has not formally addressed the most recent developments in the case.