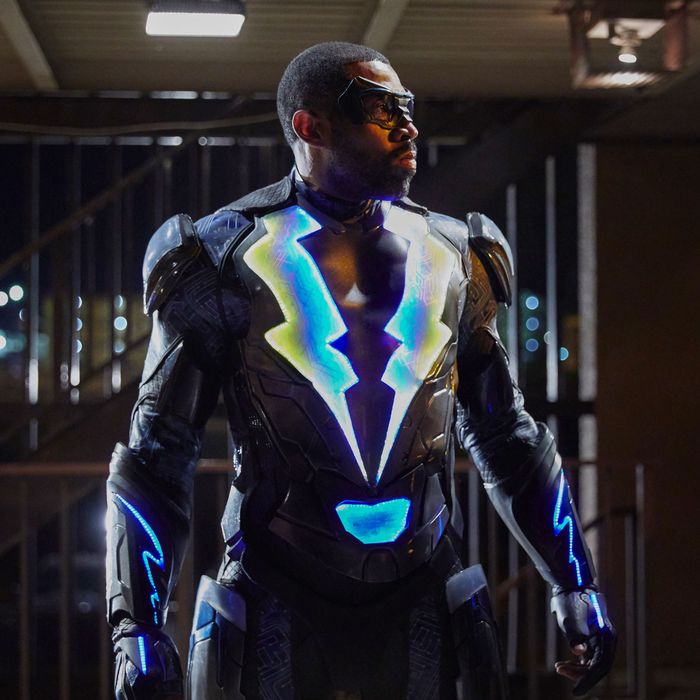 Cress Williams as Black Lightning.
Photo: Bob Mahoney/The CW
Black Lightning arrives on television at a timely moment. Even better: It arrives with a ton of swagger.
Based on the DC comic and premiering tonight on the CW, Black Lightning is slick, smart, and infused with a social conscience that feels especially spot-on in light of the heightened debate in America about what constitutes racism and how to properly protest racially motivated police brutality. It's the Black Lives Matter of superhero shows. It's a funky '70s crime series. Or maybe it's what happens when comic-book TV gets infused with a tiny bit of the spirit of The Wire.
Cress Williams (Hart of Dixie, Friday Night Lights) stars as Jefferson Pierce, the Garfield High School principal who harbors secret and literally shocking powers, but has been retired from crime-fighting for the past nine years. If we take that timing as specifically as possible, that means he got out of the game right after President Obama was first sworn into office. Now he is focused on trying to reconcile with his ex-wife, Lynn (Christine Adams), and rebuild a peaceful family life with their two daughters, Anissa (Nafessa Williams) and Jennifer (former Disney Channel star China Anne McClain). It's instantly apparent that this is going to be difficult given that Anissa, who teaches part time at Garfield, is so outspoken about the violence being perpetrated in the city of Freeland by a gang called The 100, and about how the cops respond to it.
"Returning violence for violence multiplies violence, adding deeper darkness to a night already devoid of stars," Jefferson tells her, quoting Dr. Martin Luther King Jr.
"I'm sick and tired of being sick and tired," Anissa shoots back, borrowing the words of civil-rights activist Fannie Lou Hamer.
It doesn't take long for both Anissa and Jennifer, a teen who rebels in more typical teen ways, to get on the bad side of the people connected to The 100, forcing Jefferson to go vigilante again and don that suit with the glowing bolts of lightning that streak across the front.
Like every superhero show, Black Lightning delivers energizing fight sequences and intriguing nemeses that our protagonist must confront. (As readers of the comics have probably already guessed, the big baddie in this series is gang kingpin Tobias Whale, played with simmering menace by rapper Marvin "Krondon" Jones III.) But as developed by husband-and-wife producing team Salim Akil and Mara Brock Akil (Being Mary Jane), alongside co-producers and Arrow-verse veterans Greg Berlanti and Sarah Schechter, it is more organically substantive than much film and TV comic-book fare. It's also deeply aware of its black popular-culture roots, with a soundtrack that swings from hip-hop to Nina Simone to '70s soul. The second episode makes particularly strong use of "Am I Black Enough for You?" by Billy Paul during a climactic confrontation between a hyperconfident Black Lightning and a bunch of bad dudes. It's a moment that's both superheroic and superfly.
Williams exudes low-key charisma as the noble Jefferson, then cranks up the power accordingly when he morphs into the justice seeker with LED eyes. He's perfect for this part. In the first two episodes made available for review, Lynn doesn't have much dimension; she's the classic TV wife who looks beautiful, worries about her partner and children, and likes to sip on a glass of wine when she has a moment of downtime. But Jennifer and, especially, Anissa, have more intriguing stories, particularly because at least one of them appears to have inherited Daddy's daunting-when-activated internal circuitry. Even though Williams is the obvious lead, early episodes suggest that the young women will get nearly equal time.
Black Lightning arrives on the CW exactly one month before Marvel's Black Panther opens in theaters. That puts the show square in the middle of the black superhero boom that began with Luke Cage and Anthony Mackie's role as the Falcon in the Avengers movies. For this and other reasons, it just seems like the right time for Lightning to finally strike on a major network.
"Evil is running rampant like a plague through this city. Hell, through this world," Jefferson's mentor Peter Gambi (James Remar) says while trying to explain why Black Lightning must return.
Again, the subtext isn't shouted, but it's clear. Black Lightning was gone for almost a decade, while Obama was eight years in power. But now things are a mess. Black Lightning should come back, Gambi implies, so he can start reclaiming some of the power that's been wiped out in the plague. Personally, I'm ready to watch him crank up the shock waves and get back to doing his thing.