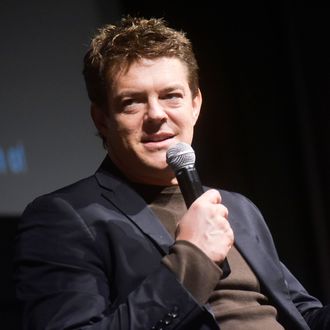 Jason Blum.
Photo: Kris Connor/Getty Images for Museum of Modern Art
Blumhouse, the studio that brought us Get Out, is advancing further into the TV landscape. With several series already in development (a small-screen version of its Purge property for USA, a program about Roger Ailes for Showtime, and an adaptation of Gillian Flynn's Sharp Objects for HBO) the studio is now working on a horror anthology with Hulu. Variety reports that the partnership will bring 12 self-contained episodes to the streaming platform. The first installment is slated to premiere in October — the same time Blumhouse will release its Halloween revival — followed by a new one each month until October 2019. Creative details are sparse at the moment, with no writers or directors attached yet, but the stand-alone episodes will ultimately be connected by a "narrative device or structural device" that ties them together. Of the stories on offer, Hulu chief content officer Joel Stillerman said, "It's not even the larger bucket of 'genre.' I would say this falls squarely into the horror bucket."
The Blumhouse-Hulu collaboration comes after each company had their best years to date. The streamer has taken home four Emmys and two Golden Globes for The Handmaid's Tale, one of last year's most vital TV programs, and Blumhouse scored three surprise blockbusters last year with Split, Happy Death Day, and Get Out, the last of which was one of 2017's most critically praised and culturally powerful films. Stillerman said Hulu is excited to break into the "extremely passionate" and "extremely activable" demographic that is horror fans. Translation: Horror fans are underserved in terms of good TV, and they've proven time and again that they will show up for content. Movies in the horror category earned more than $730 million in domestic box office alone last year — a substantial portion of which came courtesy of Blumhouse films. The studio's latest film, Insidious: The Last Key, opened second in its debut weekend behind the juggernaut that is Star Wars: The Last Jedi, making $29 million at home on a $10 million budget. Stay tuned, ghouls.