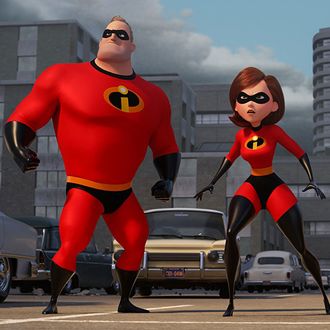 The Incredibles
.
Photo: Disney/Pixar
Meet Metroville's newest residents: In the long-awaited Incredibles sequel, the Parr family is joined by some familiar faces. The sequel will see the newly popular Supers coming out of the shadows, and Elastigirl becomes the star of a campaign pushing to abandon the old protocol of assigning normal cover identities to Supers. Meanwhile, Mr. Incredible is staying home, managing Jack Jack's burgeoning powers.
Frozone and Edna Mode are back for round two, plus some newbies: Bob Odenkirk as "rich, suave telecommunications bigwig" Winston Deavor, according to Entertainment Weekly, with Catherine Keener as Evelyn Deavor, Winston's genius sister behind their company's success. Sophia Bush plays an upstart super/Elastigirl stan named Voyd, who's able to "divert and manipulate objects around her by creating voids that allow the objects to appear and disappear, and shift in space." Isabella Rossellini plays a character known only as the Ambassador. One more character from the first movie is back — Super Relocation Program agent Rick Dicker — but this time he's voiced by Odenkirk's Better Call Saul co-star Jonathan Banks. See their character illustrations below.
See The Incredibles 2 on June 15.