Rejoice, Marvel Cinematic Universe fans, for your cup runneth over in 2018. This year will see not one, not two, but three adventures set in that extremely lucrative world, and with all the hubbub about the first two — Black Panther and Avengers: Infinity War — you may have forgotten that July brings us Ant-Man and the Wasp. A sequel to 2015's Ant-Man, it reintroduces us to gold-hearted criminal Scott Lang (Paul Rudd), wise scientist Hank Pym (Michael Douglas), and newly minted superheroine (and formerly estranged daughter of Hank) Hope van Dyne (Evangeline Lilly) — and throws in an all-new villain at no extra charge. The first trailer just dropped, so let's shrink down and dive in, shall we?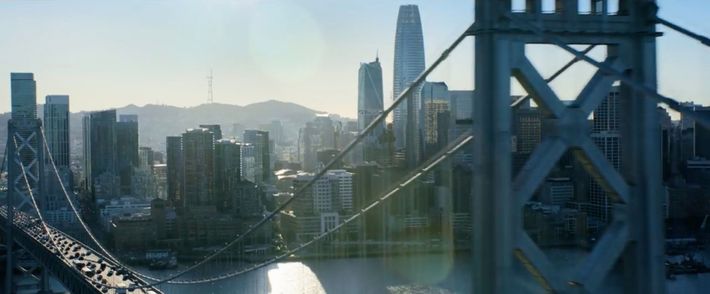 We begin with a shot of scenic San Francisco, America's premiere destination for sky-high rents, self-congratulatory tech bros, and the fading remnants of the counterculture. Ah, I'm just funnin'. It's a great city. Check out City Lights Books when you visit — it's worth the hype!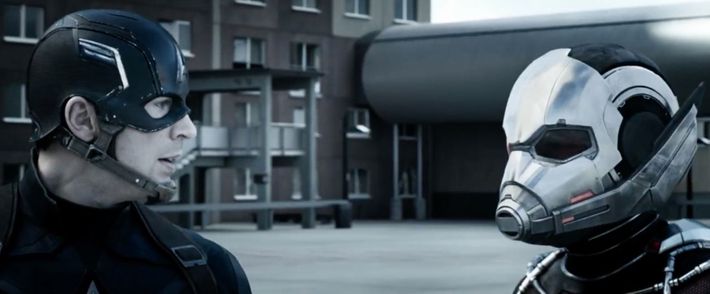 In voice-over, Scott recalls the second time we saw him in an MCU flick: the airport burly brawl in Captain America: Civil War. If you'll recall, Captain America heard about the relatively obscure Scott through a complex chain of friends and recruited him to help in the internecine fight against Iron Man. Most notably, during the scuffle, he ….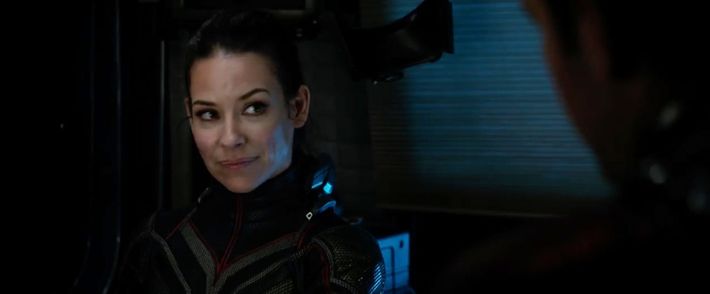 … Oh, wait, sorry, there's a quick shot that we have to address. This is Hope, the business-savvy daughter of Hank and a woman named Janet van Dyne, who went missing in the so-called Quantum Realm many years ago. We'll get to that in a minute. As I was saying, during the tarmac tussle, Scott …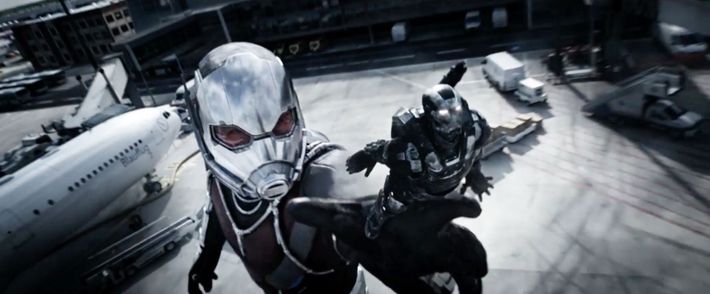 … embiggened! Yes, that's right, folks — Ant-Man's hero name belies the fact that his size alteration goes both ways. Those Pym Particles, they're really something. But the fight didn't exactly go Scott's way: He and his compatriots were captured and imprisoned for a bit, until Cap freed them.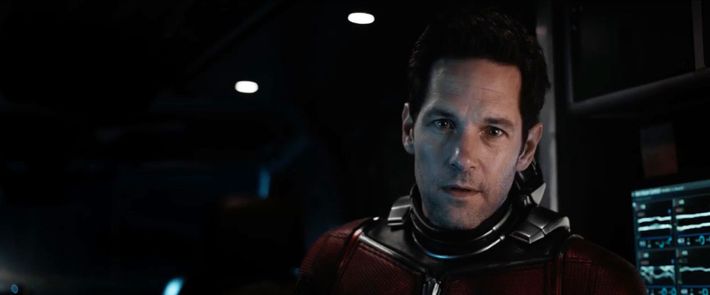 Hey, hey, looky here, it's Schneider from One Day at a Time! Er, sorry, I mean Paul Rudd. By which I mean Scott. "If I had asked you, would you have come?" Scott asks Hope, in reference to the Civil War clash. Her reply: "I guess we'll never know. But if you had, you'd have never been caught." Banter!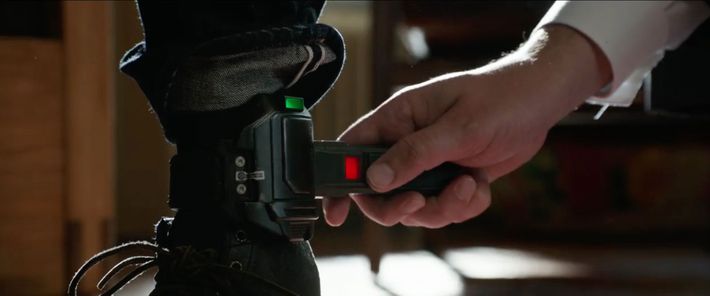 We're reminded that, though Scott may be a nice guy in our eyes, he's still a convicted felon in the eyes of the law, and must be fitted with an ankle bracelet. You see, he once broke into the office of his corrupt erstwhile boss in an attempt to reimburse some bilked consumers that the boss had screwed. And then he fought the United States government alongside Cap. The criminal justice system hasn't forgiven him, as is their wont.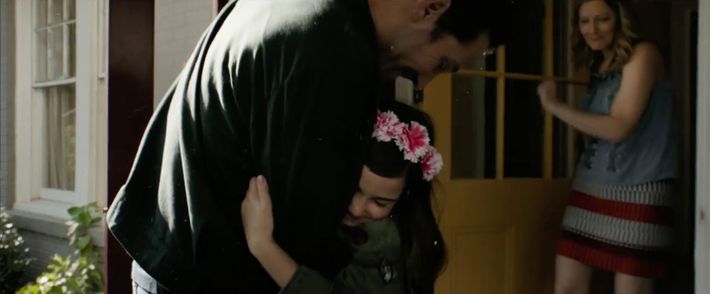 Nevertheless, we'll still see Scott bond with his daughter, Cassie, and his ex-wife, Maggie. To those who feared that Judy Greer would not be making an appearance as the latter of those two: Breathe many sighs of relief.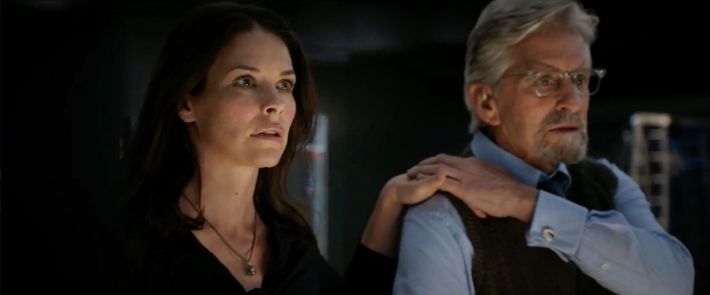 Here's our first glimpse of Hank, who looks terribly concerned. For those who've forgotten his whole deal: He's a brilliant physicist and titan of the science industry who once worked for S.H.I.E.L.D. (RIP), but left when he found out they were trying to utilize his shrinking technology, which he'd deemed to be too dangerous. Many years later, he lost his company, Pym Technologies, to the villain of the last movie. He'd heard about Scott's Robin Hood act and sought him out for help in breaking into Pym Technologies in order to foil the villain's plans, which they did. He and Hope had a strained relationship, but they mended things by the end, as evidenced by this familial moment. In the mid-credits scene, Hank gave Hope her own super-suit, and now he acts as the Guy in the Chair for her and Scott.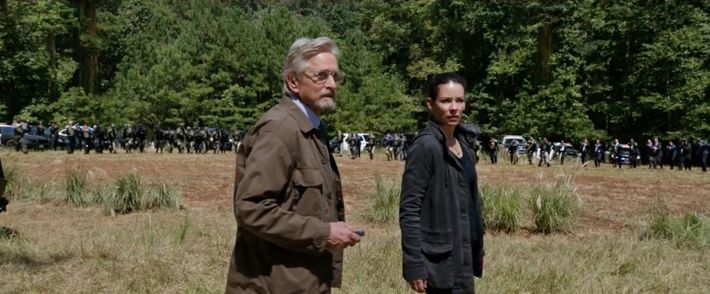 It appears that the FBI aren't only cracking down on Scott — they've also put Hank and Hope in their sights. But … but … but they're good guys! Your fictional tax dollars at work, folks.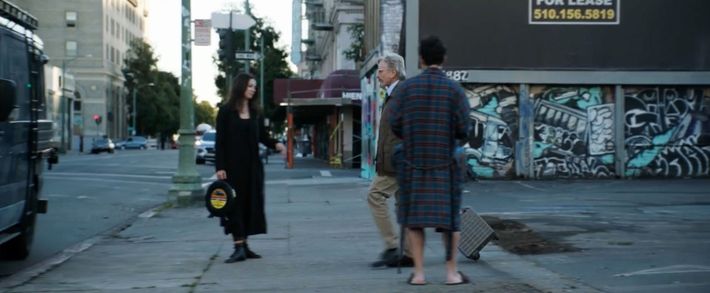 The law isn't after the trio all the time, it would appear, as we see Hope (decked out in full goth attire while holding some kind of hardware) and Scott (who's wearing a bathrobe and slippers, for some reason) meet up with Hank (who does a neat trick where he shrinks an entire office building and wheels it along like a carry-on bag). Lord only knows what the setup for all that is.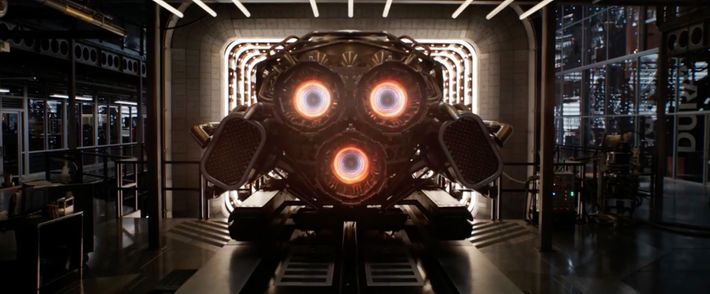 We see some kind of high-tech ship with glowing rocket engines. It'll pop up again in miniature later, so mayhap it's the vehicle of choice for someone looking to explore a realm so small that it's unsafe in just a suit?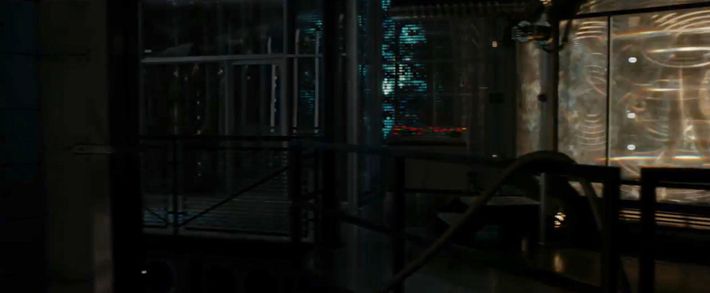 This one's hard to see, but it's some kind of lab where a human figure is encased in a chamber of whirling lights. Presumably that's the same person who …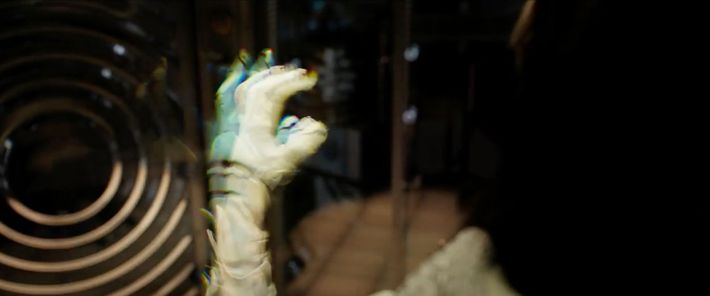 … we then see whirling their hand around while little light trails are left behind. We learn nothing about this person, but there's another shot in a bit that might be of the same individual. Stand by.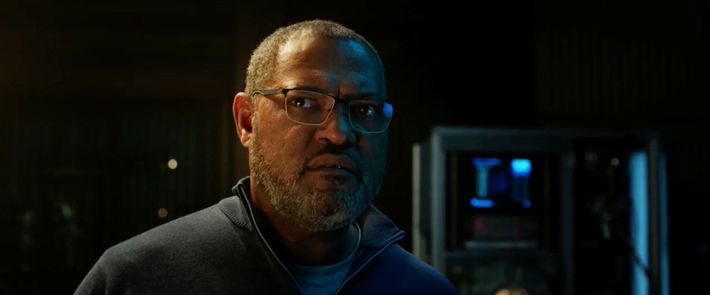 This here is Laurence Fishburne's Bill Foster, a person who, at least in the comics, has a long history of working with Hank. Is he in the same room as our mysterious figure? He certainly has that "we shouldn't have played God!" scientist-y look on his face. Within Marvel's four-color pages, Bill's operated at times as the superhero Black Goliath, though I would be truly shocked if the brand dared to use that name in 2018, even as a joke.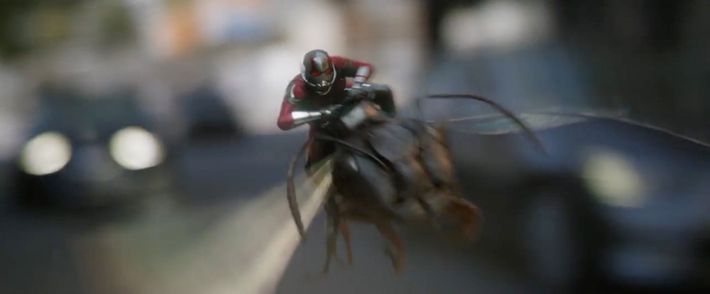 Remember: Ant-Man can ride ants. A friend of mine, before the last movie came out, posited that it would include a moment where an ant tries to romance Scott. We were sadly denied this bit of comic business that time around — dare we hope for it now?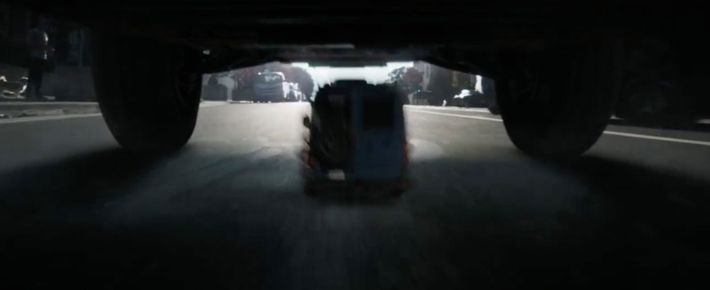 A novel fighting tactic emerges: shrinking one's van down to bite size, driving it under another vehicle, and then growing again. Those kooky Marvel mavens — what'll they think of next?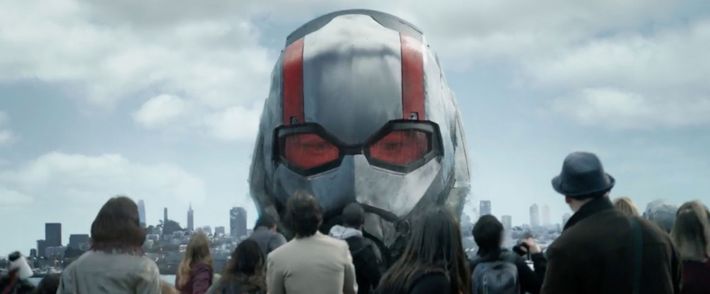 Scott steals Spider-Man's steez by saving a boat.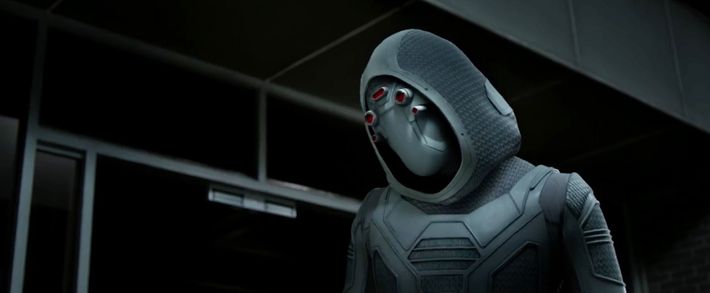 Okay, here's our best guess as to the identity of the person we saw in that chamber earlier: the film's villain, Ghost. In the comics, Ghost is an extremely shadowy dude with serious tech skills and a suit that allows him to phase through matter and turn invisible. Y'know, like a ghost. His deal is that he hates capitalism and capitalists and tries to knock them off their gilded thrones. In this movie, Ghost is a woman, played behind the mask by Hannah John-Kamen. Given the general anti-elite tenor of both right and left in this country right now, perhaps we'll see Ghost as the real hero of the story.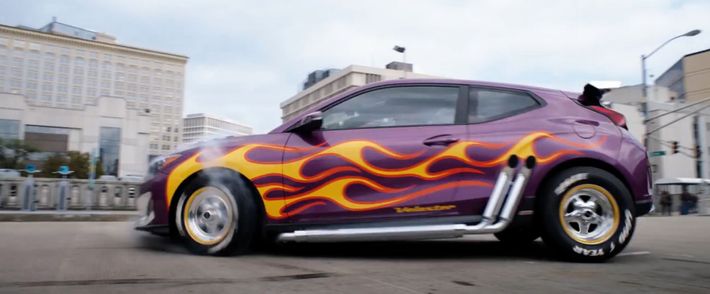 In what is perhaps the most shameless and weird bit of product placement in a recent film trailer, we see a flame-emblazoned Hyundai Veloster for no particular reason. It'll allegedly play a "significant role" in the picture. Hey, even Marvel's gotta cover their overhead.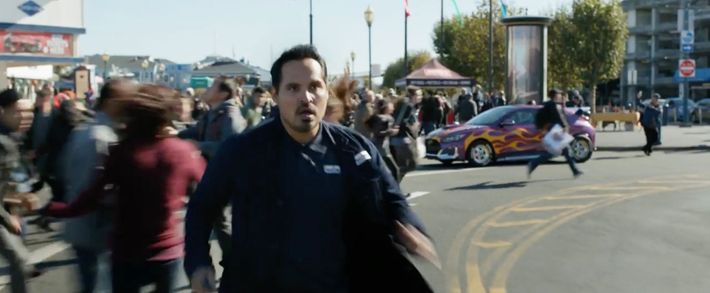 Near the Veloster runs Michael Peña's Luis, a former cellmate of Scott's who helped him out on Team Ant-Man last time around. Remember when it felt like Peña was in every damn movie? What happened to that? Hey, maybe this'll kick-start the Peñnaissance.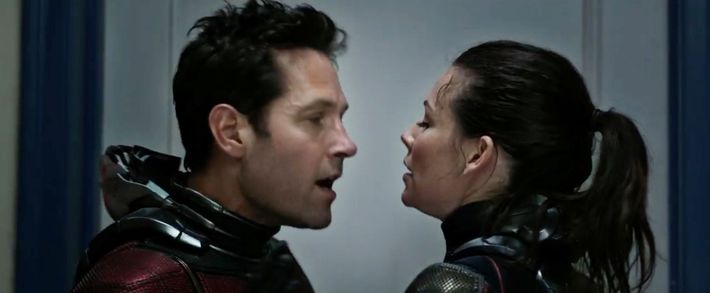 A gasping moment of physical proximity between Hope and Scott. Can you blame either one of them? It's Paul freaking Rudd and Evangeline goddamn Lilly.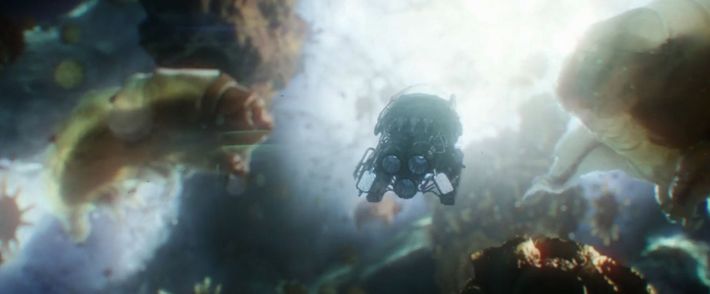 Ah, here we go: It's that ship we saw before, sailing through some kind of micro-verse. Could it be either in or on its way to the Quantum Realm? For those who forgot: That's a sort of alternate dimension that one enters when one gets impossibly small. Hank's wife, Janet, entered it in the 1980s and hasn't come back, but we know she makes her return in this flick, played by the resurgent Michelle Pfeiffer. Could this be the subatomic trip that leads to her retrieval?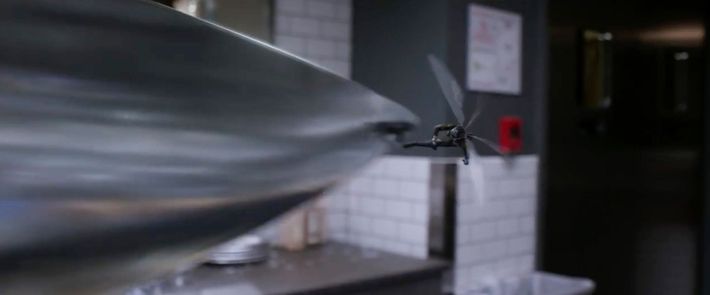 We learn that Hope has some implausibly serious fighting skills, expertly avoiding and running along the blade of a flying knife. She also has nifty flying wings, which …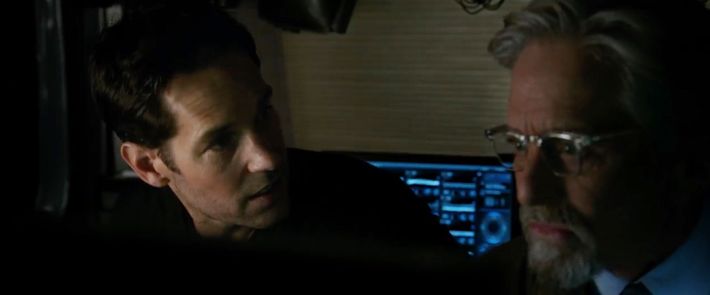 … Scott is terribly jealous of. Oh, and she also has …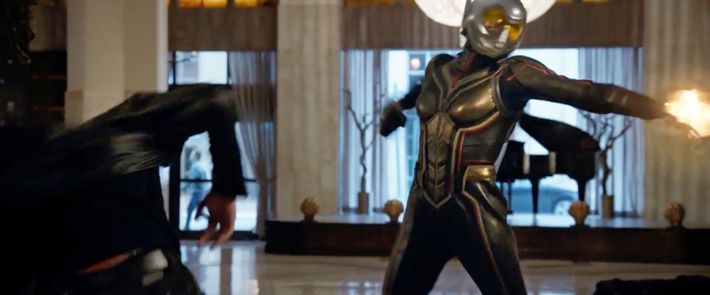 … blasters. Scott, miffed, asks Hank whether the tech just wasn't ready when he gave Scott his suit. Hank replies that, no, it was definitely ready. It's a nice little Marvel gag, but the big laugh comes in the final image of the trailer, wherein …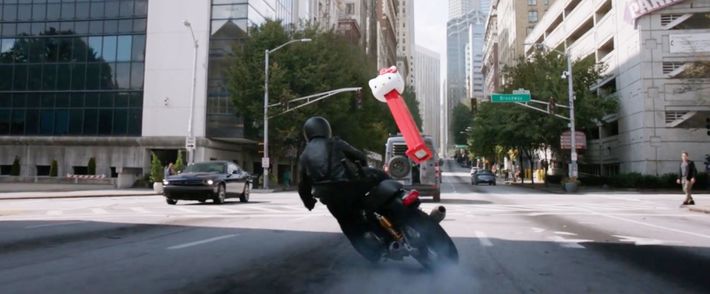 … our heroes throw a Hello Kitty Pez dispenser at a trailing motorcyclist and expand it in midair. Marvel Studios: You can always depend on them for a bundle of giggles.