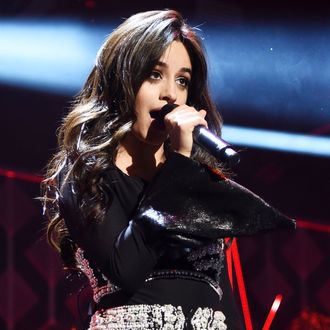 Cabello.
Photo: Theo Wargo/Getty Images for iHeartMedia
Months after Camila Cabello left Fifth Harmony on contentious terms to go solo, her former group members gave her a symbolic kick out the door by pretending to yank a stand-in fifth singer off the stage during their VMAs performance. In a New York Times profile, Cabello reveals she watched the stunt happen live while at home with her mother feeling blindsided. "It definitely hurt my feelings. I wasn't expecting it, I wasn't prepared for it — especially because at that point I'd moved on from it. I was just like, 'What? Why?'" she says. At the time, Fifth Harmony danced around the subject of whether the fake member was meant to represent Cabello, saying, "We get asked all the time if we're getting a fifth member and we wanted to show the world in an artistic way that, hey, the four of us are Fifth Harmony." Cabello now says she won't dwell on their bad blood: "I don't like holding onto the past, especially when it's stuff that, in my opinion, is just petty."
She is, however, willing to spill a few drops of tea on what strained their relationship. Cabello previously said she left the group when she was told she wouldn't be able to write their songs. She adds to the Times that the group then "shut her out" after she made a song with Shawn Mendes and attended songwriting sessions with outside producers. "I was just curious and I wanted to learn and I saw all these people around me making music, writing songs and being so free. I just wanted to do that and it did not work," she says. "It became clear that it was not possible to do solo stuff and be in the group at the same time." She claims she was eventually given an ultimatum between the group or herself, so she chose herself.