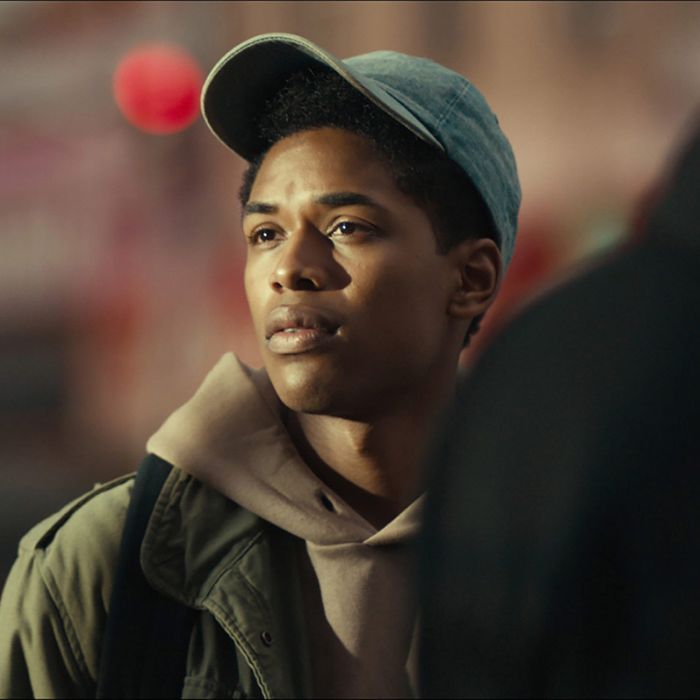 Monster
Photo: David Devlin/Courtesy of Sundance Institute
Though we tend to think of awards season as something that starts in the fall, many of this year's major Oscar contenders actually debuted a year ago in January at the Sundance Film Festival, including Best Picture nominees Get Out and Call Me by Your Name as well as Mudbound and The Big Sick, both of which nearly made it into the Best Picture derby and scored significant nods elsewhere. This suggests that though we still haven't closed the book on our current awards season yet, some of next year's contenders have already debuted over the last several days in Park City.
Is the 2018 Sundance crop as strong as 2017's banner year? Not quite: While there have been many well-reviewed films and performances, the movies feel smaller and quieter this time around, with more limited box-office potential and a tougher path to Oscar. Still, expect at least a few of these narrative films to break out.
Perhaps the most-talked-about Sundance film this year was The Tale, director Jennifer Fox's stunning depiction of the year when two adults took sexual advantage of her at age 13. Laura Dern plays Fox as an adult, and while she splits the run time pretty evenly with the child actress Isabelle Nélisse as Fox's younger self, Dern is incredible in the role and absolutely warrants consideration: It's a gut punch to watch the vivacious Dern go slack as she finally confronts the truth about what happened to her, and the last scene of the movie features some of her most astonishing acting ever. I suspect that The Tale will offer voters the best chance to recognize Dern for her current career renaissance, though it's not an easy sit, and while Jason Ritter and Elizabeth Debicki are memorable as the abusers, they may be overlooked because of the hideous nature of their roles. At press time, The Tale had not yet found a a distributor, and a lot will depend on who picks the film up and how they position it.
Gus Van Sant's Don't Worry, He Won't Get Far on Foot boasts two notable performances from Oscar perennials Joaquin Phoenix (as disabled, alcoholic cartoonist John Callahan) and Jonah Hill (as his soft-voiced but stern sponsor) that could earn awards attention: Hill, in particular, is doing something we haven't seen from him before and will likely campaign hard for laurels. That said, the film is a bit of a meander and I'm not sure how much money Amazon will be eager to sink into it when the studio came up short this year on several auteur-driven contenders and is said to be moving away from indie dramas and toward bigger-budget blockbusters.
After her last narrative film Winter's Bone scored big with Oscar, can director Debra Granik hit that high-water mark again with Leave No Trace? This story about a father and daughter living off the grid is a more intimate affair than Winter's Bone and lacks that film's propulsive narrative spine, but it's certainly worthy, and could find favor in categories like Best Adapted Screenplay or even earn attention for Ben Foster's wounded performance as the father, a war veteran suffering from PTSD.
This year's Sundance program featured several movies about racial discord, two of which star young breakout Kelvin Harrison Jr. and boast awfully similar titles: Monster (where he plays a high-schooler wrongfully accused of aiding a crime) and Monsters and Men (where Harrison Jr. co-stars as a baseball player who becomes an activist). Monster is the more visceral crowd-pleaser and could connect with voters if it gets a robust launch, and producer John Legend contributed a song to the film that could be in contention, too. The Daveed Diggs dramedy Blindspotting also tackles similar themes and climaxes with the Hamilton star delivering a memorable rap that could be its own contender, and the film Burden (based on a true story about a former Klansman who tries to atone for his sins) has three strong performances from Garrett Hedlund, Forest Whitaker, and Andrea Riseborough and earned a standing ovation in Park City.
The biggest question for me is how this year's Best Actress race will shape up. While the biggest contenders in that category don't usually start showing up until the fall film festivals, this year's Sundance program at least offers a wide array of dark-horse picks that could slip in if bigger films falter. I'm thinking of the startlingly committed Maggie Gyllenhaal as an obsessive educator in The Kindergarten Teacher, Keira Knightley coming into her own as an artist in the period film Colette, Carey Mulligan as an unbound mother in Wildlife, or even Toni Collette pulling all the stops out in the harrowing horror film Hereditary. I haven't seen anything here that feels like a Oscar lock, but if these films and performances can sustain themselves — it's still early, after all — at least they'll add some underdog frisson to next year's race.