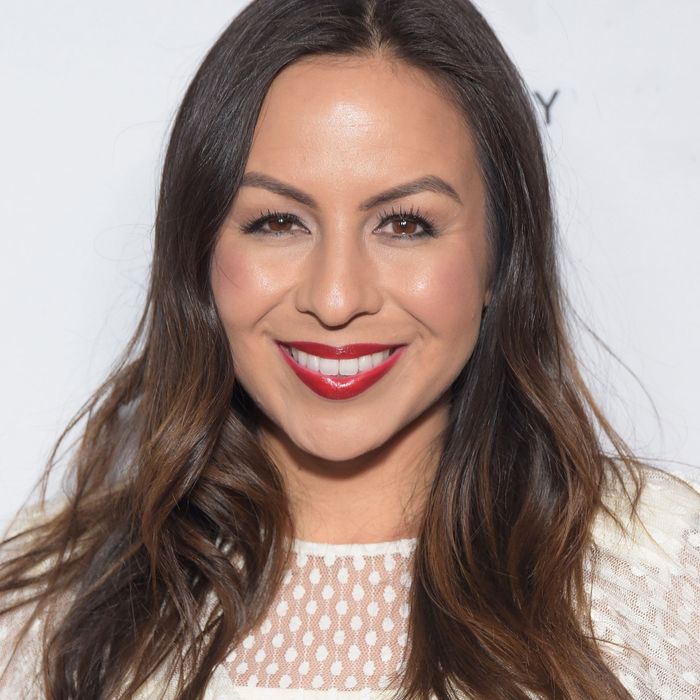 Photo: Michael Tullberg/Getty Images
When I caught up with Anjelah Johnson she was at her home in LA, getting ready to head to the Bay Area to spend Christmas with her family before doing a stretch of eight New Year's weekend shows at Tommy T's Comedy Club in Pleasanton, just 25 minutes from where she grew up. For Johnson, whose early viral success in 2007 led to a role on MADtv and a Comedy Central special, family has been the through line in her decade-plus standup career. She consistently sells out shows all over the map, due in part to her audience's connection to the family theme: "I feel like in those areas where the culture is big on family, I do well." Johnson recently released her fourth hourlong special, Mahalo & Goodnight, recorded in Hawaii and now available on Hulu. I chatted with her about chasing her early dreams of becoming an actress, how comedy changed her plans, and why Friends is such an important show to her.
What was it like for you growing up in the Bay Area?
It was amazing. I loved it. Sometimes you hear about people who can't wait to leave their hometown. I did not have that feeling at all. I love San Jose, I love the Bay Area, and I love coming home to visit. It's very diverse with a lot of different ethnicities, different types of food and people. I was lucky to grow up in a culturally diverse area knowing a lot of different people from all different walks of life.
Did you get involved in acting and comedy in the Bay Area or did you leave to pursue those things?
I left San Jose and moved to LA to try to be an actress. I started from the ground up as an extra on the TV show Friends, which was the best show on TV at the time and still one of my favorite shows.
So many people go to LA with a dream, but it's always a risk. What prompted you to say, "I'm going to become an actor?"
I was at this place in my life where I didn't know what I wanted to do. School was really hard for me. It was kind of depressing because I was like, "What do I do with my life? What do I want?" I had this little piece of me that always wanted to be an actress, but I would never say it out loud because it was kind of embarrassing because where in San Jose do you become an actress? You don't really. It was very far-fetched. It was similar to me saying, "I want to be a princess." I had a friend who moved to LA a couple years before I did. She was an actress and a dancer in music videos and commercials. She told me, "If you move to LA I'll help you get started. I'll show you the ropes." That was the first time this little far-fetched fantasy was becoming an attainable dream to me. I had another friend who was a cheerleader for the Oakland Raiders. She was like, "You should come try out." I took that as my sign. I said, "I'm going to try out for the Oakland Raiders. If I make the squad I'm going to cheer for one year and then I'm going to move to LA and try to be an actress." I tried out, made the squad, and cheered the year they went to the Super Bowl in 2003 against Tampa Bay. I came home from the Super Bowl, packed up my room, and drove to LA. My friend kept her word and helped me get started. She showed me where to get headshots done, how to sign up to be an extra, all that.
What did you learn from being an extra on the set of Friends?
It was like I took a free class from Jennifer Aniston, Lisa Kudrow, and Courteney Cox. I got to watch these women work and watch how they process and communicate. It was amazing. I got a free class from them for two years because I was on season 9 and 10.
What was the next opportunity that popped up for you after Friends?
I was a stand-in on another TV show and they ended up giving me my first speaking role. it was called Love, Inc. on UPN. At the same time I started taking this joke writing and standup comedy class. That's where my life changed.
What was it about that class and learning about comedy that propelled you in that direction?
I didn't want to be a standup comedian. I was at this church and on Tuesday nights they had classes for the arts and entertainment industry. They would do dance classes, acting classes, stuff like that. There was a woman teaching a standup comedy class. She said, "Do you want to take my joke writing class?" I said, "Is it free?" She said, "Yeah," and I was like, "I guess so." One of the first jokes I wrote was this nail salon bit that ended up blowing up on YouTube. That's kind of what propelled me into standup. I wasn't trying to be a comedian, but when the video came out everyone wanted to see me perform, so I was like, "Oh, I'd better write some new jokes."
It's funny because it usually takes comics years to get a bit that they become known for. You landed on something so early, something that I feel like you still can't get away from.
Exactly. That was one of the first jokes I ever wrote. I'm so lucky that I had that. I can't get away from it now, which I'm okay with. I've made my peace with it. I understand that fans pay their hard-earned money to come see me perform. They love that joke and I'm going to keep giving it to them because I'm honored that they would spend their money on me.
Sometimes it's tempting to want to distance yourself from the thing people start to know you for because you can feel a little bit boxed in. I could see you not wanting to be known as "the nail salon comic."
That's something I had to discover in the process and figure out.
At what point did MADtv come in?
Pretty quickly, like the next year. 2007 is when the nail salon video came out and later that year I booked MADtv.
From MADtv you developed another character that people got to know you from. You very cleverly spun that into music videos, an album, merchandising.
That was actually my husband. I was done with Bon Qui Qui. It was the same kind of thing with the nail salon joke where I was at a crosswords where I didn't want to do it anymore, but I knew the fans wanted it. I was off the show, so I was like, "I don't need to do her anymore." But then my husband who is in music had the idea, "Let's make her a rapper. Let's go in the studio, record some songs, put it on iTunes ourselves, and see what happens." We did that and it blew up.
I'm curious as to whether him being a musician influenced that move. In standup, even if you have a famous bit, you retire that bit and move on to new stuff. Comedy audiences usually want to see that you're developing and creating new material, whereas if you go to a concert, everybody's going nuts when the band is playing the hits, but when they say, "Here's a new one," the response is often quite tepid.
It's such a double standard. But really, he's just very creative. He was like, "People want to hear from her. I get it that you're not on the show anymore, but here's a very organic way that we can continue to work on her."
Your most recent special Mahalo & Good Night was filmed in Hawaii. I know why I would film my special in Hawaii, but why did you choose that location?
I've chosen all of my locations for specials based on my fan base. I first chose Houston because Houston was the first city to get on board with me. My first sold out shows were in Houston. After that I did San Jose, which is my hometown. Then I did Anaheim, which is another really strong fan base of mine. A few years before the taping I put a show on sale in Hawaii. My hope was that the show would sell out and I would add a second show. The day after I put my tickets on sale, Bruno Mars puts tickets on sale for a show the exact same day as mine, right across the street from my venue. I was like, "No one's going to come to my show now. Bruno Mars is across the street at the same time? I don't even want to go to my show. I want to go to Bruno Mars' show." The show ended up selling out. We added a second one and it sold out. It was unbelievable. At that point I realized Hawaii was so loyal to me that I'm going to shoot my next special there. I stayed out of the market for about three years and came back to do my special.
I noticed you have tour dates coming up that include shows and Guam and Saipan. What do you attribute to your being able to travel and perform in places that a lot of comics never get to?
It could be because I'm very culturally diverse in my standup and storytelling. The first time I went to Guam and Saipan was in 2008 or 2009. I think it's also because I'm very family-oriented as well. Like in Hawaii, everyone is family, uncle or auntie. Even a stranger in the grocery store is auntie so-and-so. I feel like in those areas where the culture is big on family, I do well.
Check out Johnson's new special over at Hulu.