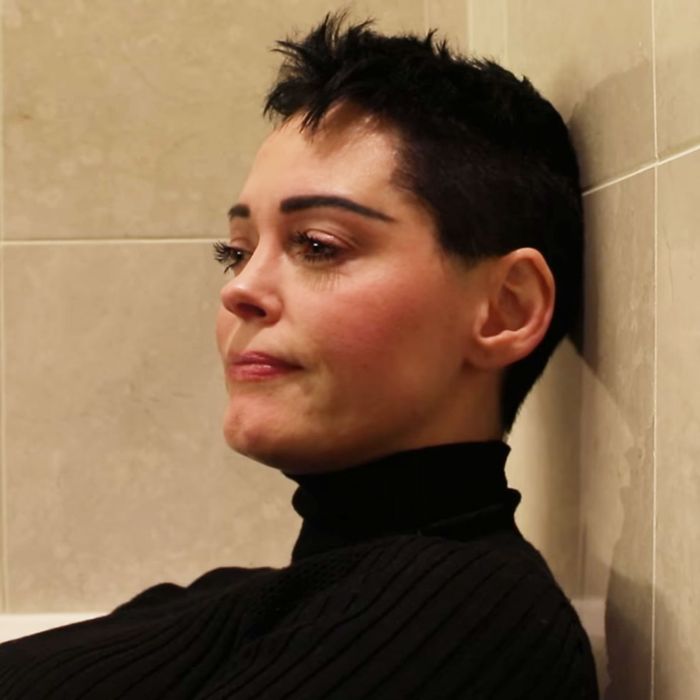 Rose McGowan, talking to the camera in
Citizen Rose
.
Photo: E! Entertainment
"Do I make you uncomfortable?" Rose McGowan asks in the opening minutes of Citizen Rose, a new E! docuseries that kicks off Tuesday night with a two-hour pilot. "Good."
That rhetorical question and response partially sums up the attitude of this portrait of the Scream and Charmed star, more widely known these days as one of the key truth-tellers in the hurricane of sexual-assault and harassment revelations that have swept through Hollywood. McGowan, who has publicly said she was raped in the 1990s by disgraced megaproducer Harvey Weinstein, has emerged as a provocateur with a purpose: to embolden other victims of powerful men to call out their abusers. She has a mission and she does not care if you like it, or how she tries to achieve it. Citizen Rose very much reflects that.
Those who think McGowan is exploiting this #MeToo moment as a personal branding opportunity can find evidence to support that position in Citizen Rose, which casts its lead as a gutsy warrior and frequently frames her in well-lit, intimate moments — speaking to the camera while sitting in a bathtub, or shaving her own head like a social-justice G.I. Jane — that bolster that image. During the course of this mini-movie, McGowan also mentions the album she recently worked on, the short film she previously directed, and, most importantly, Brave, the memoir she wrote that happens to go on sale the same day that Citizen Rose debuts. If one is determined to do so, it's easy to watch Citizen Rose with one eyebrow skeptically raised the entire time.
On the other hand, Rose McGowan is undeniably brave for speaking out so fiercely about Weinstein, and seemingly was deprived of the opportunity to explore her full potential as an artist after reaching a $100,000 settlement with him in 1997 that, for a while, bought her silence. Now, I'd say she deserves the chance to express herself on her own terms, in whatever medium she chooses. The result, a pilot for a series for which she also acts as an executive producer, is a mini-movie that, like its subject, is complex and confessional, moving and frustrating, revealing and withholding, all at the same time.
McGowan has made it a policy never to utter the name Harvey Weinstein, and Citizen Rose follows that lead. The actress refers to him only as the Monster, and even footage of news reports about the former head of Miramax redacts the appearance of his name and scrambles audio of it being spoken. McGowan also talks only briefly about the moments before the alleged rape, without going into any details about what actually occurred. (Her account has, apparently, been saved for her book.) If a viewer tuned into Citizen Rose without having followed the Weinstein story over the past few months — which is hard to imagine, though hypothetically possible — she might feel lost since McGowan addresses her experience in such broad strokes. While it's understandable that McGowan might not want to rehash every detail of that awful episode on camera, some context, even via a quick title card, might have been helpful.
Citizen Rose lacks the reality-TV gloss that is more typical of E! programming. Even though there are moments in the pilot that feel orchestrated, its stylistic approach leans more toward indie film than True Hollywood Story. It is more compelling the more organically it allows its story to unfold, like, for example, when cameras follow McGowan to Loudoun County, Virginia, so she can turn herself in on a narcotics possession charge she contends was drummed up by investigators hired by Weinstein.
The show is at its most powerful, though, when McGowan displays her vulnerability, or when she's surrounded by other women who have experienced similar pain and/or are trying to support her through her own.
"It's been a lonely road," she says at one point, through tears. "People treated me like dirt while I got to turn on the TV and see Gwyneth Paltrow giving him humanitarian awards." Unless you your heart is smaller than the Grinch's on his least charitable day, you feel for her in this moment.
Same goes for a later scene of her visit with actress and friend Amber Tamblyn. After McGowan admits that she wouldn't open the door for a flower-delivery person out of fear that it could be someone trying to kill her, Tamblyn says gently that she doesn't want to hear that.
"If I die," McGowan whispers before hugging her,  "you have to keep all my work, to be studied."
"Don't say that," Tamblin says.
"It's our purpose," McGowan responds. "Everything I'm doing has a purpose." This, like the story of the planted narcotics, might sound crazy, until you remember that Weinstein actually did hire spies to track McGowan and even assume fake identities in order to make sure his behavior wasn't about to be revealed in the media. (Again, it helps enormously to know all of this before watching Citizen Rose.)
McGowan stands in a contradictory position, one in which she is perceived as both industry insider and anti-Establishment outsider. With its own sometimes paradoxical objectives on full display, Citizen Rose mirrors its subject's multitudes. When friend, writer, and actor Joshua John Miller describes McGowan in their younger years as "sometimes intimidating, sometimes arrogant and sometimes incredibly beautiful and inspiring," he's talking about her personality. But all of those adjectives also apply to the series that is committed to capturing the woman who owns that personality, in all her fist-raised defiance.