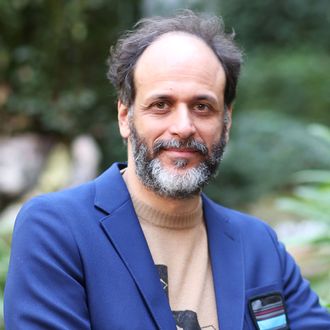 Luca Guadagnino.
Photo: Contigo/Getty Images
While Call Me by Your Name skirted many of the typical tropes of gay love story, its sequel may tackle one of them directly: the specter of HIV and AIDS. Speaking with The Hollywood Reporter, Guadagnino said the sequel, which will likely be set in the late 1980s around the time of the fall of the Berlin Wall, will certainly address the epidemic. "I think it's going to be a very relevant part of the story," he said. "I think Elio [Timothée Chalamet] will be a cinephile, and I'd like him to be in a movie theater watching Paul Vecchiali's Once More … That could be the first scene [in the sequel]." Once More (also known as Encore) was released in 1988 and was the first French feature film to address the disease.
If that were the opening scene, then the sequel would a far different tone than the sunnier original (and André Aciman's original novel), that, it seems, is Guadagnino's intention. "In my opinion, Call Me can be the first chapter of the chronicles of the life of these people that we met in this movie," he said. "If the first one is a story of coming of age and becoming a young man, maybe the next chapter will be, what is the position of the young man in the world, what does he want — and what is left a few years later of such an emotional punch that made him who he is?" Not to give Luca any notes, but if we open with Elio watching Once More and wearing Billowy, the hand-me-down shirt he got from Oliver, that might be too much to bear.