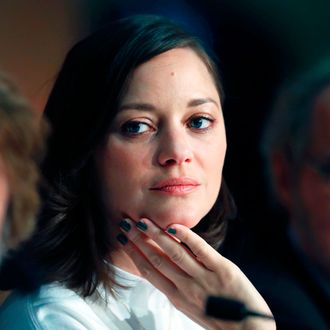 Marion Cotillard.
Photo: Laurent Emmanuel/AFP/Getty Images
As numerous actors have come forward recently to say that they regret working with Woody Allen in light of Dylan Farrow's abuse allegations against the director, Marion Cotillard, who starred in Midnight in Paris, has expressed similar sentiments, though not for entirely the same reasons. "I don't think it would ever happen because the experience we had together was very odd," Cotillard told The Hollywood Reporter at a French film event. "I admire some of his work but we had no connection on set."
Cotillard went on to explain that, in the unlikely chance that Allen would ask her to work together again, she would look into his personal life more closely. "I didn't know much about his personal life, actually. I knew that he had married one of his daughters which I thought, honestly, was weird but I cannot judge something don't know," she said. "But I have to say if he asked me to today I would question more, I would dig more … I'm very ignorant about this story and I just see that it hurts to see people suffering."
Rebecca Hall, Timothée Chalamet, Colin Firth, Rachel Brosnahan, David Krumholtz, Griffin Newman, Mira Sorvino, and Greta Gerwig are among the actors who have directly expressed regret about working with Allen in light of the allegations against the director, which have come under greater scrutiny as the #MeToo has movement brought reports of sexual abuse across the entertainment industry to light.