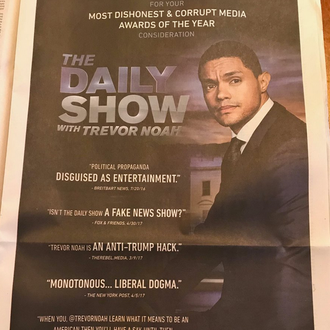 Set your smartphone alarms and refresh your RSS feeds appropriately, because Donald Trump will be excitedly announcing the nominees for his self-proclaimed "Dishonest & Corrupt Media Awards" on Monday evening. ("Subjects will cover Dishonesty & Bad Reporting in various categories from the Fake News Media," he wrote. "Stay tuned!" Spoken like a true, like, really stable genius!) Well, the creatives over at The Daily Show are doing their due diligence to get recognized for this once-in-a-lifetime honor, and have begun campaigning in order to curry favor with Trump's very important and influential awards committee.
As brought to our attention by CNBC's Eamon Javers, the Comedy Central series has launched an ad campaign in the New York Times to get Trump's attention, reminding the president that, among other sentiments, The Daily Show was once called "monotonous … liberal dogma" and "a fake news show" by some reputable sources. In fact, Trevor Noah and his team are "so fake, even this ad isn't real."
Who needs Golden Globes season when we have this instead? Really.